Call for Invasion Day rally organiser Tarneen Onus-Williams to be sacked from government body
THERE are calls for an Aboriginal activist to be axed from a government-funded body after she said Australia should be burnt to the ground.
Why wasn't she axed right away?
Meanwhile, the group behind the Invasion Day march has called for "Australia to be abolished".
In a vile social media post, the Warriors of the Aboriginal Resistance group has backed the comments of its member Tarneen Onus-Williams and released its own expletive-laden statement, saying "f— your flag, your anthem and precious national day". (More below the fold.)
WOMAN-BASHING MANIAC TAKEN DOWN BY ALDI ACTION MEN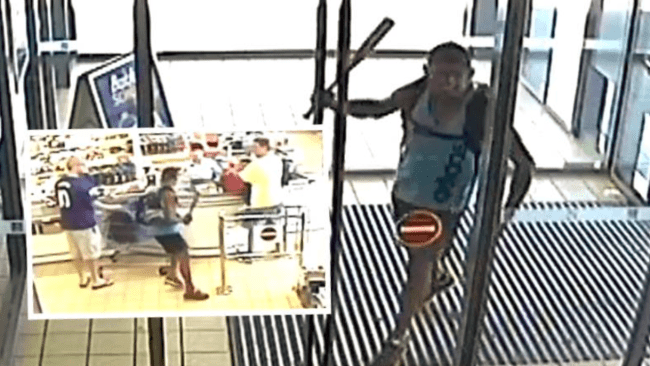 Security footage depicting a savage attack on a female Aldi worker was shown in Wollongong court yesterday. The victim spent five days in hospital with facial fractures and cranial bleeding after Mervyn Davidson smashed her in the head with a baseball bat.
He needs to go away for a long, long time. Or be put up against a wall for a very short time. Either way would be good.
But take a look at what happened immediately after the attack, when ice-crazed Davidson was attempting to obtain money from the till. Video at this link.
One man quickly intervenes, using a shopping cart to ram the attacker. With Davidson distracted and off balance, another customer runs at him, grabbing him from behind.
This rapid manoeuvre allows the first man to abandon his cart and get some solid hits in. A third shopper then rushes to join the fray. Between the three of them, they successfully restrain Davidson until police arrive.
These gentlemen are heroes, and quick-thinking, resourceful heroes at that. Congratulations to them.
Continued:
"Yes, some people use that language but it's nothing compared to the way Aboriginal people have been treated," she told the Herald Sun.
"People who celebrate Australia Day are celebrating the genocide of aboriginal people, waving Australian flags in our faces. It's disgusting.''
WE 'DON'T DESERVE' NATIONAL DAY
The WAR group today backed her comments, saying it would not rest until "we burn this entire rotten settler colony called Australia … to the f—— ground".
"Until every corrupt and illegal institution of white supremacist, patriarchal, capitalist settler colonial power forced upon us is no more," it read.
Opposition MP Tim Smith said Ms Onus-Williams' comments should disqualify her from further representing the Koorie Youth Council.
"Denigrating Australia is no way to improve Aboriginal disadvantage and further the cause of reconciliation and Daniel Andrews should show some backbone and sack her," he said.
The Koorie Youth Council has received $1.7 million in government funding since 2012 from both Liberal and Labor governments.
On Sunday, it stressed Ms Onus-Williams had a volunteer role for the council and she was not representing it at the Invasion Day rally.
It added that they do not share her views. The Koorie Youth Council statement said it did not organise the rally but it did make a number of social media posts promoting it.
Premier Daniel Andrews said Ms Onus-Williams' comments were "wrong and shameful", but membership was a matter for the youth council.
Indigenous leader Warren Mundine who at first said the Koorie Youth Council should be defended for Ms Onus-Williams' comment, applauded its decision to back away from her stance. But he said WAR was an extremist "hate group" of oxygen thieves.
"Shows the true motive of extremist left: hatred of Australia," he said.