UK premier condemns targeting of Muslim lawmakers
May says probe underway after 4 MPs were sent noxious packages and copies of Islamophobic 'Punish a Muslim' letter
.
BBC and Police Play Down Telford Child Rape Scandal, Slam 'Unhelpful Headlines'
Jayda Fransen & Paul Golding we're jailed for trying to expose Paki Rape Gangs
Days later we learn that Pakistani men have not only been raping, abusing, pimping, drugging & even murdering children for decades, but that the British state has been covering it up. Instantly, Mohammedans whine that they're being 'targeted' and pretend to be the real victims.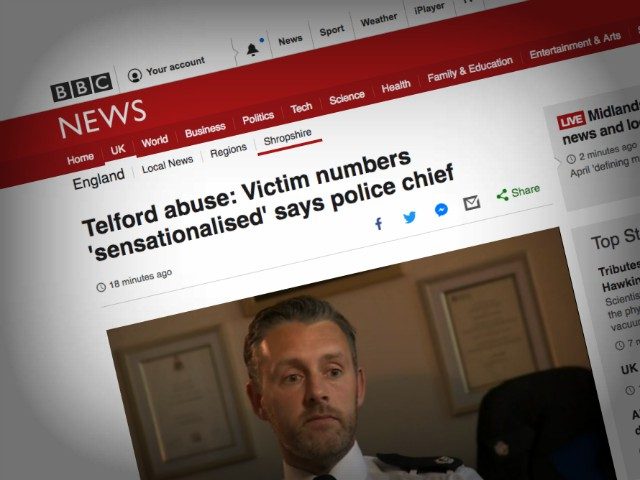 by LIAM DEACON15 Mar 2018
After being accused of "ignoring" the Telford grooming gang scandal, the BBC has now run a headline on the recent revelations, claiming "victim numbers sensationalised".
In their report, the BBC also sought to question the claims of local Tory MP Lucy Allan that victims were mainly white, working-class girls and the officer they quoted suggested white people were equally guilty of child sex crimes.
Rather than focus on the dozens of victims who have come forward, the UK's national broadcaster instead led with the words of West Mercia Police Superintendent Tom Harding, who said the force "significantly disputed" the number of girls attacked.
"I don't believe Telford is any worse than lots of places across England and Wales," the officer said after authorities were accused of failing to act, including ignoring girls found in cars with older men, giving birth at 14, and using the morning after pill many times a week.
"Without an independent inquiry, how will we know?" responded Rotherham Labour MP Sarah Champion to the officer's claims, following calls for a report into the scandal like the one focusing on Rotherham.
The initial Police probe, Operation Chalice, identified at least 100 potential victims in Telford targeted between 2007 and 2009. Yet, just nine were jailed and the case was closed. One was convicted of murder but never charged with grooming his victim.
Then, last weekend, the Sunday Mirror published the findings of an 18-month probe, during which they obtained freedom of information requests, spoke to victims, charity workers, a local MP, and police, concluding that 1,000 girls could have been targeted over 40 years.
The victims identified 70 alleged attackers, and the paper linked five deaths to the abuse and found that girls as young as 11 years old had been targeted in the small town by men of Asian and Muslim backgrounds.
"Read the headlines, read the reports. What are they actually discussing? They're discussing cases from 20 or 30 years ago, offending back in the 1990s," Supt Harding also told the BBC.
"We've never said there aren't cases, there are always cases we are working on and seeking to prosecute."
Ms. Allan hit back, saying that "no-one is suggesting there are 1,000 victims on the streets of Telford today." Rather, as in Rotherham, the alleged crimes are historic and much of the anger is about a potential cover-up.
The police have already been accused of covering up the Telford scandal – as they were in Rotherham – after a police chaplain was suspended for whistle blowing and a police-funded charity forced a worker out of her job after she tried to speak up.
"What I would say is sexual offending across Telford and Wrekin is virtually identically proportionate to the break-down of society, so it is not one particular section over others and we will tackle it wherever it is," added Supt Harding.
However, as research by think tank the Quilliam Foundation has pointed out, Asians are heavily over-represented specifically in street grooming crimes, whilst white people still make up the majority of child sex abusers overall, as the UK is mainly white.
Lucy Allan MP said this week that "white working class" girls had been targeted by Asian men because of their background, as well as accusing the BBC of letting the girls down by not reporting the scandal.
However, the BBC also quotes Ansar Ali, a spokesman for Together Against Grooming (TAG), who claimed to have seen evidence that many of the victims were not white.
He said: "A study on this issue was done by the Office of the Children's Commissioner which dated back to 2013 and, according to that research, a third of victims were felt to be from a non-white background or black minority ethnic background."
TAG are a self-described Muslim group which writes that its aim as an organisation is "to make it clear that we fundamentally disagree with some racist extremist groups and others who are exploiting this situation to denigrate Muslims and Islam by suggesting that there might be a religious and/or cultural explanation for the action of these men".
"Punish a Muslim Day" is a false flag op
This first came to public attention over the weekend from Tell MAMA. At that time letters had (so Fiyaz Mughal alleged) been sent to Muslim institutions or addresses in London, Bradford and somewhere in the vague land called 'the Midlands' This later clarified as Leicester. It calls on people to take action against Muslims on 3rd April (the day after the Easter Monday Bank Holiday); they will be awarded points depending on how much damage or discomfort they cause.
Letters are being reported from various towns across England and Wales, including Bristol, Cardiff, Nottingham, West and South Yorkshire and Counter-terror police are investigating. There is some suggestion that at least one letter has a clear postmark of being posted in Sheffield.
Whoever wrote it used the Court Service logo and address in an effort to make it look 'official'. The sword may be an attempt at a Sword of Justice (cf Justice on the roof of the Central Criminal Court Old Bailey) used in many international judicial societies. Tell MAMA sees similarities with last year's threats from 'Mosque Slayer' who (which?) also used second class stamps and a postbox in Sheffield. Others, (who) according to The Sunnewspaper claim that imagery on the poster references a group called The Last Soldiers of Christ. I can't find anything about them, a google search took me to a hymn by Charles Wesley.
HM Courts and Tribunal Service have issued a denial that the use of their address and logo is anything to do with them.
Today Labour's Mohammed Yasin, the MP for Bedford received a suspect package which the police fear is part of Harm a Muslim day.
My immediate thought was that there is rising anger in the country, even before the revelations about Telford were brought to the armchairs of the readers of the Sunday Mirror yesterday. A friend told me to look more closely at the language and fonts used. It certainly wasn't written by somebody comfortable and fluent in the written language, and the fonts chosen look clumsy and old fashioned. I agree the very phrase 'harm a Muslim' doesn't ring true as the English vernacular. He isn't convinced it is a genuine effort to frighten Muslims – false flag or black op maybe.
Christina McIntosh:

My guess is that the Muslims, or some among the Muslims, have cooked this up themselves. In Pakistan, and elsewhere, a trumped-up charge of "Blasphemy!" or "burnt Quran!" is used to trigger the allah-akbaring mobs and send them out to terrorise the dhimmi communities. In the UK, this sort of thing provides a trigger for the dhimmified *Government* – especially the police – to crack down hard upon *all* persons or groups who have uttered the least squeak of protest about, or criticism of, Islam and Muslims. ALL who have ever piped up to criticise Islam – however calmly and rationally with copious citations from Musim canonical texts and evidence of history including history proudly written by Muslims celebrating their own – Muslim – mass depredations upon Infidles – will now be viewed as 'inciting to violence' against… those poor, poor, persecuted Muswims who are as innocent and helpless as little gambolling lambs…. Meanwhile, the rabid hate-preaching from just about every mosque in the country will continue unabated, the plots to mass-murder infidels will continue to multiply, and Muslim grooming-gangs will continue to enslave and brutalise underaged British infidel girls, and dhimmified Officialdom will politely, for the most part, turn a blind eye, or , when forced to notice it, will impose the lightest punishment it can get away with.