I daresay that a substantial majority of Britons believe that opening the floodgates to Mohammedan savages was a bad idea.
Survey 50 years after 'Rivers of Blood' speech finds widespread fears over integration
.
The far right, The Observer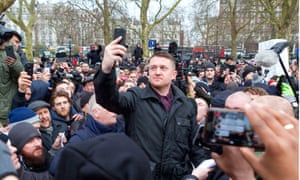 Fifty years after Enoch Powell's notorious "Rivers of Blood" speech, a large minority of Britons appears to believe that multiculturalism has failed and different communities generally live separate lives.
A YouGov poll of 5,200 people to be released tomorrow and commissioned by anti-fascist group Hope Not Hate, found that 43% predicted relationships between different UK communities will deteriorate over the next few years compared to 14% who feel things will improve. More than two-thirds of Conservative Leave voters said they believed multiculturalism wasn't working.
Nick Lowles, chief executive of Hope Not Hate, said: "There is clearly much work to do. Powell's speech led anti-racism campaigners to mobilise – the anniversary of the speech must do the same."
The YouGov poll does offer grounds for optimism, with almost half of respondents describing Britain as a successful multicultural society, although that sentiment is mostly shared among Remain voters and Liberal Democrat supporters.
"Broadly, the reality is that multiculturalism has been an uneven success – leaving some areas of Britain more integrated than others," said Lowles.
Related news:
Trump has been fooled by the Al Nusra and White Helmets staged chemical attack, and by the neocons and the military/industrial complex.
A Gallup poll conducted weeks after the 1968 speech found 74% of the British population agreed with the "Rivers of Blood" speech, in which Powell strongly criticised levels of immigration to Britain, particularly from the Commonwealth. Powell said he was "filled with foreboding – like the Roman, I seem to see the River Tiber foaming with much blood".
The YouGov survey found that 40% felt his warning has proved well-founded – compared to 41% of respondents who believe Powell's gloomy view of race relations was wrong.
A narrow majority of 51% worried that immigration was increasing the pressure on hospitals and schools. More than one-third of all respondents see Islam as a threat to the British way of life, fractionally more than the proportion who view the Muslim faith and the British way of life as compatible.
The vast majority of respondents – 81% – said they felt happy in their communities and almost one-third of people said that they or a family member has been in relationship with someone of a different ethnicity to themselves.
A majority of people – 59% – believe that having a wide variety of cultures and backgrounds is part of British culture, a proportion that has steadily increased since Hope Not Hate first posed the question in 2011, when 49% of people agreed with the statement.
The survey also suggested that immigration has become a less prominent issue following the EU referendum. Exiting the EU and healthcare are now considered more significant.
Campaigners said a far right conference held in London yesterday reflected a surge in Islamophobia. The event was organised by Generation Identity United Kingdom and Ireland (GI UK), a group that has emerged in recent months as the domestic branch of an expanding far-right network active in 13 countries.
Campaigners say GI UK has adopted a different approach to other recent anti-Muslim groups such as the English Defence League (EDL) with its membership being primarily young, organised and tech-savvy. "Its message is even more toxic than groups like the EDL, pushing extreme anti-Muslim prejudice and ideas such as racial separatism and repatriation," said Joe Mulhall of Hope Not Hate.
On Friday night one of Generation Identity's most prominent figures, Martin Sellner, was refused entry to the UK and detained after landing at Luton Airport before his planned appearance at the conference.