Millions of Muslims around the world celebrate Eid al-Fitr by gathering in mosques, parks and on the streets as they break their fasts at the end of Ramadan
Thousands of Muslim men women and children gathered in western Sydney today to celebrate the end of Ramadan with the Eid-al-Fitr festival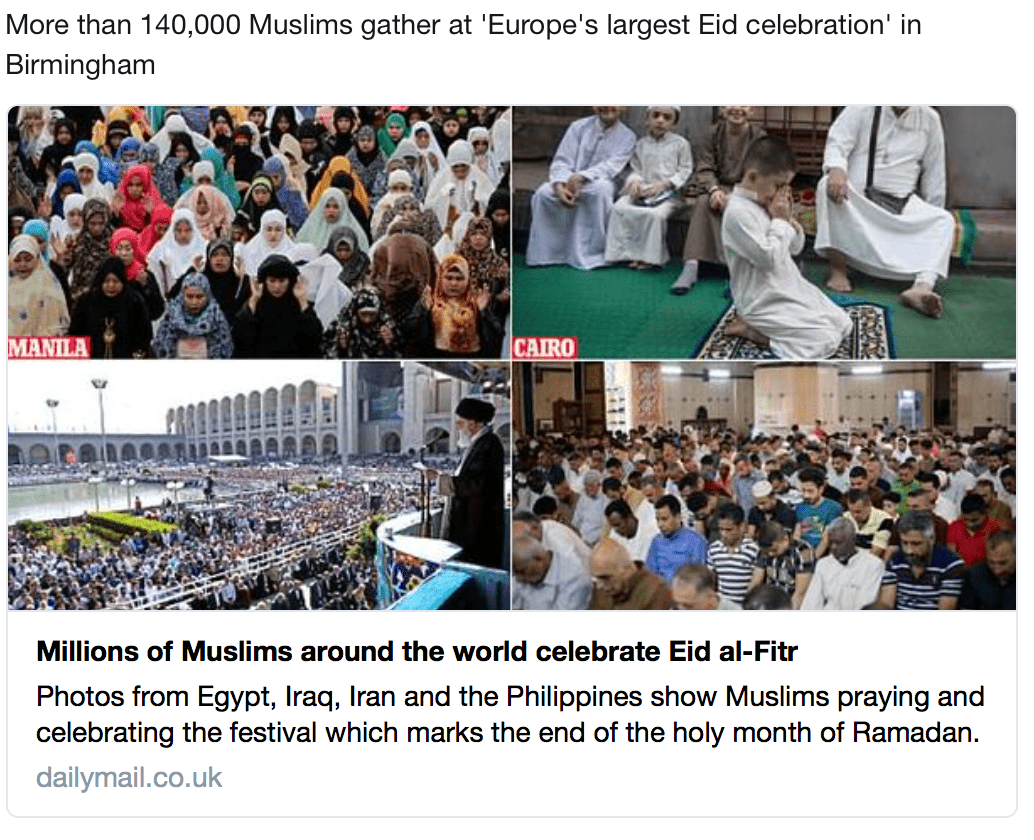 Update:
Thousands of Muslims spill out of a mosque and onto Sydney's streets as they celebrate the end of Ramadan by praying and breaking their fasts
The streets of Lakemba, western Sydney were packed with worshippers celebrating the end of Ramadan
Hundreds visited Lakemba Mosque, with crowds spilling out into the streets and neighbouring houses
The Eid-al-Fitr is one of only two major festivals in the Islamic faith and sees Muslims give money to the poor 
There are around 72,000 Muslims in the Canterbury-Bankstown Council area of Sydney, comprising 21 per cent of the local population.
Hundreds of Muslims could been seen praying on the ground outside the Lakemba Mosque in front of a TV screen
Two Muslim women walk to the Lakemba mosque wearing burkas and brought their young children with them
Eid al-Fitr is one of two major festivals in Islamic faith and sees Muslims hold prayers and give money to poor 
The festival signals an end to the holy month of Ramadan, during which Muslims fast from sunrise to sunset 
Photos show Muslims of all ages celebrating the end of their fast in Egypt, Iraq and the Philippines  
The Eid-al-Fitr is one of only two major festivals in the Islamic faith and sees Muslims hold mass prayers and give money to the poor and needy. (Muslims only.)
The pictures are a horror show.
'Terror plot' foiled after landlord evicts two Muslims then 'finds axes, knives, bear-claws and combat clothing'
The two brothers were part of a group of mainly Asian men who groomed girls as young as 11 before giving them drugs and carrying out humiliating attacks, then hiring them out for sex with others.
But Mrs Dogar told the Daily Star: 'These girls should be playing with toys. If they start [having sex] at ten, by 15 they are proper ladies.'
Speaking from her home in Oxford, the Dogars' mother said they were innocent. She said one of the girls was looking for a boy at a station in London and no one had pressured her into having sex.
She added: 'On the news they say the girls went from Oxford to London on the train. Are they not old enough then? Nobody can feel sorry for them unless they're sorry themselves.'
Mrs Dogar said that in a Muslim community girls focus on study, and questioned why the authorities allowed it to happen.
Kamar Jamil (left) and Mohammed Karrar (right) were found guilty at the Old Bailey last week
Zeeshan Ahmed (left) and Bassam Karrar (right) were among those who were convicted at the Old Bailey
Assad Hussain was cleared of raping Child A but convicted of having sex with a child
Akhtar and Anjum Dogar were both found guilty of multiple counts of rape, three counts of conspiracy to rape, two counts of arranging child prostitution and trafficking a child for sexual exploitation. They are due to be sentenced in June along with five other men.
The trial heard that the brothers helped organise 'parties' where men would pay for sex.
One victim told Thames Valley Police: 'I've seen them doing it to little girls in their school uniforms.'
A 15-year-old victim who was raped by the gang from the age of 12 and sold for sex said she was abused by Akhtar Dogar for three days after running away from a children's home in 2006.
Another girl told of how the brothers trafficked her to be sold for sex at guest houses across the country.
The Dogars and five others have been told they will get lengthy jail sentences after they were found guilty of 59 charges.
Mohammed Karrar, 38, Bassam Karrar, 33, and Kamar Jamil, 27, were each found guilty of multiple counts of rape among other offences. Mohammed Karrar was also found guilty of supplying heroin.
Assad Hussain, 32, and Zeeshan Ahmed, 27, were each found guilty of two counts of sexual activity with a child.
Abuse was carried out at the Nanford Guest House in Oxford. Pictured is a room at the guest house