Slogan of the Week:
"The word 'racism' is like ketchup. It can be put on practically anything — and demanding evidence makes you a 'racist.'"
Here's an example of how it works:
Islam is not a race, but if you voice even the slightest criticism of it, you are called "racist". Is fear of being called stupid names worse than mass-rape of underage British girls by Paki gangs?
Richard Dawkins savaged as "racist" for saying cathedral bells more pleasant than "aggressive-sounding Allahu Akbar"
What's important here is not what Richard Dawkins likes or dislikes, but the fact that people call him a "racist" with a straight face for thinking "Allahu akbar" sounds aggressive, and preferring the sound of cathedral bells. What race is Islam again? What race is the jihad murder of innocent civilians? I never can remember.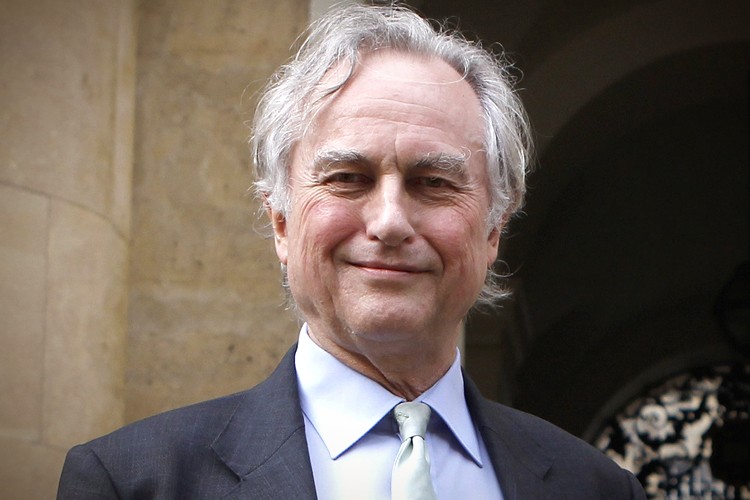 And "Allahu akbar" is aggressive. It is meant to be. "Allahu akbar" means Allah is greater, i.e., greater than your god. It's a declaration of superiority. Jihad mass murderers the world over scream "Allahu akbar" as they murder people. 9/11 hijacker Mohamed Atta reminded himself to "shout, 'Allahu Akbar,' because this strikes fear in the hearts of the non-believers." I guess he was an anti-Muslim racist, too. (More below the fold)
More smear jobs on Dawkins from the PuffHo & the Independent, which is owned by an Arab Moslem:
Richard Dawkins accused of Islamophobia
Richard Dawkins Is Still Tweeting About Islam
Richard Dawkins recently tweeted: "Listening to the lovely bells of Winchester, one of our great mediaeval cathedrals. So much nicer than the aggressive-sounding 'Allahu Akhbar.' Or is that just my cultural upbringing?"
While some have tried to find a deeper meaning in Dawkins's tweet (e.g., a reflection on the power of human upbringing on our future preferences), a straightforward reading suggests that Dawkins simply prefers the sound of church bells to the sound of the Islamic call to prayer. Does this mean that Dawkins is a racist, although Islam is not a race?
In other news:
Youngest victim of London's crimewave aged just 13 is in 'critical but stable' condition after being knifed in a "park plagued by rival gangs of youths" as police arrest five over stabbings
Three hospitalised after first incident in Mile End, East London just after 6pm
Two teenage boys were attacked near East India Dock and Ealing Broadway
A 13-year-old has been left 'seriously injured' after a fourth attack in Newham
From the Religion of Peace:
"'Tedious old racist': Richard Dawkins under fire for dismissing 'aggressive' Muslim prayer," RT, July 17, 2018:
Best-selling atheist author Richard Dawkins has once again been branded "racist" after he tweeted that the sound of cathedral bells is much more pleasant than the "aggressive-sounding Muslim Allahu Akbar."
The Arabic phrase – which means 'God is Greatest' – is used by Muslims, usually to express gratitude and commitment to Allah, and it's sung at the beginning of the call to prayer.
No. Its a falsehood from RT. Allahu akbar means "Allah is greater". Greater than your god.
It also has negative connotations as a number of terrorists have shouted the words before carrying out attacks.
No. "Allahu akbar" is the war-cry of the Mohammedans for millennium. Hundreds of millions of people have been terrorised and slaughtered by devout Muselmaniacs who screamed 'allahu akbar' when they attacked.
Dawkins, who has previously faced a barrage of criticism for claiming in a 2013 tweet that Islam is the "greatest force for evil in the world today," was again accused of Islamophobia on Tuesday morning after sending a provocative tweet.
High-profile communist reporter Ash Sarkar blasted the atheist author of 'The God Delusion' as a "tedious old racist." Meanwhile, other Twitter users said that rather than Dawkins being influenced by what he branded his "cultural upbringing," he was instead mired by "prejudice."
Last year Dawkins was barred from attending an event hosted by KPFA Radio in Berkeley, California, because of his "abusive speech against Islam." But in an open letter to the organizers, the writer insisted he "never used abusive speech against Islam" and was instead targeting 'Islamism,' a fundamentalist interpretation of the religion.
Dawkins also made the headlines in 2015 when he questioned the motives of Ahmed Mohamed, a 14-year-old boy who was wrongly arrested in the US after his teacher thought a clock he made was a bomb, and back in 2013 drew fire for comparing Islam and Nazi Germany….