Andrew Bolt is probably the most courageous journo in the land. His enemies are many & he stands his ground. But he still doesn't get Islam. Here's his take on Fraser Annings  "final solution" speech.
What hypocrites!
See, in June, Anning proposed a motion to move our Israel embassy from Tel Aviv to Jerusalem, historic capital of the Jews.
And who voted against that? Yes, Labor and the Greens.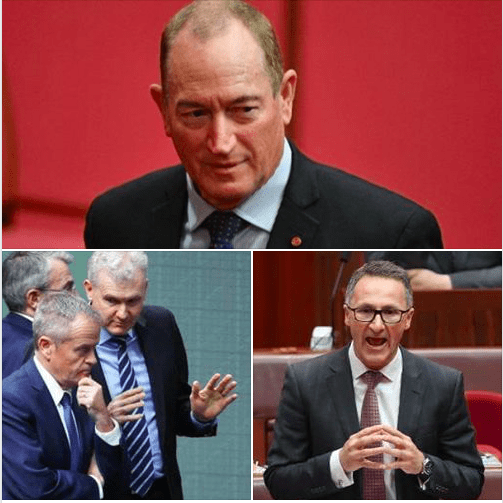 Andrew Bolt, Herald Sun August 16, 2018
Who's worse? Senator Fraser Anning, who has told dangerous untruths in attacking Muslim immigration? Or the media pack — and hypocritical politicians — falsely claiming this Katter's Australian Party senator called for a "White Australia" policy and branding him a Jew-hater?
Hmm. I'll give the media and the politicians the prize for again reacting with their own lies, abuse and fake horror in reckless defence of our high immigration.
Oops. I must report some breaking news.
Excuse this interruption, but this news shows that Anning at least addressed a real problem when he called for new immigrants to "predominantly" reflect our "historic European-Christian composition".
NEWS ITEM 1: Police on Wednesday again raided the property of a Middle Eastern family in Melbourne and allegedly seized ammunition.
NEWS ITEM 2: The ABC reports "firebombings have hit Melbourne's suburbs", torching properties of "a significant organised crime figure who spends much of his time in the Middle East" and coming after a rival Lebanese family, the Tibas, were "subject to a grenade attack".
NEWS ITEM 3: The Herald Sun reports "police allegedly found an AK-47 rifle" in the home of a Melbourne teenager of African appearance, a week after another AK-47 was found during raids on alleged members of an ethnic gang accused of home invasions.
NEWS ITEM 4: A man, of dark complexion, has been arrested in London on suspicion of terrorism after he ran down cyclists near parliament.
NEWS ITEM 5: About 100 cars were burned on Monday in what police said seemed "co-ordinated" attacks in several Swedish cities, with witnesses blaming "dark-haired" youths — a common euphemism for immigrants. (Note: police have not yet identified those responsible.)
Now, back to Anning.
Let me tell you first what he said in his maiden speech on Tuesday.
"In the 1960s, both Liberal and Labor parties … recognised the importance of our predominantly European identity," he said, and both supported "a European-based immigration program". True.
Anning added: "Diversity should be managed to remain compatible with social cohesion and national identity.
"We … are entitled to insist that those who are allowed to come here predominantly reflect the historic European Christian composition of Australian society and embrace our language, culture and values."
Note: "predominantly", not exclusively. Anning never said he wanted a "White Australia".
But he did want a total ban on Muslim immigration: "The record of Muslims who have already come to this country in rates of crime, welfare dependency and terrorism is the worst of any migrants."
That was extreme enough, yet weeping politicians on Wednesday damned him more for saying this: "The final solution to the immigration problem is, of course, a popular vote."
Anning is a fool to use the phrase "final solution", which Nazis used for their genocide of the Jews. Yet he insists he meant no such association and his record of defending Israel suggests he deserves the benefit of the doubt.
But the gotcha brigade pounced.
Greens leader Richard Di Natale claimed this "same language that the Nazis used … is vile, racist, bigoted".
Yes, "bigotry", agreed Labor frontbencher Tony Burke. (Burke's entirely political life depends on the Moslem vote. Here's a guy who's just as corrupt as China Sam.)
These hypocrites.
See, in June, Anning proposed a motion to move our Israel embassy from Tel Aviv to Jerusalem, historic capital of the Jews.
And who voted against that? Yes, Labor and the Greens.
What's more, Burke, whose seat is more than 20 per cent Muslim, also seemed to praise Islamist militants at a Palestinian fundraising dinner, saying: "For those who are political advocates within Palestine, itself, I will never know the bravery that comes with putting your life on the line and at risk, in engaging in politics in different ways."
How dare such people now pose as defenders of Jews, when it seems their real aim is to scare us off wondering whether Anning has a point about Islam.
Told ya. Burke is  totally corrupt and two-faced.
This is not to defend Anning's attack on Muslims.
There are enough challenges with Muslim immigration — high welfarism, the risk of terrorism, imprisonment rates in Victoria and NSW three times the average — without inventing fake scares.
No, Senator Anning, you were wrong to claim that the man accused of mowing down people in Melbourne's Bourke St Mall is Muslim.
Yes he was. Its Andrew Bolt who's wrong here. His own brother declared that he was a nutcase, but it became far worse when he converted to Islam.  
Why would he say this when he's not a Muslim convert:
Dimitrious Gargasoulas  said: "All the law is illegal."
Later, he said: "Your Honour, did you know the Muslim faith is the correct faith according to the whole world? And I am not guilty."
No, you were wrong to claim Melbourne's Sudanese gangs are Muslim. Most come from Christian South Sudan.
Andrew Bolt assumes they are Christians. Curiously, they behave like Mohammedans. Why does he do that?
And you were outrageous to claim that for every 1000 Muslims brought into Australia, there are "50 that want to kill us".
Seriously? One in 20 want to kill us?
According to Islamic law every Mohammedan is a soldier of allah. Each and every one of them must participate in jihad when the time comes. Those who reject participation in jihad warfare are considered traitors who must be killed. What is it that Bolt doesn't understand about that? 
Such inflammatory lies only help your critics to shout down this debate. Just look and weep.
These are not lies. Andrew Bolt still doesn't get Islam. He needs an urgent crash course in basic Islamic warfare.