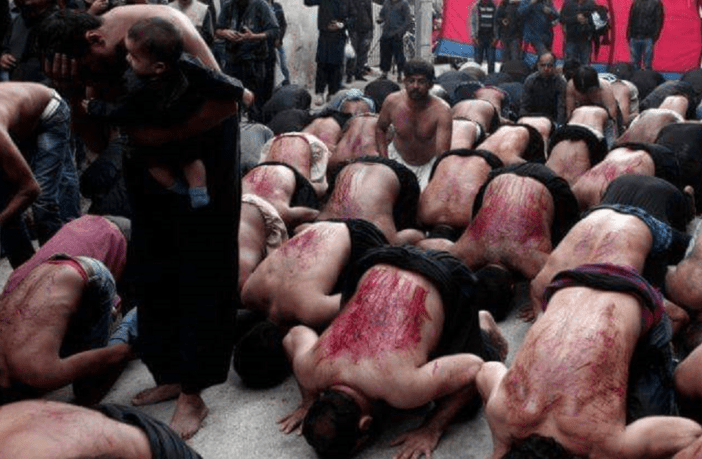 The images you are about to see do not come from Yemen or Islamabad, nor from Syria nor from Afghanistan.
These photos were taken in Piraeus, Greece, where dozens of Shiite Muslims gathered in order to celebrate "Ashura".
The abominable images of grown men whipping themselves in public, in front of their children, in 2018 Europe, is indicative of the situation to which multiculturalism has led us, year by year, and reveals that this culture is incompatible with Western civilisation.
Modern Europe is facing a multi-layered crisis in economy, immigration, culture and demographics. Beyond that, certainly, Europe will soon face the most important battle of her history, the battle of her own existence, as we know it.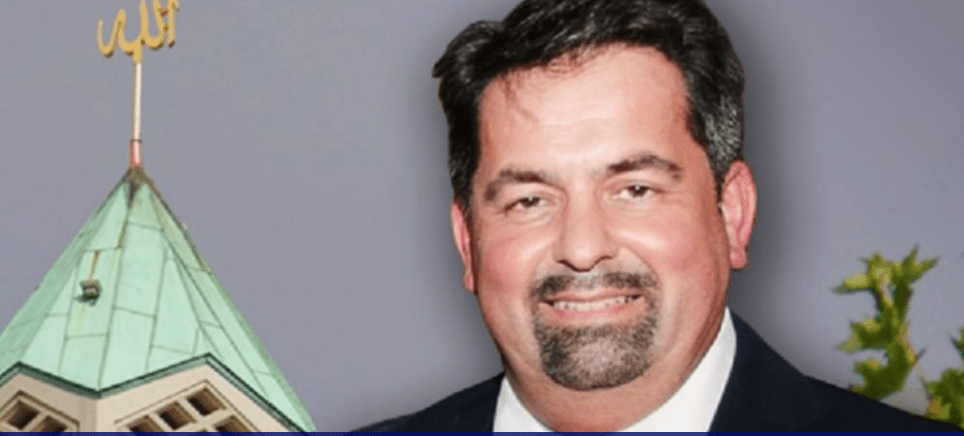 'Symbol of Islamisation': Muslims celebrate German church becoming a mosque
Muslims bought the church from a private investor around 2012 for 1 million euros. The Islamic Al-Nour centre started the conversion of the church into a mosque and its opening was celebrated today.
Many people are now horrified by the actual opening of the mosque and see it as a "symbol of the Islamisation of Europe".
As more Germans are worried about Islamisation many have started to join the right-wing Alternative for Germany (AfD) party. The AfD has recently become the second largest party in the country and the largest in some regions.
Italian Interior Minister: "We don't take lessons from Macron on law and humanity"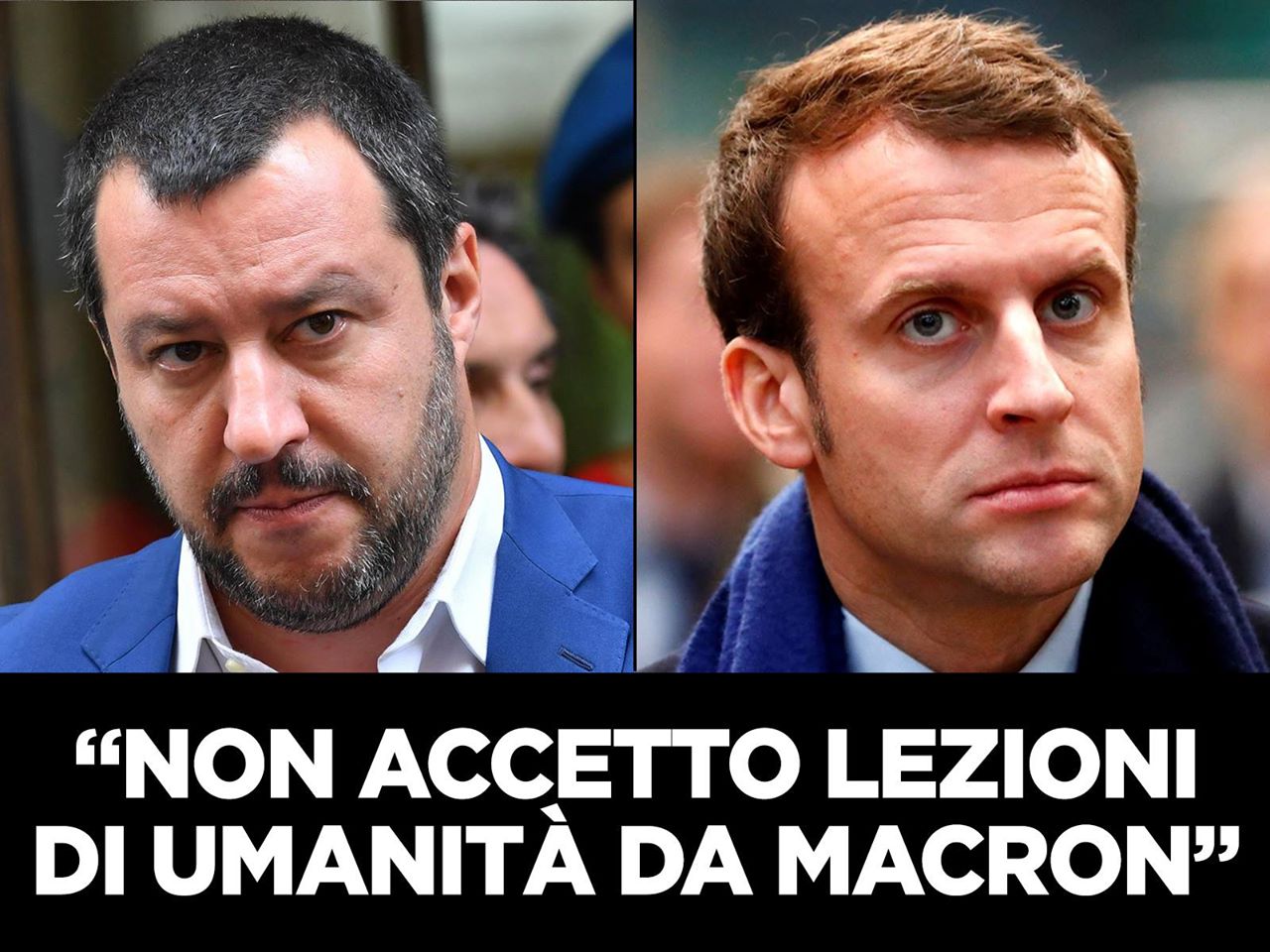 A diplomatic row between France and Italy is emerging after French President Emmanuel Macron criticised Italy on its migration policy.
But it didn't take long for Italy's Interior Minister to hit back:
"We don't take lessons on law and humanity from Signor Macron," Matteo Salvini, the interior minister and leader of the Lega party said.
Salvini added that the French President "locked the border with Italy and turned back over 50,000 migrants, above all women and children".
After France and other countries locked the borders, Italy was forced to shut its borders (closing ports) as well.
Italy's Interior Minister took a hardline stance on migration and earlier told the Aquarius: "go wherever you want, but not to Italy."
Italy's Muslims uneasy after election of far-right government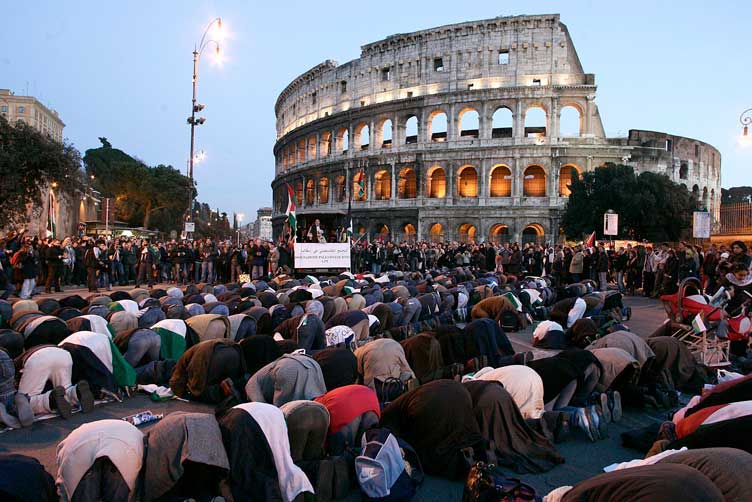 There are 2.6 million Muslims in Italy, just over four percent of the population. While the majority are foreign citizens, nearly a million are Italian either by birth or naturalisation.
Italy, like the rest of Europe, shouldn't have any Mohammedans at all. We shouldn't give a f*kc for their feelings. But we should have real concerns about how Mohammedans treat their minority Christians, Jews, Buddhists, Hindus & others in lands where Islam has the upper hand.
Not to worry, the OIC controlled UN's on the case:
The UN's new high commissioner for human rights Michelle Bachelet said in her maiden speech on Monday that she intended to send teams to Italy as well as Austria to assess the situation.
"On social media, messages, Facebook pages and groups are increasingly aggressive against migration and Islamic culture," Yassine Lafram, the 32-year-old recently appointed president of the Union of Islamic Communities in Italy (UCOII), told Al Jazeera.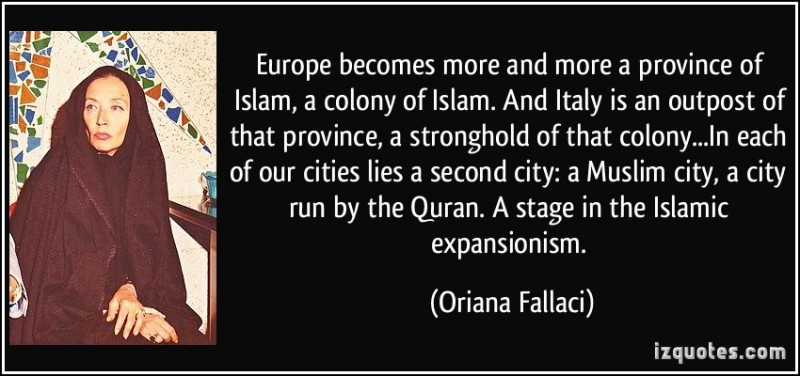 Its worse, much worse in France:
"France is being Islamised and Africanised" 
Charlottes d'Ornellas, a conservative female journalist, got into a heated exchange with Hapsatou Sy, a leftist activist, over the Islamisation and Africanisation of France.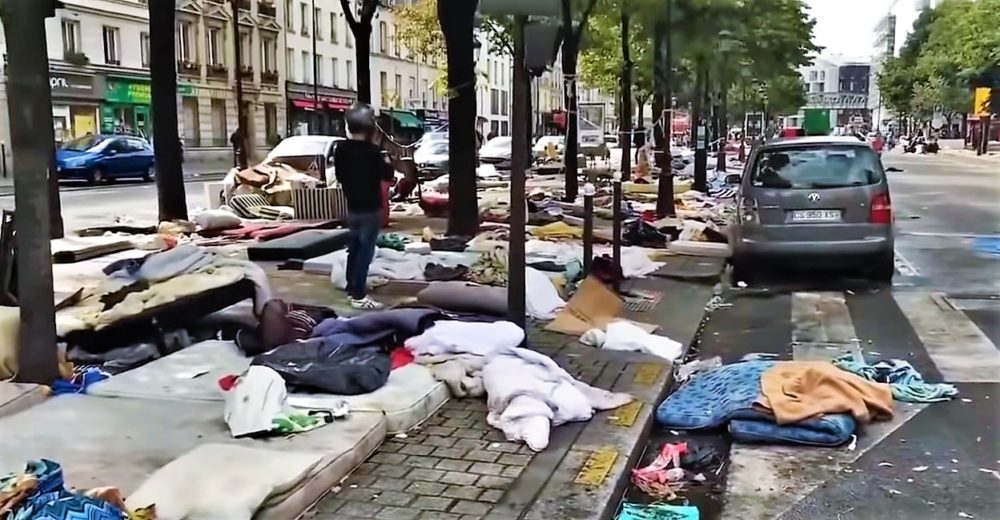 A virulent debate has begun to take place in France since Eric Zemmour, the most popular author in France with millions of books sold, said to Hapsatou Sy's face, a leftist figure, that her name wasn't french.
Charlotte d'Ornellas, a journalist of news outlet Valeurs Actuelle, faced Hapsatou Sy in a TV debate and argued on the Africanisation of France.
"Eric Zemmour told you that your name refers to other origins than French origins, there is a dichotomy in saying 'I'm French like everybody else, stop sending me back my origins' and saying in the same time 'Let me have my origins!' At one point it's not a sustainable position !", Charlotte d'Ornellas said.
Hapsatou Sy was visibly shocked from hearing these statements and responded to the right-wing journalist by praising diversity.
"We can't compare Britanny and Senegal (…) When you go to Château-Rouge, there is a cultural Africanisation, when we go to certains areas, where all women are veiled, there is an Islamisation of the landscape", Ms. Ornellas responded back.
France is known for having large populations of Africans concentrated in cities like Paris and Marseille. Many of them are Muslim migrants, especially those from northern or north west Africa.
The country now has six million Muslims, or almost nine per cent of the population. But an imam thinks the number is far bigger and there are ten million in France.
The real numbers are probably closer  to 12, perhaps 14 million.