HIT THE ROAD, JIHADI BOYS
Australia is home to some 400 people whose views are so extreme they are considered potential terror threats. For this reason, they have found themselves included on ASIO watch lists.
Aussie dollar falls on UK-EU draft deal
Makes no sense but that's the market, folks….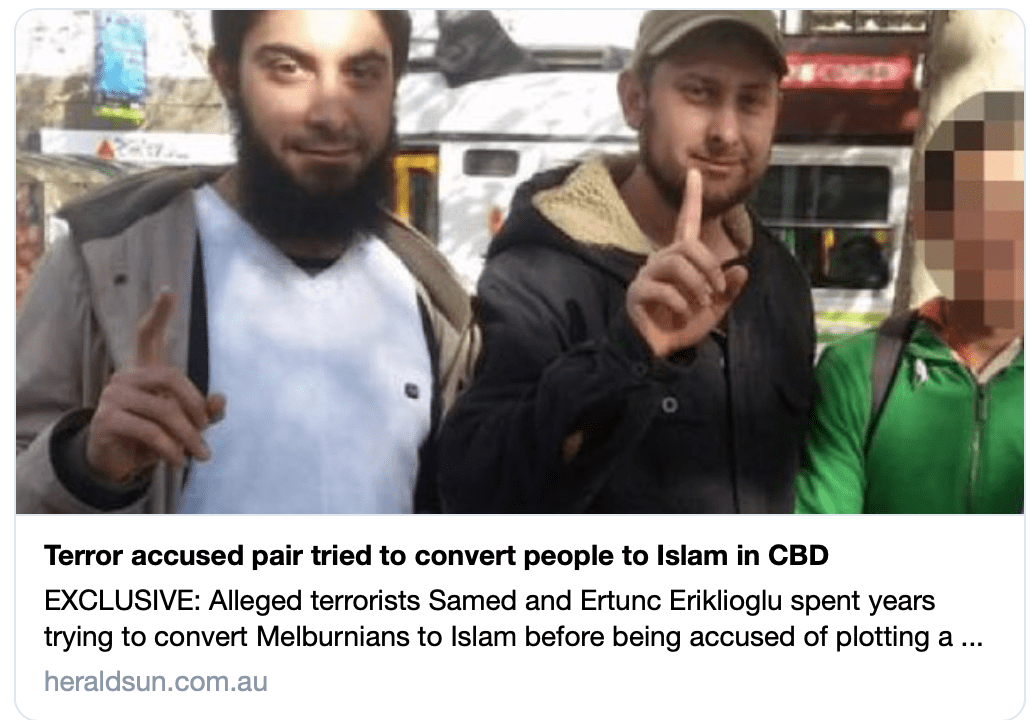 The father of two men accused of plotting a terrorist attack has been revealed as an outspoken Turkish-born Muslim who earlier called for the imposition of Sharia.
Dad of terror suspects speaks out: 'My sons are good men'
the father of two men charged over a terror plot in Melbourne says his sons are "good men" who wouldn't even know how to use a weapon.
Armagan Eriklioglu told reporters outside his Campbellfield home in Melbourne's north that his sons were not aggressive.
"They don't even know how to use a weapon," Mr Eriklioglu told Fairfax media on Tuesday.
'Dad' is lying. He was the driving force behind them. He is the guy who demanded sharia law in Australia, for years.
Former friend recalls sudden and 'absurd' change in terror suspect
Up until last year, Hanifi Halis was on track to finish a university degree and become a sports scientist — and wanted to look good at all times.
Then, according to one of his closest friends, he met a new group of mates who brought him into the Hume Islamic Youth Centre in Melbourne's northern suburbs and he began a new exploration of his religion.
The change was a shock to the friend, who had known Halis, now 21, since they were both in primary school. "He quit uni, his job and his ambitions to study a form of Islam that HIYC practises," the friend, who asked not to be identified, told The Australian.
"(He) tried to get me to come and deleted his social media and moved houses. So we lost contact."
He knew nothing of what had happened to his friend until he saw the images of Halis emerge from court, along with brothers Ertunc, 30, and Samed Eriklioglu, 26, after being charged over an alleged terrorist plot this week. "I was blown away by what happened, someone so close to you changes so fast and becomes an alleged terrorist," he said. "Seeing him walking into the cop car after court was just absurd. I feel for his family."
Halis's father, Salih, yesterday defended his son. "Our son is innocent," Mr Halis said. "He comes from a good family."
Sure. The old jihadist gives himself the seal of approval. We need to get these people OUT!
The HIYC did not respond to a request for comment.
Unlike the Eriklioglu brothers — who would regularly volunteer their Saturday mornings to head into the city and join "Street Dawah" sessions on Bourke Street to spread information about Islam — Halis did not appear overtly religious before 2017.
"They had come a long time ago — a couple of years back — and then they stopped coming," one of the Street Dawah co-ordinators, Nasser Mohammed, said of the brothers yesterday.
"They are very quiet, they're not wild, they're not aggressive. We haven't got no weapons, they [police] couldn't find anything.
"I wanted to come out here and say it's not true," he said. "I don't know where they [police] got this information from."
Mr Eriklioglu rejected police suggestions his sons were influenced by Islamic State, saying: "No, no, they don't like Islamic State."
The pair, a 30-year-old from Dallas and a 26-year-old from Campbellfield, were arrested along with a 21-year-old man from Greenvale during dawn raids at their homes on Tuesday.
Police allege they were involved in a "chilling" ISIS-inspired Melbourne plot that allegedly aimed to kill as many people as possible using at least one semi-automatic rifle.
The trio is expected in court on Tuesday afternoon, each charged with one count of acting in preparation for, or planning of terrorist acts.
A neighbour of the 30-year-old man says he had become increasingly isolated in recent years, praying at home instead of attending the local Broadmeadows mosque.
"I have been not hanging with them now maybe two years," Zubair Mohamed told ABC TV.
"Used to be we go and pray together and go and have a coffee. Since two years ago, they just pray themselves at home.
"He got a few friend and pray in the house. I don't agree with that. We pray not for any group, only to the one god … I telling them 'you guys doing something wrong. There is a mosque close by. We go pray in the mosque'."
Mr Mohamed said the suspect was "not political, just a normal person".
"I don't see anything political. I don't know what's in his head."
Police said the wives and children of the suspected terrorists were at the properties when raids were carried out.
A woman at the Dallas address where the 30-year-old man was arrested, declined to speak about details with reporters.
"I am not in the mood to talk," she told the Herald Sun.
"I don't know what happened."
A strong police presence remained at each address.