Seriously:  did  Daniel Andrews win last weekend's election because the police arrested a few bumbling Islamic terrorists?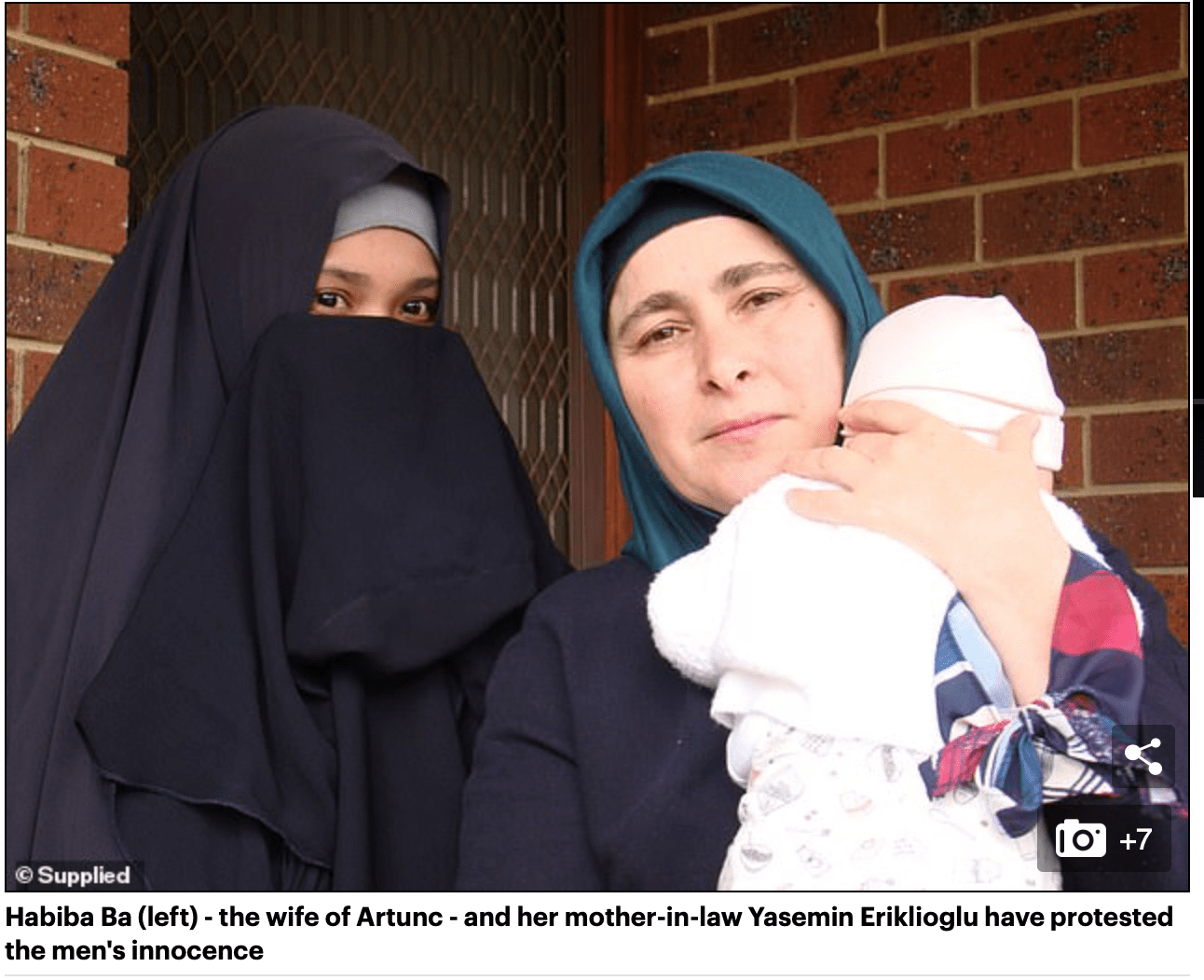 Habiba Ba – the wife of Artunc – maintained the men were innocent and suggested they were pawns in a political game.
'It's been done to, you know, get votes,' she said.
Premier Daniel Andrews won last weekend's election in a landslide victory.
'Let us see our boys': Father of two brothers accused of a deadly terror plot in Melbourne begs authorities to let him visit his sons in prison
Hanifi Halis, 21, Samed Eriklioglu, 26, and his brother Ertunc Eriklioglu, 30, arrested on terrorism charges
Armagan Eriklioglu and his family have not been allowed to visit their sons
The men are accused of plotting a massacre in Melbourne 
Lawyers for the accused hope to have the men released on bail within months 
The father of two men accused of a deadly Melbourne terror plot has pleaded with authorities to allow him to visit the pair in jail, more than a week after police smashed their way into several suburban homes.
Armagan Eriklioglu – the father of Samed Eriklioglu, 26, and Ertunc Eriklioglu, 30, – told Daily Mail Australia that prison authorities have not allowed anyone apart from lawyers to visit his two sons.
The men remain caged inside Melbourne Assessment Prison after police stormed their way into their homes in the dead of night last Tuesday.
Pictured: Court sketch of Ertunc Eriklioglu, Hanifi Halis and Samed Eriklioglu
'That's not an ISIS salute': Father of accused terrorists who 'planned a massacre' downplays 'innocent' Muslim hand gesture – as his wife claims police trashed their garage mosque
…and Islam's got nothing to do with Islam:
 Picture emerges of accused terrorist and family displaying one-fingered salute
 Father Armagan Eriklioglu says common hand gesture nothing to do with ISIS
The wife of terror accused Ertunc  Eriklioglu has also defended her husband
Mosque in the garage of Ertunc Erikioglu trashed as police search for evidence
Hanifi Halis, 21, from Greenvale, prayed with the brothers in their garage
Samed Eriklioglu, his father Armagan and brother Ertunc give a one-fingered salute
Mr Erikioglu said his sons were not supporters of the terrorist group ISIS and refuted the allegations. 
Samed Eriklioglu did not "refute the allegations", he disputed the fact that he & his sons are hardcore headbangers. The one finger salute for the Mohammedan is the same as the Hitler salute to the Nazi.
'No, they don't like Islamic State. They would never attack an Australian, no way,' he said.
Until they do.
Mr Erikioglu said his sons were coping as well as they possibly could in jail, where they are being housed together.
Meanwhile, his devastated family are struggling to come to terms with the allegations their loved ones were planning mass murder.
'It's still very hard,' Mr Erikioglu said.
He said his sons still remain in the dark about the true extent of the case against them.
'They still haven't mentioned it,' he said.
The family maintain the men, including their friend Hanifi Halis, have committed no crime.
Plotting to terrorise the infidels is not a crime in Islam. Neither is lying to infidel dimbulbs who dabble as journalists.
Police allege the men planned to buy a black market semiautomatic rifle and carry out a Melbourne massacre.
The men were allegedly using the encrypted app Telegram to communicate before police pounced when they allegedly attempted to buy the .22-calibre rifle.
At a brief court hearing this week, it was revealed police had 17,000 telephone intercepts and 10,000 text messages to assess and 7800 hours of recordings captured on various listening devices to collate.
Last week, Ms Ba described her husband as a decent, hardworking family man.
'He is a good father, a good husband, he's helpful and he was just praying. He didn't do anything. People just came and took him for no reason and now Allah give him justice upon him and Allah help our family,' she said.
Terrorising and murdering unbelievers is a also worship to allah.
Police smashed their way into the mens' homes about 3am last Tuesday, turning over a garage the men used to pray in.