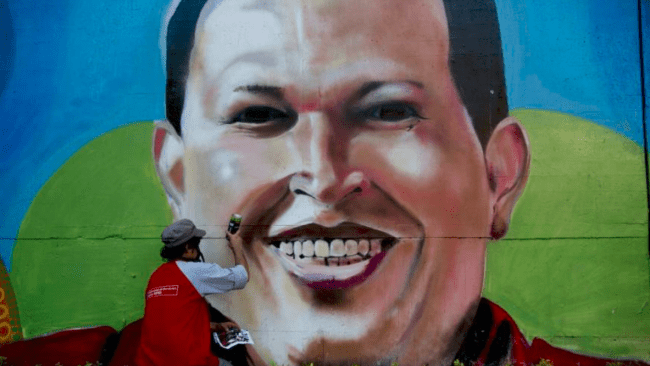 Great work, Hugo
Tim Blair Blog Posts
.
Venezuela's socialist idiot leaders probably didn't intend to destroy their nation's economy and ruin millions of lives.
It's just that, being socialists and idiots, destruction and ruin were always going to happen. Christina Sulbaran reports from that tragic, shattered country:
The descent began in the early 2000s when the Hugo Chavez government began to take control of elections, private companies, the judiciary and the police. The descent turned into a nosedive when Nicolas Maduro came to power and the state tightened its grip on oil production, our country's main source of revenue.
Investors fled and skilled workers emigrated. As living standards plummeted, the response was to print more money. Hyperinflation has been the result …
We don't go out after dark – those who do take huge risks. A friend's son was kidnapped on his way back from the cinema, with the perpetrators demanding an extortionate ransom. Tragically, kidnappings work. A six-figure sum is demanded and families scrape together to pay.
Even basic medicines are increasingly scarce now in Venezuela, but I'm lucky to have a son who sends me thyroid pills from abroad.
By comparison, we have Iran. There, a nation's ruin was absolutely intended by Islamic fundamentalists:
There was something cool about Iran in the 1960s and 1970s, a time when a certain class of Iranian woman could be found playing volleyball on the shores of the Caspian Sea in a bikini — a world away from today's enforced shawl-wearing.
It was the era when the Empress, or the Shahbanu to give her Persian title, would appear on magazine covers next to Jackie Kennedy …
And it was a golden age for Iran's cultural scene. For a decade, the biggest names in avant-garde art, music and theatre would gather at the Shiraz Arts Festival, founded and run by the Empress. 'That was a very important festival from 1967 to 1977,' she says, 'and it was bringing East and West together.'
Iran these days has no "cultural scene". And on to Pakistan, where Christian woman Asia Bibi spent nine years in prison facing the death sentence for blasphemy:
In 2009, Bibi was at her work on a farm when she stopped to drink some water from a well, using someone else's cup. She was told that she could not share utensils with a Muslim because she was 'unclean'. This led to an argument about religion, and Bibi and her family were later beaten by a mob who extracted a 'confession'.
She was then arrested and imprisoned for more than a year before being formally charged. She was the first woman in Pakistan to be sentenced to death for blasphemy, and would have been the first to be executed for blasphemy under the current law …
After nine years in prison, Bibi was finally acquitted. The judges ruled that there was insufficient evidence against her, because she 'confessed' to blasphemy while she was being beaten. Her exoneration sparked violent protests across Pakistan from the country's fundamentalists. Some called for the judges involved in the case to be killed.
All three links are to the Spectator. All three pieces are worth your attention. And your subscription.