Scott Morrison condemns 'ugly racial protests' after three arrested at St Kilda Beach
Our taxpayer funded ABC-journaille of course focuses on a few agent provocateurs who were dutifully pictured giving the Hitler salut.
"Australia is the most successful migrant country in the world."
Used to be. Until the globalists started to flood the country with unassimilable savages who terrorise us.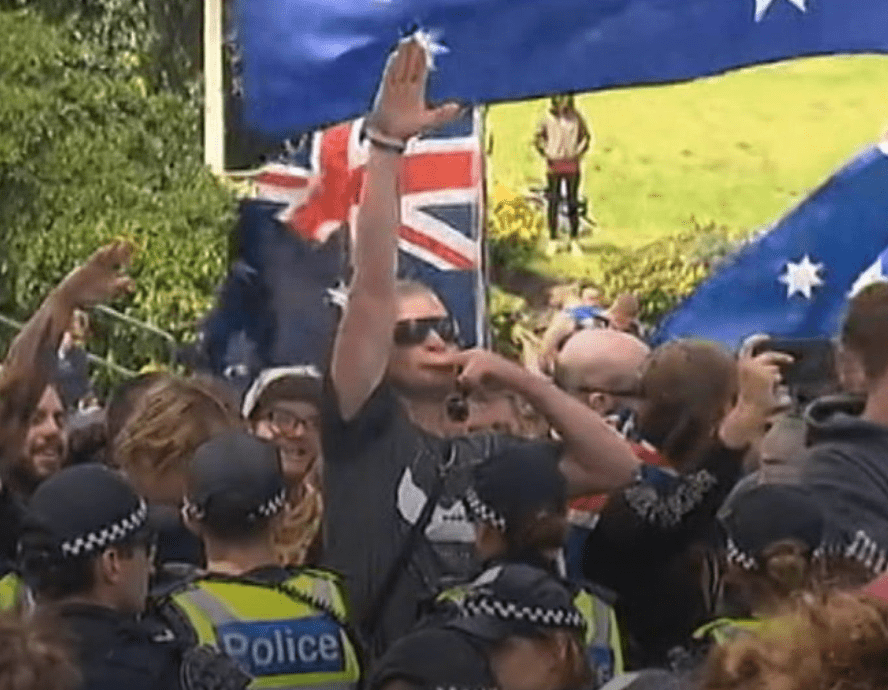 Some protesters carried Nazi insignia or made Nazi salutes. (ABC News)
But any kind of protest by mainstream Australians gives our far-left traitor class the jitters:
Hundreds of far-right and anti-fascist protesters faced off as mounted police joined officers in riot gear and public response order vehicles on the beach, trying to keep the two groups apart and rounding up trouble-makers when scuffles broke out.
The conflict spilled onto the road when far-right demonstrators attacked a car which was carrying a loudspeaker broadcasting "Sudanese are welcome, racists are not".
Prime Minister Scott Morrison has thanked police for their efforts dealing with "ugly racial protests" on St Kilda Beach yesterday, after some demonstrators were seen making Nazi salutes.
Key points:
Police describe the afternoon as "challenging", with hundreds of officers keeping the peace
Prime Minister Scott Morrison calls Australia the "most successful migrant country"
MPs criticise senator Fraser Anning for attending the rally
Police arrested three people after spending hours keeping participants of a far-right rally apart from counter-protesters on the Melbourne beach.
A huge police operation, involving officers in riot gear and the mounted, canine and aerial branches, maintained order on the beach, despite a number of scuffles breaking out.
"I thank [Victoria Police] for their efforts dealing with the ugly racial protests we saw in St Kilda yesterday. Intolerance does not make Australia stronger," Mr Morrison tweeted this morning.
"Australia is the most successful migrant country in the world.
"This has been achieved by showing respect for each other, our laws and values and maintaining sensible immigration policies.
"Let's keep it that way, it makes Australia stronger."
Victoria Police Superintendent Tony Silva said the afternoon was challenging for officers, but he considered it a "very successful day".
"I certainly felt that we had it under control," he said.
"To my knowledge there was no injuries, both to any of the public and also the police."
The Prime Minister stopped short of condemning controversial independent Queensland senator Fraser Anning, who has attracted criticism from a number of colleagues in Canberra for attending the rally.
Senator Anning, who called for a return to a "European Christian" immigration system during his first speech to Parliament, was thanked for being there by rally organiser Neil Erikson.
Mr Erikson was found guilty of inciting serious contempt of Muslims in 2017, after staging a mock beheading to protest against the building of a mosque in Bendigo in central Victoria.
Independent senator Derryn Hinch and the Greens' Sarah Hanson-Young criticised Mr Anning on Twitter, while Federal Labor MP Tim Watts wrote that the far-right protesters "hate the diverse, inclusive country that Australia has become" and that their objective was "to intimidate minorities".
"None of us should be silent in the face of this threat."
These tosspots are on speed dial by the fake news media.
Newly elected MP Kerryn Phelps praised demonstrators who showed up to oppose the rally, saying the country's political leaders needed to be more pro-active in speaking out against a rise in anti-Semitic and neo-Nazi behaviour.
"I think we should call out this rally for what it is. It is a demonstration by a neo-Nazi group where you're seeing 'heil' salutes," she said.
.
"We know there's a rise of Nazism in countries, particularly in Europe.
"I think we should be very concerned about this in Australia. We need leadership to call it out for what it is — right-wing extremism."
Federal Minister for Immigration David Coleman also tweeted to condemn the rally "in the strongest terms".
"There is no place for racism in our nation. We are the most successful multi-cultural society in the world, and we have achieved that by working together to build a stronger Australia," he tweeted on Sunday morning.
Sieg Heil, Idiots!
What better way to demonstrate your IQ doesn't reach room temperature, not even in Melbourne, than plastering Swastika stickers all over town, including a Jewish retirement home.
We recall that 'Nazi' comes from National-Sozialistische Deutsche Arbeiter Partei = National-Socialist German Workers Party. This was the party of Hitler, Himmler, Eichmann, Goebbels and a whole bunch of mass-murderering lunatics, which historically fit hand in glove with dreams…
The extremist group, Antipodean Resistance, vandalized the front
In other news:
"Palestinian" Muslims Warn Christians in Gaza: NO CHRISTMAS, "ABSOLUTELY FORBIDDEN":
This is who the left supports while they shoot islamophobia bullets at anyone who stands for truth, freedom, decency and quality for all before the law.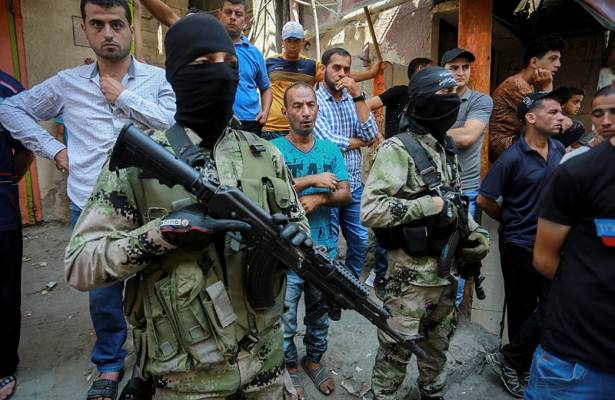 From the Religion of Peace: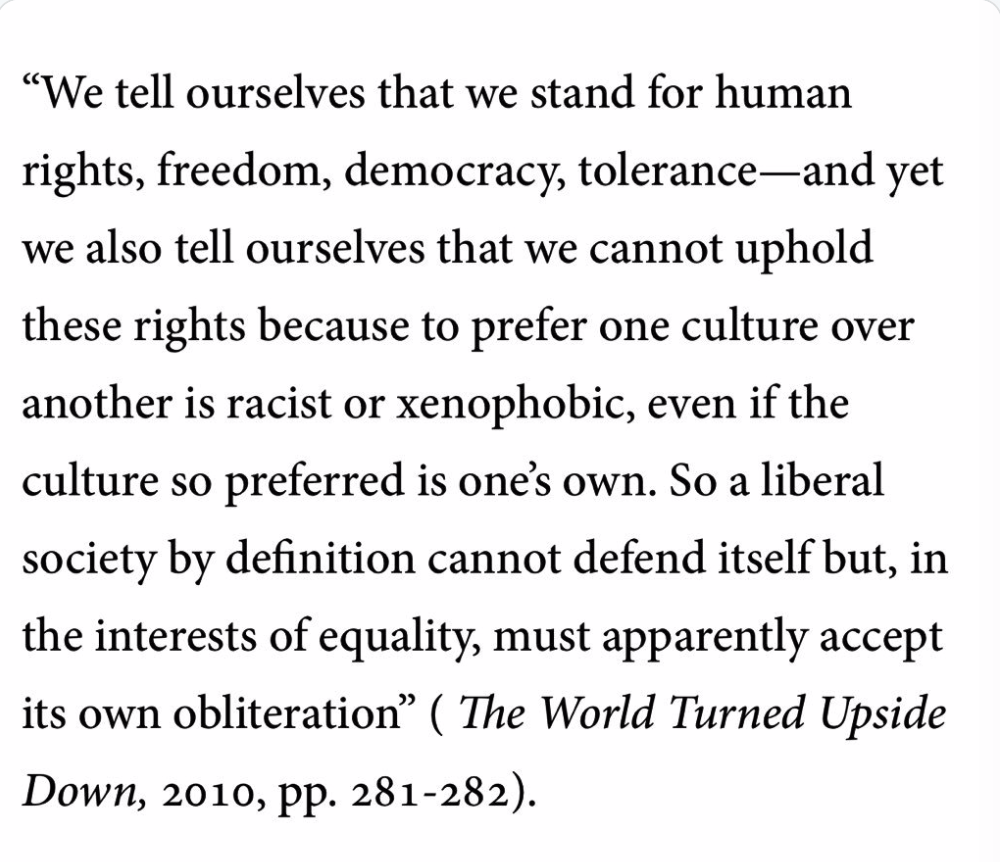 "You know how those people are, right? They have something in them, they don't give up their roots and they want to make their culture, their acquired rights and their privileges prevail.
"France is suffering because of that. Part of the population, part of the military, some of the institutions are starting to complain about that. We don't want that for Brazil," Bolsonaro said.
Brazil's next President, who won the election in October, is known for his powerful rhetoric against crime and migration.
He also advocates taking back schools from liberal teachers, stimulating entrepreneurship; to reduce public funding of media and artists; allow civilians to purchase guns to protect their families and to redirect resources from cultural projects to infra-structure.