A man's penis becomes a female penis once a man declares himself to be transgender, says Indya Moore, one of the players in a transgender-themed TV show on FX network.
As a landmark sexual abuse conference wraps up at the Vatican, Pope Francis has given recommendations into how the Catholic Church should best confront cover up clergy abuse…
Hate preacher Abu Hamza's son begs to have British nationality restored
The son of hate preacher Abu Hamza, who is also a suspected terrorist, is begging to be allowed back to the UK.
Sufyan Mustafa 
Sufyan Mustafa, 24, COULD live in Morocco as he has dual nationality through his mother – but is 'desperate' to return to the UK
Sufyan Mustafa, 24, the seventh child of evil Hamza, has had his British citizenship revoked but is planning to appeal as he doesn't fancy living in Morocco.
Mustafa has Moroccan nationality through his mother so he is not stateless.
He left the UK in 2013 to travel to Syria, when he was 19, but he claims that he was fighting rebels against the Assad regime.
He reportedly tried to board a plane to the UK from Turkey at the end of last year but was stopped and detained when his name was flagged up as a possible terrorist.
Melbourne car rampage vehicle jihad: James Gargasoulas jailed for six murders
Al BeBeeCeera conveniently forgets to mention Islam, Muslims or jihad, although Gargasoulas clearly proclaimed he did it "for allah"…. This is no longer journalism. The journaille is complicit in aiding and abetting the global jihad.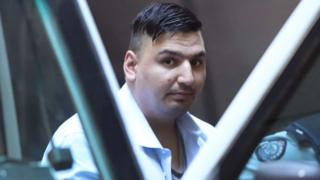 What makes Garasoulas an "Australian man?"
An Australian man has been sentenced to life in jail for murdering six people and injuring 27 more in a vehicle attack in Melbourne.
James Gargasoulas, 29, deliberately ploughed a stolen car into pedestrians in the city centre in January 2017.
DEALING WITH EUROPE'S ISIS RETURNEES
Bruce Bawer
Now that ISIS has been reduced from a caliphate to a cipher, the question arises: what to do with its former members who traveled from the West in order to crush the West – and who remain in the hands of the U.S. military and its local allies? Ship them all to Guantánamo so that the European media can paint them as victims of American abuse? Set them free to fight another day?
Paki PM approves military response if India attacks
That's the spirit. You attack your infidel neighbours and if they threaten to retaliate you bomb them some more.