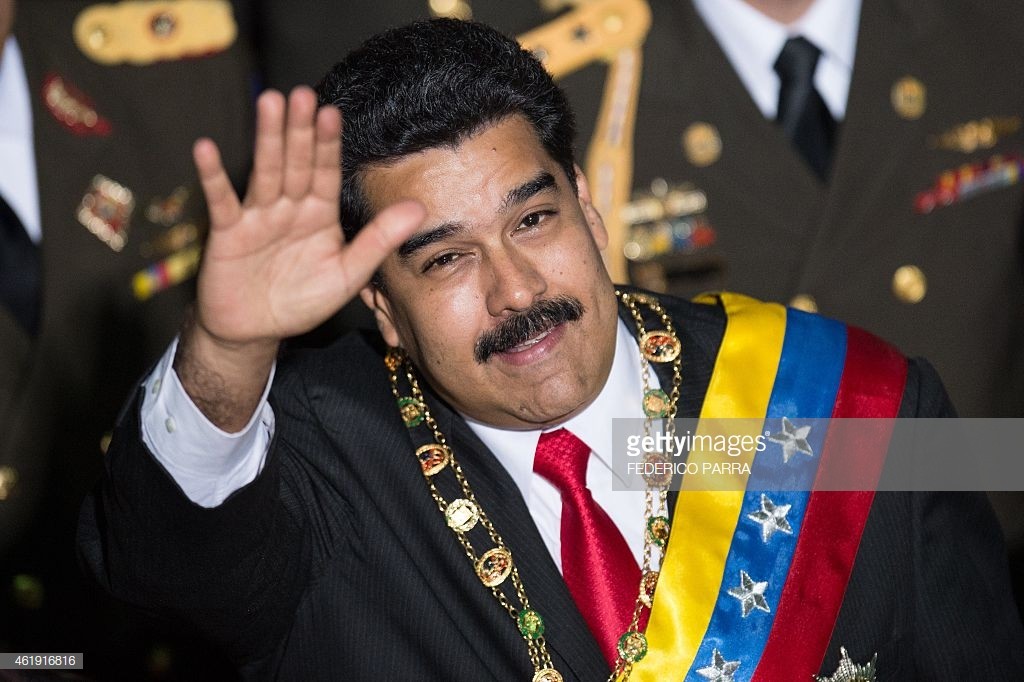 Starves, jails and tortures his people says deputy PM
(ANSA) — Rome, February 5 — Deputy Premier, Interior Minister and League leader Matteo Salvini on Tuesday said Venezuelan President Nicolas Maduro was an outlaw and fresh elections should be held as soon as possible after last July's allegedly rigged ballot, as opposition leader Juan Guaidò is demanding.
"Maduro is an outlaw: he starves, imprisons and tortures his people," said Salvini in a statement.
"I hope for free and democratic elections as soon as possible. I'm close to the millions of Italians, and descendants of Italians, who live, resist and suffer in Venezuela".
VENZUELA CRASHES. AUSTRALIAN SOCIALISTS SHARE SHAME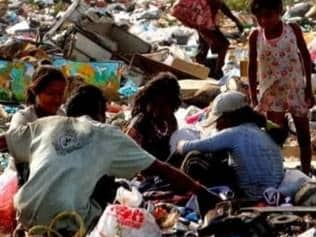 Andrew Bolt
.
The Venezuela crisis – inflation at 1,300,000 per cent, hunger,  3 million refugees – proves again that socialism does not work. So which of Australia's snowfield socialists once invited the architect of this disaster to come to Australia to teach us how to run things?
.
In Australia, it is time to hold some people to account. Those who signed an invitation to Hugo Chavez. We have them all listed below. Scroll down!
.
More below the fold.
.
The EUSSR has launched a comprehensive Action Plan against Disinformation. Its purpose, according to a recent press release from the European Commission, is apparently to "protect its democratic systems and public debates and in view of the 2019 European elections as well as a number of national and local elections that will be held in Member States by 2020".
BREXITEERS: Here is the video that made facebook shut down our live feed last night. Here is the full documentry so you can carry on watching the CORRUPTION IN THE EU. Please share far and wide before they take this video down.
Credit: The true face of the EU.
Radical greens agenda is to shut all coal mines down and kill off local mining jobs. This is the kind of nonsense Labor panders to as well.
These lunatics want to take us where Pol Pot took Cambodia in the seventies.
Oh yes. I can hear the trains a-coming. Mass-transports on rail. Every socialists wet dream!
Paradise now!
Rep. Alexandria Ocasio-Cortez (D-NY), a self-described Democratic Socialist, introduced the Green New Deal on Thursday. It outlines a plan to abandon the economic system that has dominated American society since its inception, fundamentally changing the patterns of industry output, employment, consumption, and the relation of government to the market.
Apostle Paul's Letter to the new Church at Thessaloniki:

2 Thessalonians 3:10
For even when we were with you, we gave you this rule:
"The one who is unwilling to work shall not eat."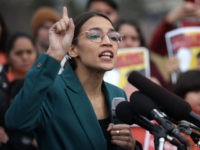 Democrats Call for 'Massive Transformation' of American Economy
Socialists in Charge
Socialist Wish List:
• 100% Zero-Emission Energy in 10 Years
• Undo 'Systemic Injustice' to 'Vulnerable Communities' (But Not LGBT?)
• Guaranteed Jobs, Food, Health Care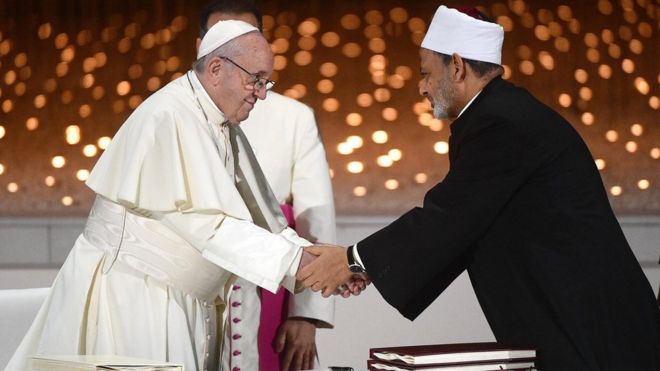 The head of Sunni Islam's highest seat of learning has urged the Middle East's Muslims to "embrace" local Christians.
Sheikh Ahmed al-Tayeb, the grand imam of al-Azhar in Egypt, told an interfaith meeting in Abu Dhabi attended by Pope Francis that Christians were "our companions".
He also called on Muslims in the West to integrate into their communities while maintaining their identities.
In his speech, Pope Francis called for a halt to wars in the Middle East.
The head of the Roman Catholic Church, who is on his first official visit to the Arabian peninsula, said the "fateful consequences" of violence could be seen in Yemen, Syria, Iraq and Libya.
The United Arab Emirates is part of a Saudi-led coalition whose intervention in the conflict in Yemen has helped trigger the world's worst humanitarian crisis.
Sheikh Ahmed and Pope Francis addressed a gathering of religious representatives at the Abu Dhabi Founder's Memorial on Monday night after signing a "Document on Human Fraternity for World Peace and Living Together".
The document calls on leaders of the world to work together to "spread the culture of tolerance" and to "intervene at the earliest opportunity to stop the shedding of innocent blood and bring an end to wars, conflicts, environmental decay and the moral and cultural decline the world is presently experiencing".
It also includes a strong condemnation of those using God's name to justify violence. "God, the Almighty, has no need to be defended by anyone and does not want His name to be used to terrorise people," it states.
Christians – and members of other religious minorities – have been attacked repeatedly by Islamist extremists in countries across the Middle East in recent years. They have also faced restrictions on their ability to practice their religion, as well as legal and social discrimination.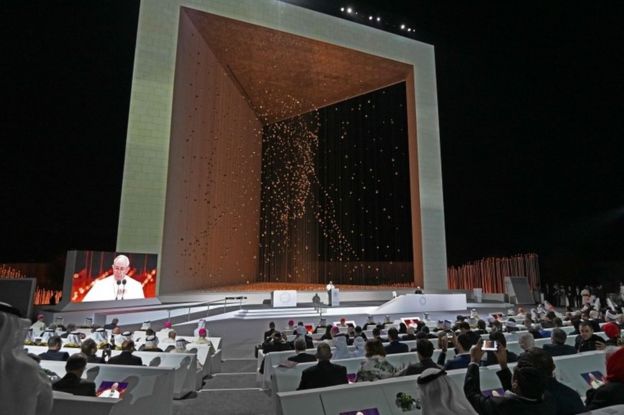 In his speech, Sheikh Ahmed first addressed his fellow Muslims in the region.
"My message to you is: 'Embrace your Christian brothers and sisters. They are companions in the state. They are close to us. There are special bonds between us,'" he said.
He then turned to Middle Eastern Christians and said: "I'd rather you didn't use the term 'minority'.
"You're not a minority. You are citizens in every sense. Let's put aside that term. You are citizens with full rights. Our bond represents the rock against which all plots that try to divide us will break."
The imam also called on Muslims in the West to integrate themselves into their communities while maintaining their identities and respecting local laws.
"If you have any problems regarding your religion in the countries you find yourselves [in], you need to speak to your religious leaders and resolve them that way."
On Tuesday morning, Pope Francis will celebrate an outdoor Mass for some 135,000 people at the Zayed Sports City stadium in Abu Dhabi.
*********************************
Kudos to Andrew Bolt for calling out the communist cheerleaders who want us to be just like Venezuela:
BOLT: The Venezuelan crisis. Many have demanded the country's President to resign with a tenth of its population fleeing. In Australia, it is time to hold some people to account. Those who signed an invitation to Hugo Chavez. MORE: https://bit.ly/2BgT7Us #theboltreport
Posted by The Bolt Report on Tuesday, February 5, 2019
.
UPDATE
I mentioned the Austrlain snowfield socialists who once begged Venezuela's Hugo Chavez to come inspire us.
Here is their letter, and their names. (Note: Warren Mundine told me soon after that his name was not added with his permission.)
We, the undersigned citizens of Australia, would like to extend a warm invitation for you to visit our country. We have watched developments in Venezuela with great interest. We have been impressed by the great effort that your government has taken to improve the living standards of the majority of Venezuelans. We have also noted with keen attention the moves that your government has begun to make to create a society based on popular participation in all spheres of society—from the workplace up to the national government.
Although we are on the opposite side of the globe we feel that our shared ideals of social justice and democracy bring us close together. Every country has its own traditions and culture and has to find its own solutions, but what Venezuela has been able to achieve in so little time will be a source of inspiration and ideas for many in Australia.
In this light we believe that a visit to our country by yourself would not only help to improve the awareness of the Australian people of developments in Venezuela, but also be an unparalleled opportunity to strengthen the ties of friendship and solidarity between our two peoples.
Signatories to invite Chavez to Australia:
Andrew Ferguson NSW Secretary, CFMEU Construction and General Division
Angela Briant – Secretary Independent Education Union (Tasmania)
Antony Loewenstein – Independent Journalist
Brendan Hewson – President, Community & Public Sector Union /CSA
Caroline Risely – Monash University Welfare Officer
Carolyn Smith – Childcare Union Assistant Secretary, WA Liqor Hospitality Miscellaneous workers Union
Casper Cumming – Swinborne Student Union President
Charlotte Boss-Walker -Peace Activist (Tas)
Chris Game – Secretary, NTEU NSW,
Clare Ozich – Industrial Officer, Unions WA
Craig Bulley – Worker's Radio
Craig Johnson – Cultural Studies, Macquarie University.
Darren Mathewson – director of Organising CPSU
Dave Robinson – Secretary, Unions WA
David O'Bearne – Secretary LHMU (Tas)
Deb Foskey – Greens Member of the Legislative Assembly (ACT)
Nichols – National Co-ordinator, Socialist Alliance
Doreen Shenman – Peace Activist (Tas)
Dr Alastair Grieg Senior Lecturer, Australian National University: Faculty of Arts
Dr Coral Wynter – biochemist, Brisbane
Dr Rhonda Forrest – Lecturer, Charles Sturt University
Federico Fuentes – National Co-ordinator, Resistance socialist youth organisation
Gavin Marshall – Senator (Victoria)
Gil Anderson – Secretary ACT Branch LHMU
Graham Pallot – organiser, CFMEU WA
Ian Bray – WA assistant branch secretary, Maritime Union of Australia WA
Ian Newman – Peace Activist (Tas)
Jack Mundey – Environmentalist
Jakalene X – Indigenous community activist
Jenni Bond – Peace Activist (Tas)
Jenny Forward – Organiser CPSU (Tasmania)
Jim McIlroy – journalist, Brisbane
Jim Mellor – Communications/Projects, CFMEU WA
Jim Reid – organiser, CFMEU WA
Joe McDonald – Assistant Secretary, CFMEU WA
Joel Asphar – AMWU WA Organiser
John Pilger – Independent Journalist
Jose Munoz – Organiser ACT Branch LHMU
Judith Pabian – President ACT Branch NTEU
Keith Peckham – Industrial development officer, UnionsWA
Kerry Nettle – Australian Greens Senator for NSW
Kerryn Williams – Editor, Green Left Weekly
Kevin Ennor – organiser, CFMEU WA
Keysar Trad – Islamic Friendship Association
Kiraz Janicke – National Co-ordinating Committee Australia-Venezuela Solidarity Network
Lee Rhiannon – Member of the Legislative Council NSW (Greens)
Len Palmer – Lecturer, Charles Sturt University
Linda Briskman – Professor, Curtin Centre for Human Rights Education
Linda Seaborn – Delegate HACSU
Lisa MacDonald – National Co-ordinating Committee Australia-Venezuela Solidarity Network
Mathew Chuk – General Secretary, National Union of Students 2007
Megan Clement – Newcastle University Students Association, Education Officer 2006
Meredith Burgmann – President of the Legislative Council of NSW
Mick Baker – MUA WA organiser
Mick Buchan – Organiser, CFMEU WA
Mick Campion – President, NTEU Murdoch Univeristy Branch
Naomi Arrowsmith – Australian Services Union, Assistant State Secretary (NSW)
Natasha Stott-Despoja – SA Australian Democrats Senator
Neil Mudford – Secretary ACT Branch NTEU
Paul Halfpenny – WA Organiser, NTEU
Paul Obohoov – Trade Union Voices Choir, ACTU
Phillip Adams – Journalist, Republican of the Year 2005
Raul Bassi – Transport Workers Union delegate, Sydney
Reverend Alex Gator
Robyn Francis -Permaculture Education, Erda Institute Inc
Saeb Ali – Peace For Lebanon (Wollongong)
Sam Watson – Indigenous Murri Activist
Scott Poynting – Senior Lecturer in Sociology of Education, UWS
Shelley Watson-Harris – Executive Officer, Unions WA
Simon Cocker – Secretary, Unions Tasmania
Steve Dargavel – Acting State Secretary, Australian Manufacturing Workers Union, Victoria.
Steve McCartney – State President, AMWU WA
Steven Arditto – Organiser CPSU (Tasmania)
Susan Price – UNSW National Tertiary Education Union, Branch President
Sylvia Hale – Member of the Legislative Council NSW (Greens)
Thirza White – Campaign Coordinator Unions
WATim Anderson – Lecturer, Faculty of Economics and Business, University of Sydney
Tim Gooden – Geelong Trades Hall Secretary
Vinnie Molina Organiser, CFMEU WA
Warren Mundine – National President of the ALP in 2006
Warren Smith – Assistant Sydney Branch Secretary, Maritime Union of Australia
Wayne Berry – MLA (ALP) Speaker of the ACT Legislative Assembly
Wendy Jopson – Lecturer, University of Technology Sydney
Yvette Berry – Organiser ACT Branch LHMU
Peter Ross – Senior Lecturer, latin American Studies, UNSW