Some quick news updates:
BANG, BANG. BANG. BANG. MULTICULTURAL MELBOURNE
Immigration sure has changed Melbourne. Will its Immigration Museum have an appropriate exhibition?: "Four men have been shot dead since last Friday... As well as outlaw motorcycle gang connections, possible links to Middle Eastern crime outfits have emerged in the four executions." (Bolt has this behind a paywall)
The deputy leader of the UK Labour party, Tom Watson, has called for Tommy Robinson to be banned from YouTube "as a matter of utmost urgency", RT.com writes.
Newsflash:

Thanks to the Tundra Tabloids
Leftist thugs and "journalists" crash house of Tommy Robinson's wife and children
Leftist thugs and "journalists" crash house of Tommy Robinson's wife and children, intimidating them, police called, after they dox their house after countless terror advisories given to his family. Putrid thugs…
Update:
Why Tommy Robinson should not be banned
Brendan O'Neill Spiked Online 27th February 2019
Only a fool would cheer the banning of Tommy Robinson by Facebook and Instagram. It doesn't matter if you like or loathe him. It doesn't matter if you think he's a searing critic of the divisive logic in the politics of diversity or Luton's very own Oswald Mosley in Jack Wills clobber. The point is that his expulsion from social media confirms that corporate censorship is out of control…
Britain's Trades Union Congress (TUC) has called for Tommy Robinson to be banned not only from social media, but from "public spaces" as well.
"So Tommy Robinson's been banned from [Facebook] and Instagram," gloated the lobby group via Twitter — which had itself banned Robinson some months ago already.
"About time. Now we need to ban him from public spaces too," they added.
The White Cliffs of Dover
BRITISH holidaymakers were stranded in the Channel after up to 100 migrants trying to reach the UK broke through security barriers and climbed onto a ferry at the port of Calais and forced its temporary closure.
As the Yellow Vest protests rage across France for the 16th straight week, shocking footage has emerged of police brutality. Apparently a Friday call for calm by President Emmanuel Macron doesn't apply to police.
In one clip, a French policeman appears to blast a wheelchair-bound man in the face with pepper spray.
Hungary: Juncker to be Replaced With Timmermans on Posters
Speaking to Die Welt, Hungarian Prime Minister Viktor Orban accused the European left of staging the attack against his party in the European People's Party (EPP).
According to Orban, the left is using "salami tactics" and his critics in the EPP are "useful idiots". He said that after his government, the left will attack Italy and Austria.
Orban told Die Welt that the government's controversial billboard campaign, which features George Soros and Jean-Claude Juncker will end on March 15. He said that Juncker will be replaced by the Spitzenkandidat of the PES, Frans Timmermans.
Reflections on Socialism and Nationalism
Chris Carr Quadrant Online 5th March 2019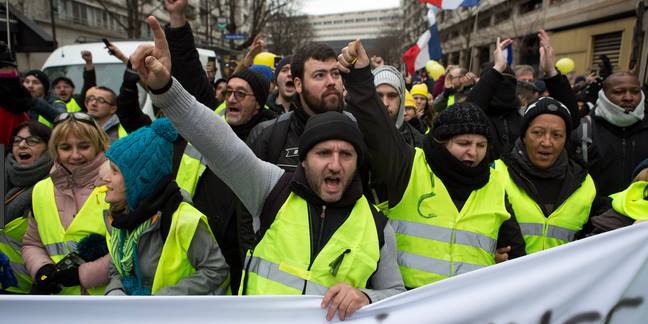 THE relationship between socialism and nationalism has become a no-go zone for the Left in the West, where it has loudly proclaimed its internationalism, laid out the welcome mat for Third World "refugees" and blamed supposedly impending climate catastrophe on the bad economic choices of fellow citizens, seeking to infuse them with a sense of guilt for their alleged racism, xenophobia and gre…