In this article from THE MIRROR, a scribbler claims 'Allahu Akbar' means 'God is the greatest' in Arabic.
That's false.  'Allahu Akbar', doesn't mean 'God is the greatest' in Arabic. 'Allahu akbar' means Allah, the Mohammedan God, is greater than your God.
Three dead as police arrest chief suspect Gökmen Tanis
Police have arrested 37-year-old Gökmen Tanis following the attack on a tram in the Netherlands, Three people have died and several more were injured when a (Musel-)man opened fire on a tram in the Netherlands.
A counter terrorism chief confirmed there had been shootings at multiple locations in the city.
Schools, mosques and transport hubs were put on lockdown but that has since been lifted by the police.
The gunfire has sparked a huge police operation, with anti-terror police surrounding the tram.
Five people were injured in the attack.
Police have arrested suspect Gökmen Tanis, 37, and have reportedly detained his brother for questioning.
"Revenge Is Coming": ISIS Terror Threat Made Against New Zealand Prime Minister
It's not as if they needed any excuses to attack. Mohammedans do that anyway.
"Revenge is coming" reads the tweet from @sofian259, accompanied by a picture of a rifle inscribed with white Arabic text on top of an ISIS flag. The same threat was made in response other accounts as well. 
The inconvenient truth about Christchurch:
"In the month of Feb 2019 alone there were 150 deadly Islamic terror attacks in 22 different countries." "These resulted in 883 deaths & 547 people being injured. This is routine stuff, yet when was the last time MSM ran with any of it?"
Mehdi Hasan, a well trained Islamo agitprop from al Jizz, spews pure filth on MSNBC: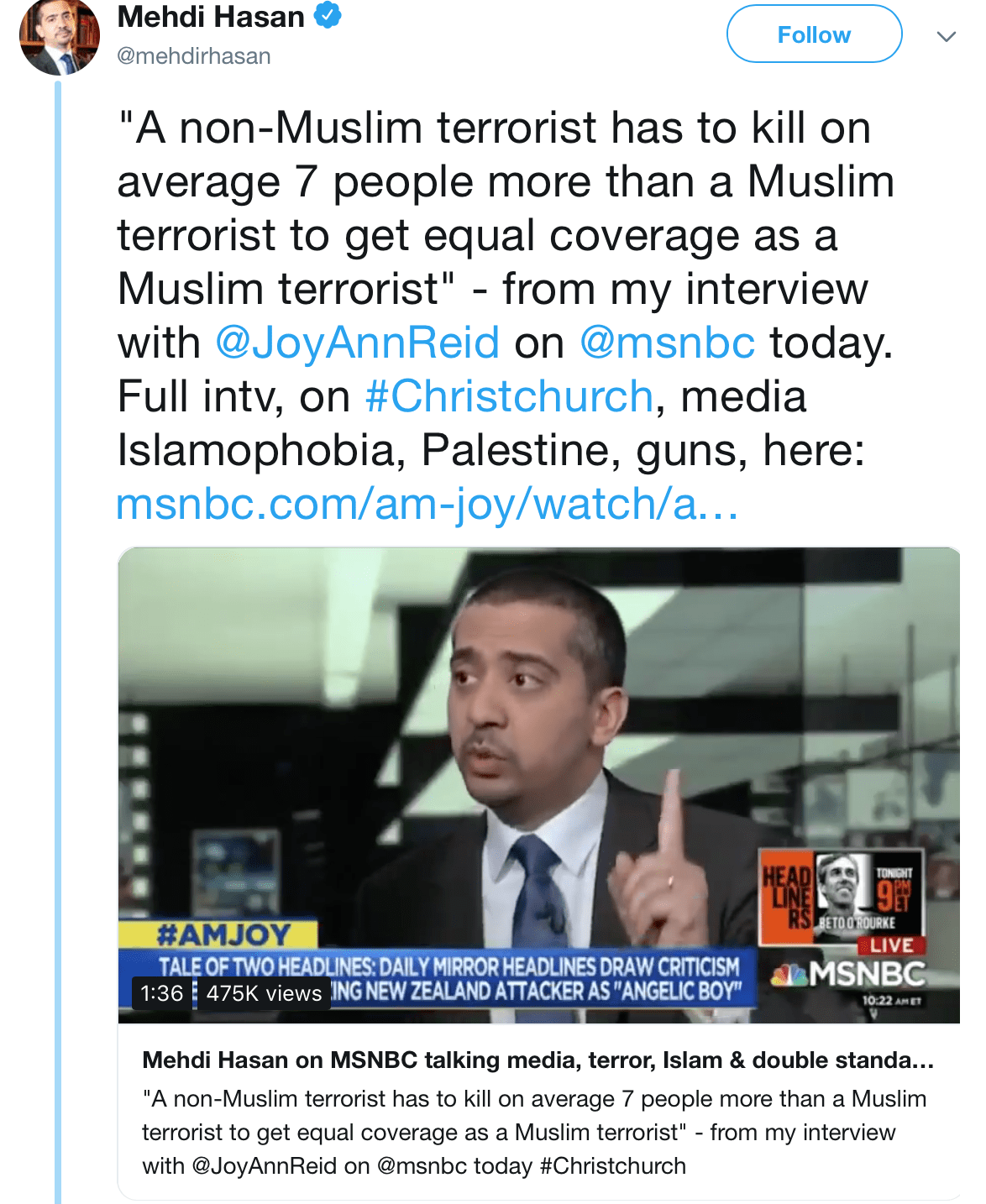 Even Zuhdi Yasser has objections to this rubbish:
This is crap not analysis. It's grotesque degeneration of human life to the infantilism of a juvenile Islamist #Fortnite game.
Meanwhile, conflicting reports from New Zealand:
No Mohammedans were seen turning in their weapons:
Kiwi gun owners surrender firearms after terror attacks
Kiwi gun owners are voluntarily returning their rifles in the wake of Friday's terror attack as the government draws up plans to ban the weapons.