by Raymond Ibrahim
In Germany, four separate churches were vandalized and/or torched in March alone. "In this country," PI-News, a German news site, explained, "there is a creeping war against everything that symbolizes Christianity: attacks on mountain-summit crosses, on sacred statues by the wayside, on churches… and recently also on cemeteries."
In virtually every instance of church attacks, authorities and media obfuscate the identity of the vandals. In those rare instances when the Muslim (or "migrant") identity of the destroyers is leaked, the desecraters are then presented as suffering from mental health issues.
"Hardly anyone writes and speaks about the increasing attacks on Christian symbols. There is an eloquent silence in both France and Germany about the scandal of the desecrations and the origin of the perpetrators…. Not a word, not even the slightest hint that could in anyway lead to the suspicion of migrants… It is not the perpetrators who are in danger of being ostracized, but those who dare to associate the desecration of Christian symbols with immigrant imports. They are accused of hatred, hate speech and racism." — PI News, March 24, 2019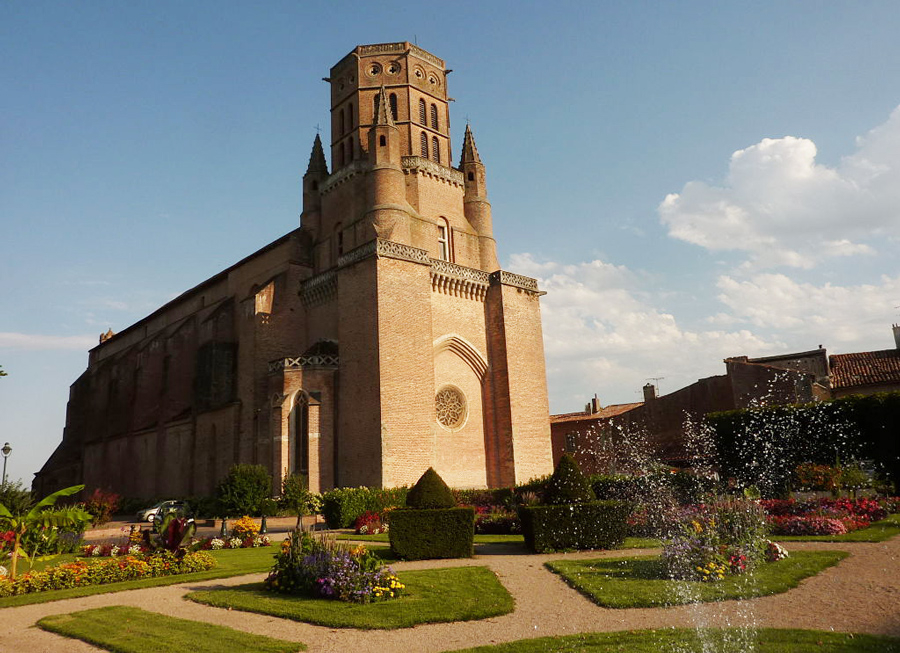 In February, vandals desecrated and smashed crosses and statues at Saint-Alain Cathedral in Lavaur, France, and mangled the arms of a statue of a crucified Christ in a mocking manner. In addition, an altar cloth was burned. (Image source: Eutrope/Wikimedia Commons)
Countless churches throughout Western Europe are being vandalized, defecated on, and torched.
In France, two churches are desecrated every day on average. According to PI-News, a German news site, 1,063 attacks on Christian churches or symbols (crucifixes, icons, statues) were registered in France in 2018. This represents a 17% increase compared to the previous year (2017), when 878 attacks were registered — meaning that such attacks are only going from bad to worse.
Among some of the recent desecrations in France, the following took place in just February and March:
Continue Reading Article

"Oak that is 800 years old doesn't burn (just) like that….You would need a lot of kindling…"
How Difficult Was it to Set Fire to the Ancient Oak Beams of Notre Dame?
With thanks to Vlad Tepes & GoV
The following video features a TV discussion with the retired architect-in-chief at the cathedral of Notre-Dame de Paris. He says the 800-year-old oak beams are very difficult to ignite.
"Oak that is 800 years old doesn't burn like that….You would need a lot of kindling to succeed."
Nevertheless, French authorities are treating the disaster as an accident, rather than arson.
BREAKING: Architect of restorations for Notre Dame Speaks Out!

Media: "So your're telling us that this type of timber doesn't burn like that?"

Notre Dame Architect: "NO, You know, oak that is 800 years old doesn't burn like that….You would need a lot of kindling to succeed." pic.twitter.com/NBF86wOxDF

— Amy Mek (@AmyMek) April 17, 2019
In other news:
Turkish Newspaper Celebrates Notre Dame Fire as Retribution for France's Recognition of Armenian Genocide
Muslim Politician in Canada Says Notre Dame Fire Was "Divine Intervention"
French Journalist: Two Churches in France Are Vandalized Every Day and No One Gives a F***
Charlie Hebdo Uses Notre Dame Fire to Slam Macron
Rita Panahi: Israel Folau-bashing just a clumsy tackle on free speech
"…atheists and fornicators, just like homosexuals, are doing nothing wrong or harmful to society".
Have we become so supersensitive and censorious as a community that what is in the Bible is now regarded as "hate speech"?