Salvini: Risk of Islamic Terrorist Infiltration from Libya 'a Certainty'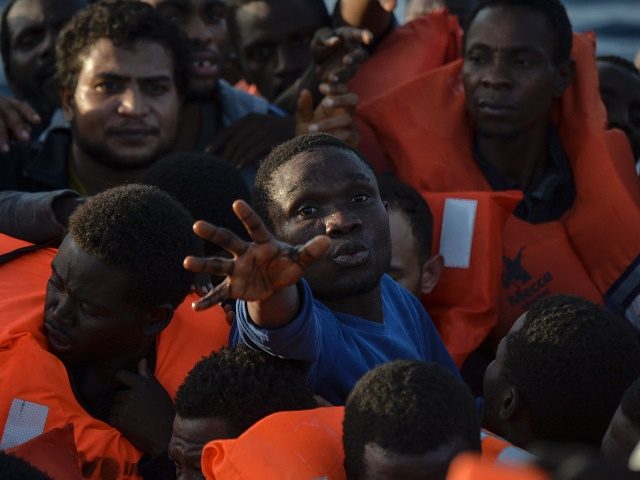 Italy's ports will remain closed, said Interior Minister Matteo Salvini Wednesday, especially with the increased risk of Islamic terrorism coming out of Libya.
General Khalifa Haftar's recent offensive on Tripoli has upped the risk of a terrorist presence on migrant boats bound for Italy, Salvini said, which adds one more reason to keep ports closed.
On Tuesday, Libyan Prime Minister Fayez al-Sarraj, who heads the U.N.-backed Government of National Accord (GNA), warned that as many as 800,000 more migrants could be driven into Europe unless the assault by warlord Khalifa Haftar ends soon.
He also expressed concerns that the Libyan conflict could facilitate the escape of some 400 Islamic State militants currently held in Libyan prisons.
"The problem is that in Libya there are thousands of Islamic terrorists," Salvini said on national radio Wednesday. "The risk of infiltration on boats is a certainty."
"For this reason, I reiterate that no one will be docking in Italy. You do not come here without permission," he said.
Mr. Salvini also cited his track record, both in terms of curbing illegal immigration and in radically decreasing the number of migrant sea deaths in the Mediterranean.
"This year we have cut sea arrivals by 92 percent and cut the number of dead and missing by half. Obviously a serious, rigorous policy gets results," he said.
Questioned about his competence to make such unilateral decisions, Mr. Salvini insisted that such is exactly the nature of his role as interior minister.
"The Minister of the Interior is the national public security authority and has to authorize a landing. I have all the authority to decide," he said. "The Minister of the Interior is the one to assign a port, like it or not. The Italians pay me to defend them and that is what I am doing."
When asked about alleged opposition on the part of certain generals in the military, Salvini brushed off the issue.
"I have no time to respond to controversy," Salvini said. "Give me the first and last name of a general who has criticized me. Instead I get, 'They say, apparently, it seems…' That's why I don't read newspapers."
Mr. Salvini also insisted that he is making every effort to promote peace, dialogue, and a cease-fire in Libya, underscoring that recourse to arms "is not the solution."
"I want to trust that reason and good sense will prevail and that the military aggression by Haftar, who attempted the blitz, is reaching its end," he said.
"Because above and beyond the problem of immigration and the terrorist risk, war always produces dead and wounded," he said.