Theresa May Will Reject Calls By Muslim Groups To Define Islamophobia As A Type Of Racism
In the Commons tomorrow ministers will oppose the definition which states "Islamophobia is rooted in racism and is a type of racism that targets expressions of Muslimness or perceived Muslimness"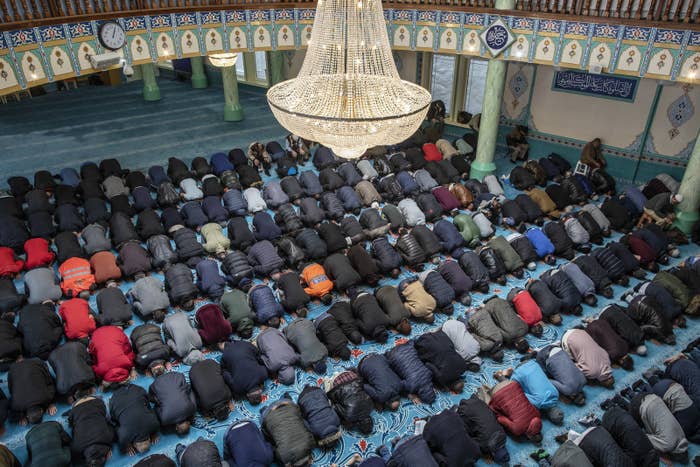 Theresa May is to reject a definition of Islamophobia proposed by British Muslim groups, BuzzFeed News can reveal.
At a parliamentary debate on anti-Muslim prejudice on Thursday, ministers will oppose the definition which states: "Islamophobia is rooted in racism and is a type of racism that targets expressions of Muslimness or perceived Muslimness."
More than 750 British Muslim organisations had called on the government to adopt the British Muslims all-party parliamentary group definition, which was produced after consultation with legal experts, MPs and Muslim groups.
The definition has been formally endorsed by the Labour Party, the Liberal Democrats and the Scottish Conservatives.
But BuzzFeed News has been briefed on plans by communities secretary James Brokenshire to reject the definition on free speech grounds.
The government is said to be concerned that adopting the definition could mean people who criticise aspects of Islam might be prosecuted under discrimination laws.
That's exactly what it means. In fact, it's already happening without the law in place.
A source familiar with the decision also said there are legal difficulties with calling Islamophobia a "type of racism" because Islam is a religion rather than a race.
Instead, BuzzFeed News understands ministers will appoint two new independent advisers to produce their own definition of Islamophobia. The two advisers will also investigate anti-Muslim prejudice in Britain.
The definition has been criticised by free speech campaigners and the leader of Britain's police chiefs.
According to The Times Martin Hewitt, chairman of the National Police Chiefs Council, wrote to May warning that accepting the definition could exacerbate community tensions and undermine counter-terrorism police work.
But speaking on the Today programme on Wednesday morning, former Conservative party chairman Sayeeda Warsi dismissed Hewitt's letter as "irresponsible scaremongering" and urged the PM to adopt the definition.
Why has this horrible creature a say in this at all?
Responding to BuzzFeed News' story, Warsi said: "Years of research, hundreds of pages of evidence, months of discussions, a countrywide consultation, full parliamentary support bar Conservatives, dozens of academics, hundreds of community organisations isn't good enough… but two govt advisers know better."
The Muslim Council of Britain said it was "truly astonishing the government thinks it knows better than Muslim communities".
"If this free speech rationale is true, it would mean that the government believes that defining the racism that targets Muslims or expressions of Muslimness somehow impinges on free speech.
It does. It puts Mohammedans above criticism.
"Defining anti-semitism does not do so, but defining Islamophobia does. Truly shocking," a spokesperson for the MCB said.
Lick your chops, MF.
Wes Streeting, the chair of the British Muslims APPG, said: "The lack of humility and self-reflection is astonishing. Given their abject failure to tackle racism within their own party, why does this Conservative Government believe they has the credibility to write their own definition rather than one backed by huge numbers of Muslims."
Labour's shadow equalities minister Naz Shah said: "The Conservative Party is in denial about Islamophobia and other forms of racism in its ranks, and that denial flows from the very top. If Theresa May refuses to adopt the definition of Islamophobia, the message she sends to the Muslim community will be heard loud and clear.
That's a threat. Loud and clear.
"It has been a great struggle to get the police to record Islamophobia as a specific crime, so it is deeply worrying to see the National Police Chiefs Council bringing terrorism into the discussion about tackling Islamophobia.
Because terror has no religion. Except one. Right?
"This shows a worrying trend of seeing British Muslims through the lens of terror and security, and the Prime Minister must distance herself from this immediately."
If May falls for this she should be boiled in hot oil.