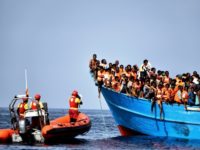 Malta Rescues 216 Migrants From 2 Boats in Mediterranean Sea
VALLETTA, Malta — Maltese authorities say they have rescued 216 migrants Mohammedans aboard two dinghies in distress in the Mediterranean Sea near Malta.
The (Mohammedan) migrants were rescued Friday night by the Armed Forces of Malta and are being taken to Malta where they will be examined by doctors and given the chance to seek asylum.
Salvini: 'Extremists' Merkel, Macron and Junker betrayed Europe in the name of finance, multinationalism, and mass immigration
Wildly popular with the people, Interior Minister Matteo Salvini, who has virtually eliminated human (NGO) trafficker boats dumping thousands of illegal Muslim migrant wannabes into Italy, lays the blame for it where it belongs…on the swamp dwellers (establishment elites).
Three French men have been sentenced to death by an Iraqi court after being found guilty of joining the Islamic State (IS) militant group.