'Nobody Told Me it Was Illegal!' – Claim of Migrant Accused of Child Rape
His lawyer argued that the court should not proceed with a prosecution, claiming that the young man had been doing well in school and that his school progress would be harmed if he were to be prosecuted.
A migrant suspected of raping and sexually abusing a much younger girl claims that he did not know it was illegal in Sweden because no-one had told him.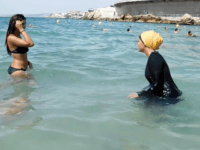 a group of around a dozen women belonging to the Alliance Citoyenne (Citizens' Alliance) protested at a pool that had banned the wearing of the Islamic sharia-compliant swimwear, with police being called soon after the group were told the burkini was against the rules of the pool.
Hate Hoaxes: Rise of Fake "Hate Crimes"
Hijab-tugging tales are a dime a dozen…..
Labour had shown "active engagement" but…
Tories have 'terrible problem' with Islamophobia, MPs told
Scotland needs an "Islamophobia" inquiry
Like a nail in the head, I suppose.
It classifies discrimination against Muslims as a form of racism, and reads: "Islamophobia is rooted in racism and is a type of racism that targets expressions of Muslimness or perceived Muslimness."
Officials Call upon Allah to "Shower" Blessings on Students
Muslim students were given permission to interrupt multiple classrooms during the school day to convert students to Islam under the guise of teaching them about Ramadan.
Minnesota unsettled
A loosely connected network of white, anti-immigration activists is trying to pressure local and state Republicans to embrace an "increasingly explicit anti-Muslim agenda."
Islamic terror on the march from South America:
Sometimes, there is blowback:
Days after the incident, the U.S. Department of State (DOS) blasted India for attacks on minority Muslims in a June 21 report rejected by New Delhi.
Ottawa succumbs to "Islamophobia" hoax
The Federal Government  have opted to use a definition of Islamophobia in their new anti-racism strategy so broad that you can drive an 18-wheeler through it:
M-103 was only a motion, they said. But here is the "strategy." You're afraid of Islamist terrorism? Sharia law? Traditionalist Muslim teaching about beating wives and killing gays? You're a racist and an Islamophobe! And Liberals want to prevent you from expressing your fear.
OTTAWA — The federal government has released a new anti-racism strategy that promises $45 million to fight systemic discrimination through community programs, public education campaigns and combating online hate.