Not so long ago Gaddafi warned us that Europe would fall with 50 million Mohammedan invaders.
Migrant flows to Greek islands continue unabated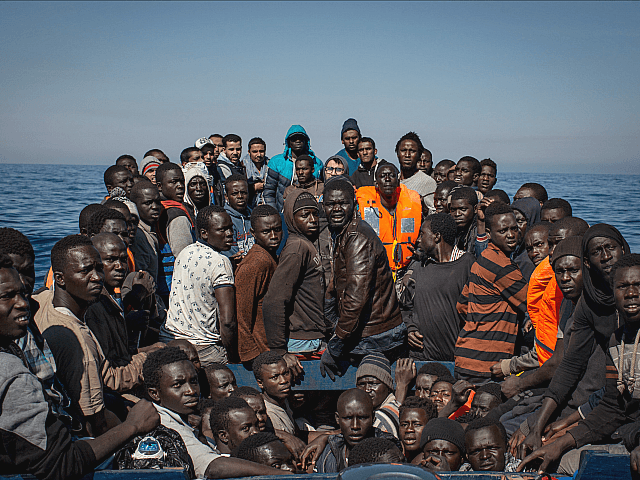 Migrant flows from Turkey to the islands of the eastern Aegean continued unabated this week, with 694 people arriving on the shores of Lesvos, Samos and Chios between early Monday morning and Tuesday afternoon.
According to the latest data, 26,600 people are currently housed on the islands. Lesvos, which hosts the lion's share, has received 2,427 people since the beginning of the month, swelling the numbers at the Moria reception center to over 10,751 people.
Another 3,156 are located on Chios and 4,941 on Samos.
Meanwhile, according to data released by the United Nations on Tuesday, the total number of migrants globally reached an estimated 272 million this year, posting an increase of 51 million since 2010.
Europe hosts the largest number of international migrants at 82 million this year, followed by North America with 59 million, and North Africa and Western Asia with 49 million people.
Don't be fooled, EUSSR apparatchiks are the worst enablers. And they know what's coming:
Most fleeing to Europe are 'not refugees', EU official says
Frans Timmermans is one of the worst EU apparatchiks responsible for the Kalergi plan, the population replacement project.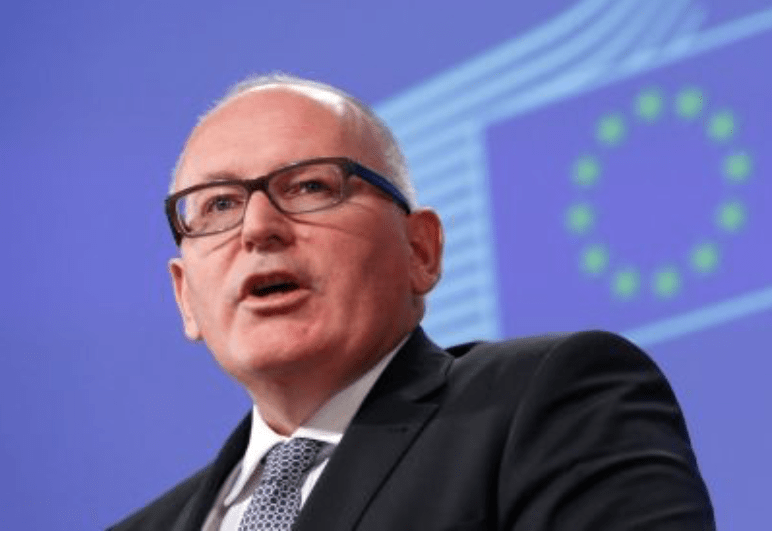 Dutch commissioner Frans Timmermans says 60% of arrivals are economic migrants
More than half of those fleeing to Europe from the Middle East and Africa are economic migrants and not asylum seekers fleeing the horrors of war in Iraq or Syria, according to first vice-president of the European Commission, Frans Timmermans.
Related links:
EU Vice Prez Lobbies Openly Against Orban, Brands Hungarians 'Weak' for Opposing Migration
Also Timmermans:
Uniting Europe With Africa 'Matter of Destiny'
Hungary Demands 'Coward' Timmermans Resign After He Brands Criticism of Soros 'Anti-Semitic'
Frans Timmermans is a traitor to European culture & civilisation.
Quoting what he said were new, unpublished, figures from the EU border agency, Frontex, Mr Timmermans said: "More than half of the people now coming to Europe come from countries where you can assume they have no reason whatsoever to ask for refugee status … more than half, 60 percent."
Those 60 percent were predominantly from north Africa, mainly Moroccans or Tunisians who were leaving their own countries for "economic reasons" and attempting to travel to Europe through Turkey, the former Netherlands foreign minister told the Dutch national broadcaster, NOS.
If the figures used by Mr Timmermans are correct, they could change the complexion of the political debate over how many migrants EU countries are expected to resettle, though there remains the problem that any migrant who reaches European soil is difficult to repatriate.
Acknowledging this, the only immediate option, Mr Timmermans said, was to return economic migrants to their countries of origin as quickly as possible in order to maintain support for refugee relief – in other words, for people genuinely fleeing war.
Six EU member states, including Germany and Austria, have already reinstated temporary border controls for up to six months, and on Monday the European Commission was asked to prepare measures to allow member states to prolong temporary controls for up to two years.
However, Mr Timmermans – who warned before Christmas that he was concerned about the future of the European Union – rejected border closures, even temporary ones, as "an enormous risk".
"There is no proof that bringing back border controls will help to ease the situation in terms of reducing the number of refugees", he warned. "And the reality is that it could do substantial economic damage."
What an idiotic statement! If you close the borders the invasion stops.
The influx of migrants has led to concerns in the Netherlands that they could conceal the arrival of Islamist militants intent on attacking soft targets.
The national police said yesterday that heavily armed officers would soon be able, in particular circumstances, to patrol city streets and places such as shopping centres and railway stations carrying submachine guns – a first in Dutch policing history.
It's understood that some of these officers are part of the security detail protecting the former maritime museum in Amsterdam, the location of a series of top-level meetings during the Netherlands' six-month EU presidency, the first of them yesterday.
"People may be shocked to see these officers, but the aim is to make the country safer for everyone", a police spokesman said. "We live in different times."