'People are panicked': Kashmir curfew takes toll on mental health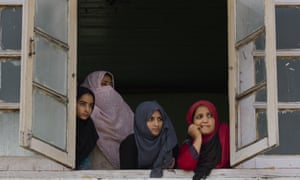 The fragile situation has severely affected women in Kashmir, who are less able to venture outside.
If Mohammedans have mental problems, it is our problem too. At least that's what Fahad Shah from the Guardian would have you believe.
France: "Anti-terror judge" says jihadis must be allowed to return or there will be more jihad attacks
Genius! Try to get your head around that!
We simply have to allow them to return home, or else they will resume their jihad, see? And once at home, what will they do? Why, resume their jihad, of course. Why is there virtually no one with common sense and courage among the leaders of Europe?
"French jihadis will launch new wave of attacks unless they are allowed to return home from Syria says anti-terror magistrate," by Emily Webber, Mailonline, October 20, 2019:
French jihadis should be allowed to return home to prevent a new wave of attacks, an anti-terror magistrate has warned.
France: "Within five years the situation could become irreversible"
Frankly, I think the situation in France is already irreversible.
But the UK is  Number One in Moonbattery:
Always give Mohammedans quickly what they want, otherwise they will get really angry and wage jihad:
More than 100,000 people, half the southern city's population, still unable to return two years after the siege ended.