The fake news media covers for the Clintons as hard as they manufacture hoaxes against Trump.
He's right…
Enemy of the people.
ABC:
-Fired Roseanne for a tweet
-Shamelessly crucified Kavanaugh
-Aired a fake Syria bombing
-Pushed the Russia Hoax for years
-Peddled the fake Smollet hate crime
-And humiliated Nick Sandmann
But information about the world's most prolific pedophile wasn't worth sharing.
Jeffrey Epstein: ABC stopped report 'amid Palace threats' – BBC News
Most people assume that Jeffrey Epstein, underage sex slave procurer to the rich and famous (including Bill Clinton), did not commit suicide without some help. We might know the details by now, but Big Journalism has its reasons for not digging too hard or even sharing what is already known. Project Veritas presents ABC News anchor Amy Robach talking to her producer on a hot mic: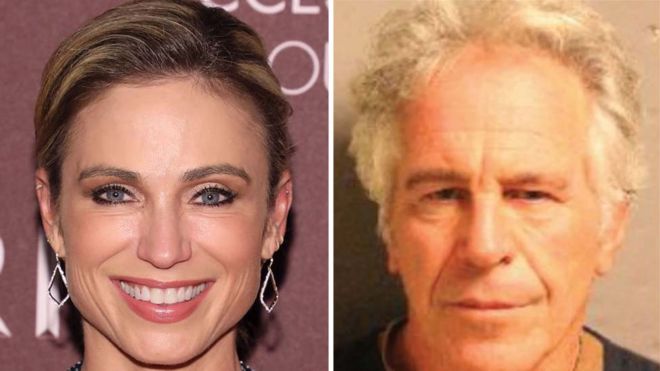 ABC's Amy Robach is seen in the clip griping that her interview with an alleged victim of Epstein and Prince Andrew never made it to air.
"The Palace found out," she says, "and threatened us a million different ways."
An ABC news executive said there was "zero truth" to the assertion.
ABC News is part of the liberal establishment. As a rule, it only tells you what the liberal establishment wants you to know — even if that means spiking one of the hottest stories of the century.
Epstein, a wealthy and well-connected financier, was found dead in a jail cell in August while awaiting trial for sex crimes. His death was ruled a suicide by investigators.
In the video, Ms Robach vents frustration that her 2015 interview with Virginia Giuffre – formerly Virginia Roberts – was never broadcast.
The clip was leaked on Tuesday by Project Veritas, a group that seeks to expose perceived liberal bias in the mainstream media.
https://twitter.com/Project_Veritas/status/1191746719714811904
Reaction continues with @JamesOKeefeIII on the latest @Project_Veritas BOMBSHELL…@ABCNetwork's #EpsteinCoverup

News Anchor @arobach was not allowed to run story implicating @BillClinton and others…#AMERICAFirst weekdays at 3pm ET/12pm PT at https://t.co/gPC21NC6G9 pic.twitter.com/a3h33AR2eK

— Sebastian Gorka DrG (@SebGorka) November 6, 2019
Interesting that we didn't see this part of the video. #AmyRobach says she believes in Epstein Suicide cover up. Couldn't be more clear.

For 3 yrs people got raped & abused and #ABC @ABC sat on this information. They sure were all into #BelieveWomen during the Kavanaugh hearing. pic.twitter.com/bdEoCacbMo

— 𝕊𝕜𝕪 (@SKYRIDER4538) November 6, 2019
ISIS looking to rebuild in Northern Iraq