During a recent parliamentary debate, in response to the mention of increased group rape and personal robbery as a result of his party's immigration policy, Social Democrat Minister of Justice Morgan Johansson whispered, "to me, it doesn't matter".
What a shameful, disgraceful act of cowardice & dhimmitude!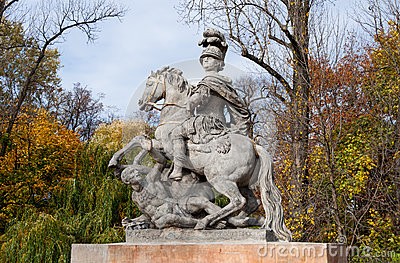 A statue of Polish King Jan III Sobieski that was originally intended to be erected near Vienna has been put on display in Krakow instead. The statue was supposed to go up on the Kahlenberg, the mountain adjacent to Vienna from which the king led the charge that broke the Siege of Vienna in 1683. Unfortunately, the Austrian government decided that it was too controversial for that location.
In other news:
Cyprus Rescues 120 Syrian Migrants
the Cypriot coast guard rescued 120 Syrian migrants off the coast of Cyprus.
Greek PM on Migration: 'Greece Has Reached Its Limits'
Netherlands: 25 Migrants Found Hiding in a Refrigerated Container Bound for the UK
Qatar has been silently complicit in Iranian attacks against Western and allied assets
Doha's pledges of alliance with the West ring hollow. We're confronted with continued evidence of their support for hardline Islamist groups, such as recent allegations against the Qatari owned Al-Rayan bank and its role in funding extremism. Qatar has also emerged as the key backer of the Muslim Brotherhood and Hamas in Gaza. These are not the footprints of a government committed to meaningful action against ideologies of hate.
Translation: this is a moneyed Arab fiefdom that wages jihad.
"The problem with Doha boils down to their belief that their support for designated terrorist organisations and tyrannical regimes does not appear to be hindering its flourishing relationship with the West." Well, going forward, the West might want to rethink support for Qatar.
Meanwhile, in Iran & around the world:
Iran's internet is slowly returning after a six-day blackout that left the country with little way of communicating amid widespread demonstrations over rising fuel prices.
I've never seen the #Iranian diaspora so united against the regime. Anti regime demos have taken place all over the world. This is Cologne, Germany. pic.twitter.com/4gOqNSYave

— Alireza Nader علیرضا نادر (@AlirezaNader) November 22, 2019
A French journalist recalled the terrifying moment when an explosive tears-gas grenade hit him at the Yellow Vest protest, telling RT that there was no justification for police employing combat tools.