'Muslims caused fear of Islam'
Mahathir Mohamad opens Kuala Lumpur Summit, amid Saudi disgruntlement
Among attendees are well known Islamic supremacists and despots, including Turkish President Recep Tayyip Erdogan, Pakistani Prime Minister Imran Khan, and Iran's President Hassan Rouhani.

'Muslims caused fear of Islam', but "Islamophobia" is worse…
Anyway, the kuffars have to submit, or else….
'We may claim to be performing jihad but the result is more oppression of Muslims everywhere,' Malaysian leader tells meeting of Islamic countries
'Convert To Islam Or Face Slaughter'
The letter clearly stated that the stated goal of the terror attacks carried out by Indian Mujahideen is—making Islam superior over all religions.
The letter asked the people of India to "accept Islam and save yourselves" or else get ready to be "slaughtered by our hands". The group added that it is capable of ensuring that "your blood" is "spilled on your own cities". …
Remember that next time your Moslem friends tell you there's 'no compulsion in religion' – at #Swarajya
That will cause jihad.
Because infidels have no rights to make demands in an islamic state.
YOUTUBE.COM
Wakademics & the journaille, the dumbest swine on the face of the earth.
Trump impeachment: "Only the damage to America is real."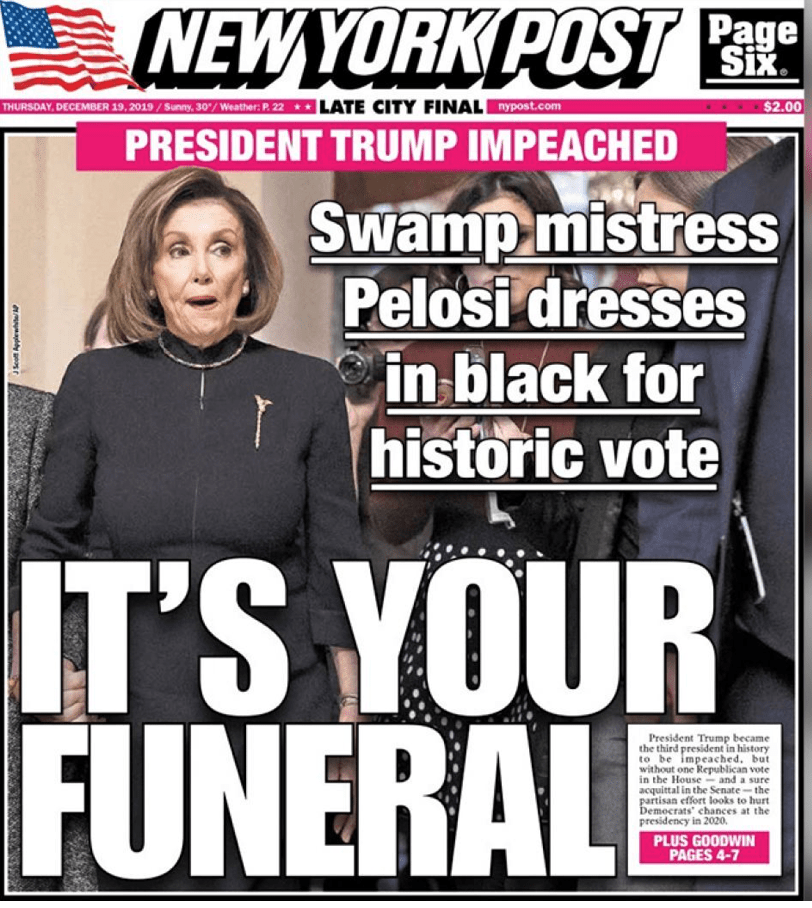 Nancy Pelosi dubbed 'swamp mistress' on New York Post impeachment front page: 'It's your funeral'
The "swamp mistress" moniker accompanies an opinion piece by Michael Goodwin that labels Trump's impeachment a "stomach-turning charade" that "damages America."
Goodwin said impeachment coverage "resembled Grade B actors performing for the cameras, their rehearsed references to oaths, prayers, the Founding Fathers, the rule of law, checks and balances and the Constitution itself all sounding contrived," which he feels were disingenuous.
"That was consistent with Pelosi's latest demand that her members stay 'solemn' in public, so as not to give the impression that they were gloating and joyful. In other words, hide how you really feel so we can fool more people into joining us," he wrote. "Only the damage to America is real."