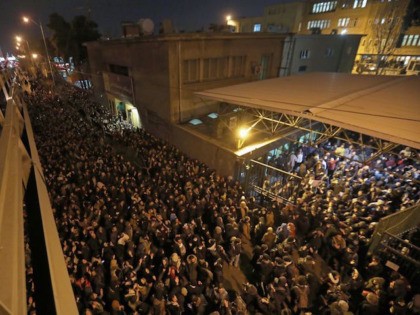 The Iranian government's admission on Saturday that it shot down a Ukrainian commercial airliner triggered widespread protests nationwide attended by hundreds chanting slogans against the regime and the former head of its foreign terrorist organization, Qasem Soleimani.
Britain's ambassador to Tehran was arrested and held in Tehran during demonstrations today and then released.
Iranian Women Have Had Enough!

Brave Iranian women put their lives on the line to fight against a government that denies them their basic rights. They chant "shameless!" at the regime.

We Are Watching Bravery Today! pic.twitter.com/Nn3gYkdX0R

— Rose (@rosedixontx) January 12, 2020
Funny how they don't blame President Trump for the plane being shot down, but the Democrats and the media do.
In Iran if women remove their hijab in public they risk jail time.

Yet women like "feminist" Rose McGowan apologized to Iranians for killing a terrorist who enforced these sick laws.

This is why Hollywood's politics are so uneducated & hypocritical. pic.twitter.com/a5Rbzi3wJF

— MICHELLE❤WINNING?????? (@RedTsumani2020) January 12, 2020
People claimed Iranians were united after #Soleimani's death. Think again. @SpeakerPelosi pic.twitter.com/S93nw8yMQ7

— Lilibell Needs The Wall ⭐️⭐️⭐️ (@lilibellmia) January 12, 2020
France:
This is what happens when a society is disarmed. The government eats you. pic.twitter.com/fIR30MSAtl

— R.J.P. (@think_4_yurself) January 12, 2020