17 people shot in one shooting today in Chicago. All black on black. In ALL of 2019, in ALL of America, police shot 14 unarmed Black people.
RUSH: This is a huge, huge story, and it was started by a Fox station in Orlando. Fox Orlando, Channel 35, reporting that Florida hospitals are making massive mistakes with coronavirus case reporting. The biggest story in the country, and you can't find it. You literally can't find it, certainly not anywhere in the Drive-By Media.
More than 300 COVID testing labs in Florida reported 100 percent positive rates. That simply isn't possible. Every person they tested was reported as positive. Upon investigation, the actual positive cases were 10 times lower.
Now, this opens the question, how many other states have been reporting fake numbers?
In short, the "peaceful protesters" burned an innocent man to death https://t.co/0ZQcaxlq7W

— Dinesh D'Souza (@DineshDSouza) July 21, 2020
Seattle police run out of patience with Antifa. pic.twitter.com/U5pnUrzPxz

— Ian Miles Cheong (@stillgray) July 21, 2020
Imagine dressing up like this and thinking you're the good guys. 👀 pic.twitter.com/NtX7glUaK6

— Sydney Watson (@SydneyLWatson) July 22, 2020
No communist to see here, move on…
https://twitter.com/SweetSoaps/status/1285718141134413824
Australian muslims have called for Australia to ban far-right groups, warning extremist material is increasingly being imported through social media platforms from Britain, the US and Europe @StaynerThomas https://t.co/H8p1NUFH99

— SBS News (@SBSNews) July 22, 2020
Australian Muslims urge the government to officially ban extremist far-right organisations
This is a serious attack on free speech to criminalise all & any criticism of Islam. It is fraudulent, pretentious & perfidious. Not only are there no organised "extremist far-right organisations" to speak of;  but the attack on this imaginary straw man is to deflect on the Islamic insurgency. It is to cover up the failure of successive governments & their dereliction of duty to protect and it will render us helpless in the face of the Islamic expansion program.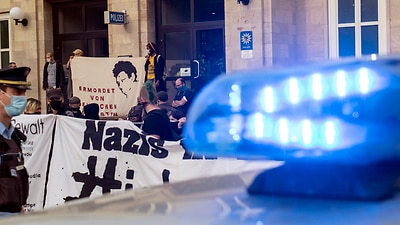 Australian muslims have called for Australia to ban far-right groups, warning extremist material is increasingly being imported through social media platforms from Britain, the US and Europe.
The Australian Muslim Advocacy Network is urging the federal government to follow international allies in banning extremist far-right groups.
The group says the ban will combat the spread of extremist material on social media, which is increasingly being imported from Britain, the US, and Europe.
A lack of official terrorist listings imposed on far-right organisations is limiting the capacity of social media companies to respond to the threat, the group has warned.
AMAN spokesperson Rita Jabri-Markwell told SBS News banning far-right groups would send a strong signal that extremism isn't tolerated in Australia.
"We can't ignore the reality of the internet … they are operating through Australian channels now to convince Australians that some minorities are this frightening and horrific threat," she said.
"It's extremely damaging to democracy but also to national security because this is the trajectory towards radicalisation."
Australia's international allies the United Kingdom, the United States and Canada have all moved to ban examples of extremist right-wing groups in their jurisdictions.
Germany recently banned the Northern Eagle organisation and has been cracking down on neo-Nazi organisations that have been using social media to recruit new members and support far-right violence.
There are no similar groups on Australia's banned terrorist organisation list, despite intelligence agencies repeatedly drawing attention to the escalating threat.
AMAN issued its warning about right-wing extremists in a submission to the Senate inquiry into foreign interference through social media.
The group's research has identified what it describes as "inauthentic behaviour" between a network of groups in Australia linked to right wing and white supremacist content overseas.
"We remain very concerned about the exportation of right wing extremist rhetoric from the UK, Europe and USA to Australia through coordinated exercises on social media platforms like Facebook, and its potentially devastating impacts for Australia's democracy, social cohesion and national security," it said in the submission.
International UN-backed group Tech Against Terrorism has warned that a lack of clarity around the status of far-right and other violent extremist groups can make it difficult for companies to make moderation decisions.
This is because many tech companies refer to existing designation lists as a standard against which to moderate terrorist content on their platforms.
Ms Jabri-Markwell said the proliferation of extremist material was a "ticking time bomb" that required a more concerted national response in Australia.
"Listing would send a strong signal that would help companies and government agencies to direct more resources to combating this form of terrorism and extremism," she said.
Facebook has taken steps to remove and ban pages of right-wing groups in the United Kingdom, the US and Canada.
Twitter also says it monitors and removes posts from sources that fall under "national and international terrorism designations" and "violent extremist groups".
Dr Jake Wallis, a senior analyst at the Australian Strategic Policy Institute, said platforms are increasingly looking for government direction in response to the extremism.
"The listing of groups would be a statement from the government on the significant threat that is emerging from right-wing extremism," he told SBS News.
Dr Wallis said social media companies review content moderation with a universal view, rather than specific to the restrictions of geographic regions.
But he said Australia taking a stance on this issue would give it more ability to influence the positions of social media companies.
"Otherwise we are simply reacting to what happens elsewhere in the world … or perhaps more importantly the positions the platforms themselves take," he said.
The United Kingdom has formally banned extremist right group the Sonnenkrieg Division and neo-Nazi group National Action.
The United States has designated the Russian Imperial Movement, a white supremacist group, as global terrorists.
Canada has listed right wing extremist groups such as Blood and Honour and Combat 18.
ASIO has warned that right-wing extremism poses an increasing threat in Australia as groups become more organised.
Prime Minister Scott Morrison supported a global crackdown on social media companies combating violent extremist material after the Christchurch attack was livestreamed on Facebook last year.
In its submission, AMAN said research has also shown radicalising material is being circulated through malicious "news" platforms to circumvent criminal sanction and often "falls short of actually inciting violence which poses a real difficulty in terms the application of criminal law".
AMAN said the government might consider strengthening the existing criminal laws used for harmful online conduct to allow extremist behaviour – rather than only groups – to be targeted.
The Senate inquiry was established last year to investigate the risks posed to Australia's democracy by foreign interference through social media platforms including Facebook, Twitter and WeChat.
Here is the
A few months' ago I wrote about Australian labor politician, immigrant invader blow-in and affirmative action recipient Kristina Keneally, who was making noises about having some sort of rethink about Australia's disastrous immigration policies which she herself had championed for so long. I was firmly of the opinion that the woman not be let off the hook for her past actions.
"Keneally is the original Karen, a domineering busybody who wants to see the manager, but unfortunately for Australia she, and many of her ilk, became the manager. She is the strident banshee who instead of being disciplined as a child was continually told that she could be anything that she wanted and that she could change the world."
An aside about the Karen meme: it's the nationalist right's response to mansplaining.
Anyhow, Kristina 'Karen' Keneally, (KKK), is back in the headlines again but this time for more nefarious reasons.
Australia under pressure to officially ban right-wing extremist organisations.
The headline is somewhat incoherent; just how Australia can be under pressure from itself to do something is a box into which we shall place no cat, nor Karen.
Labor has called on the Morrison government to ban right-wing organisations to send a signal that extremist views won't be tolerated in Australia.
Currently, 25 of Australia's 26 banned terrorist organisations are Islamist, with the other being the Kurdistan Workers' Party, or PKK.
But Labor's home affairs spokeswoman Kristina Keneally says these groups are not the sum total of the problem.
"The proscription of a right-wing organisation – international or domestic – would send a powerful message that these extremist views will not be tolerated,"" she wrote in an article for ASPI's The Strategist.
But the views of some half dolled up American trollop are of the upmost importance. No First Amendment for Australians to fall back upon. Mind you, the so-called land of the free is just about the worst place in the world to be right now if you want to have an opinion on politics and keep your job. Methinks that KKK is homesick for the injustices which she left behind all those years ago.
Immigrants always want to transplant their native lack of principles onto the rest of us. Don't forget that the Democrats were the Klan, so KKK is just trying to feel at home. It's the political version of cooking up all those dishes that you miss. How about that immigration, eh? The food is just great!
Senator Keneally said right-wing extremism, which was once an invisible enemy, is finding new opportunities to rear its ugly head.
It seems that they are really pissed off at Gab. Nothing like an upstart tech company to ruin all of that censorship at which you had worked so hard.
The next few elections in Anglo nations are going to be really interesting if the left retakes power. Because now the gloves are off and they're not bothering to hide it any more. The Karens of the world want nothing better than to don a white smock and start burning churches. It'll make everything feel just like home.