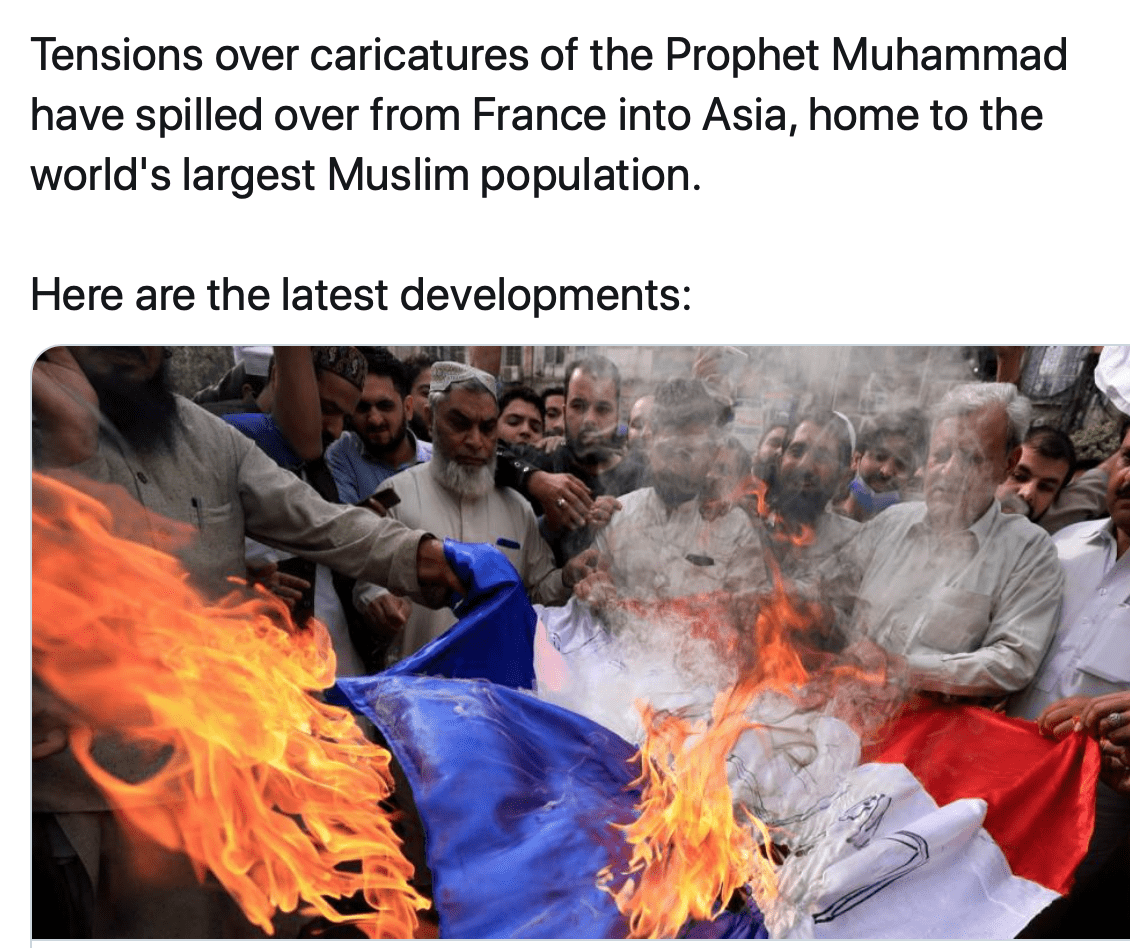 Islam in Asia latest: Twitter deletes a Mahathir tweet on French attack
Pompeo calls on Indonesian Muslims to speak out against China's treatment of Uighurs
Tensions in France over caricatures of the Prophet Muhammad — between offended Muslims and President Emmanuel Macron's government defending freedom of expression — have spilled over into Asia, which also is home to a large Muslim population.
Here are the latest developments:
Friday, Oct. 30 (Tokyo time)
3:00 a.m. "This Tweet violated the Twitter Rules." A short notice from the U.S. social media giant announces the removal of a tweet by former Malaysian Prime Minister Mahathir Mohamad, who had earlier written that "Muslims have a right to be angry and to kill millions of French people for the massacres of the past."
Under Twitter's policy, "When we determine that a Tweet violated the Twitter Rules, we require the violator to remove it before they can Tweet again. We send an email notification to the violator identifying the Tweet(s) in violation and which policies have been violated."
Thursday, Oct. 29
11:00 p.m. French President Emmanuel Macron says: "Once again our country has been hit by an attack, an Islamic terrorist attack," as he visits the scene of the church killings in Nice. "All of us would like to support the Catholics in France and elsewhere," Macron says. "Once again it's the Catholics that are being attacked," he says.
10:45 p.m. A Saudi man is arrested in the Red Sea city of Jeddah after attacking and wounding a security guard with a "sharp tool" at the French Consulate, local police say. A statement from the Mecca region's police says that the guard suffered "minor injuries" and that "legal action" is being taken against the perpetrator.
The French Embassy says that the consulate has been subject to an "attack by knife which targeted a guard," that the guard has been hospitalized and that his life is not in danger. "The French Embassy strongly condemns this attack against a diplomatic outpost which nothing could justify," it says.
10:34 p.m. Saudi Arabia "strongly condemns" the attack in Nice, its foreign ministry says. "The kingdom categorically rejects such extremist acts, which contravene all religions … while stressing the importance of avoiding all practices which generate hatred, violence and extremism," says the statement published by the state news agency SPA.
8:54 p.m. France raises the security alert for French territory to the highest level after the knife attack in the city of Nice. Prime Minister Jean Castex announces that the government's response to the attack will be firm and implacable.
6:00 p.m. U.S. Secretary of State Mike Pompeo urges Indonesiansto focus on the treatment of Muslim Uighurs in China, describing it as the "gravest threat" to the future of religious freedom in a speech to an Islamic group.