Who is behind this idiotic wild goose chase?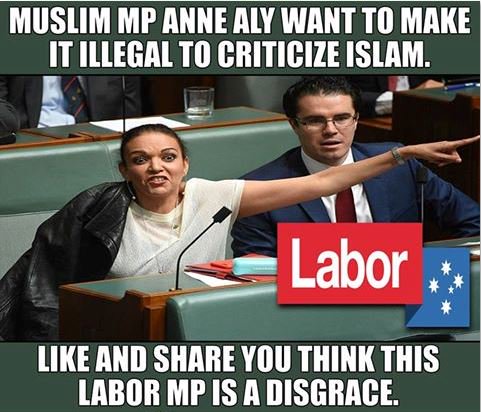 No other than the notorious "counter terrorism expert" "Ann" Aly, an utterly pathetic Mohammedan grievance monger, which some gov't clowns in their bottomless stupidity elevated to a position of authority.
Fox guarding the chicken coop.
Discuss!
An ASIO spokesperson told A Current Affair extreme right-wing radicals represented a "serious, increasing and evolving threat to security", occupying around a third of its current counter-terror workload.
.
"Extreme right-wing groups are more organised, sophisticated and security conscious than before."
.
Online platforms were allowing Australians to connect with extremists overseas, with acts of violence "encouraged, glorified and promoted" in digital chatter, ASIO said.
This is a nothing but another attempt to restrict our freedoms further. It's a call for far reaching censorship, restrictions on
'Left-wing extremists using Covid to inflame tensions'
Geoff Chambers The Australian 27, 2021
.
Victoria Police says the right-wing extremist threat does not "exist in a vacuum", and warned left-wing extremists have used the COVID-19 pandemic to inflame tensions over the environment and "authoritarian" governments.…
See more
In its submission to a parliamentary inquiry into extremist movements and radicalism, ­Victoria Police said right-wing extremism was "directly influenced by a symbiotic relationship with the threat of left-wing extremism". It said that in addition to violent conflict at organised right-wing extremist events, left-wing extremists were "mimicking overseas-based (left-wing extremist) movements (such as ANTIFA) to justify the use of violence to promote civil unrest and target perceived enemy groups".
Victorian report recommends tightening laws protecting communities from vilification
This is not about Nazis. Nobody gives a flying f*kc about Nazis.
Nazis are simply too thin on the ground to constitute a threat. The people behind this are Mohammedans & their useful idiot leftists, who are trying to make laws to PROTECT MUSLIMS FROM CRITICISM.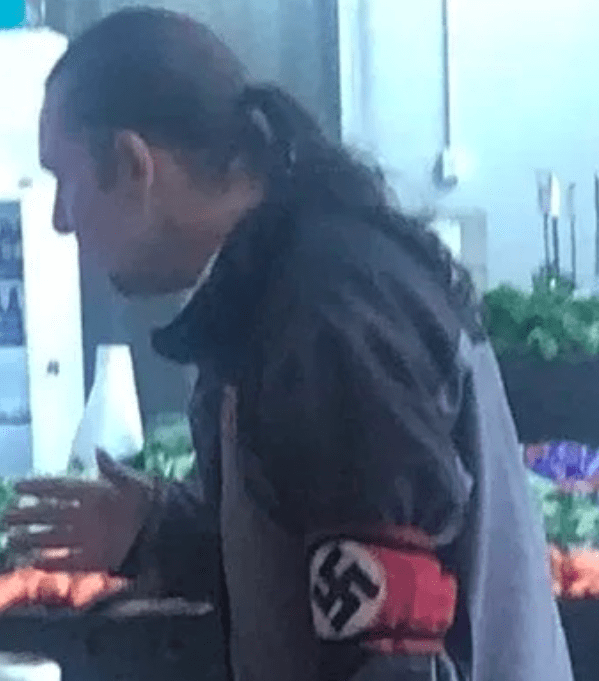 A State parliamentary committee has recommended Victoria should extend its anti-vilification laws to cover a range of attributes not currently specified in legislation including the display of Nazi symbols.
This should include attributes relating to gender identity and sexual orientation, disability and HIV status, in addition to race and religion already covered by current laws.
,
The Legislative Assembly's Legal and Social Issues Committee inquiry into anti-vilification protections explored the effectiveness of the Racial and Religious Tolerance Act 2001 (RRTA), a key component of Victoria's human rights framework, alongside the Equal Opportunity Act 2010 and the Charter of Human Rights and Responsibilities Act 2006. Photo: Shopper wearing nazi armband [supplied] #jwireaus
Victoria Police, in its submission, said the far-left presented the pandemic in various forms "from a manifestation of the human impact on the environment … on the one hand, to a deliberate ­attempt by governments to achieve authoritarian control over their populations".
.
But in a separate submission, the Australian Security Intelligence Organisation said the vast majority of its counter-terrorism operations were still focused on the threat of Islamic terrorism.
"Australians as young as 13 and 14 are involved in onshore terrorism, both in Islamic extremist and extreme right-wing circles," the submission from ASIO reads.
.
Australia's domestic intelligence agency also noted right-wing extremism including white supremacy and Neo-Nazism was becoming "more organised, sophisticated and security conscious".
"The threat from extreme right-wing groups and individuals in Australia has increased, and ASIO continues to see more people drawn to and adopting extreme right-wing ideologies," the ASIO submission reads.
.
"ASIO remains concerned with the threat posed by small groups or lone actors inspired to conduct an attack. These threats are difficult to detect, and can emerge with little forewarning."
The Christchurch mosque attack of 2019 continued "to be drawn on for inspiration" by right-wing extremists, it said.
.
The ASIO submission noted left-wing extremism was "not currently prominent" but there were "several overseas groups who attract individuals adhering to an extreme left-wing ideology".
The Weekend Australian understands the nation's security and law enforcement agencies will use the Parliamentary Joint Committee on Intelligence and Security inquiry to stress that threats should not be confined to one form of extremism. The AFP, which outlined the increasing threat of right-wing extremism since the Christchurch attack, said its policy was focused on "criminality not ideology".
.
The Victorian police submission warned that "(left-wing extremist) groups and individuals have also been particularly vocal in calling for action and encouraging unlawful activity during the pandemic." "Their willingness to flout government restrictions for 'the greater good' has already been evident in Victoria."
.
The AFP submission said threats posed by Islamic extremists were "enduring and diversifying and shows no sign of abating". Since July, the AFP had ­"arrested six released convicted terrorist ­offenders and charged them for breaching a control order".
.
In its submission, ASIO said a right-wing extremist was last year, for the first time, prevented from "travelling offshore to fight on a foreign battlefield" due to a passport cancellation based on an adverse security assessment.
.
*****
Neo-Nazi Sonnenkrieg Division to become first right-wing terrorist organisation listed in Australia
.
A right-wing extremist group is set to be formally listed as a terrorist organisation for the first time in Australia.
.
Key points:Sonnenkrieg Division has been outlawed in the UK since early 2020Australian security agencies suggest there are currently no Australians directly involved with the groupThere are currently 27 listed terror groups in Australia
.
Sonnenkrieg Division, a UK-based neo-Nazi group, will be effectively banned in Australia once its listing as a terror group is confirmed.
.
The group has been outlawed in the UK since early last year, and members have been convicted of encouraging terrorism, disseminating terror material, and preparations for a terrorist act.
Two Sonnenkrieg Division members were convicted in 2019 for plotting to attack the British royal family.
.
Decisions to list terror groups are made on the advice of security agencies like ASIO.
.
As a result of the listing, it will become an offence to be a member of the group, fund the group, or in some circumstances associate with members of the group.
.
Penalties can range to up to 25 years in prison.
.
Home Affairs Minister Peter Dutton has written to Opposition Leader Anthony Albanese, and all state and territory leaders, proposing the listing.
.
There are currently 27 listed terror groups in Australia, including Islamic terror groups like Al Qaeda, Islamic State, Boko Haram and Jemaah Islamiyah.
INCREASING FOCUS ON RIGHT-WING TERROR
Australian security agencies have advised there are currently no Australians directly involved with Sonnenkrieg Division.
But a gathering of white supremacists in regional Victoria in January prompted calls for other right-wing groups to be listed.
Stickers promoting the "National Socialist Network" were reported by some residents in the Grampians during the group's visit.
Some reported the group burned a cross, performed Nazi salutes and chanted white supremacist slogans.
.
Despite police investigations, no laws were found to be broken, which led to some experts to call for the National Socialist Network to be similarly listed.
.
Mr Dutton has previously asked Federal Parliament's powerful Joint Committee on Intelligence and Security to look into groups that fall short of meeting the threshold for listing, but still pose a threat.
The committee would consider what possible law changes could be made to better address such groups.
.
Labor has previously called for the government to declare far-right group Proud Boys as terrorists.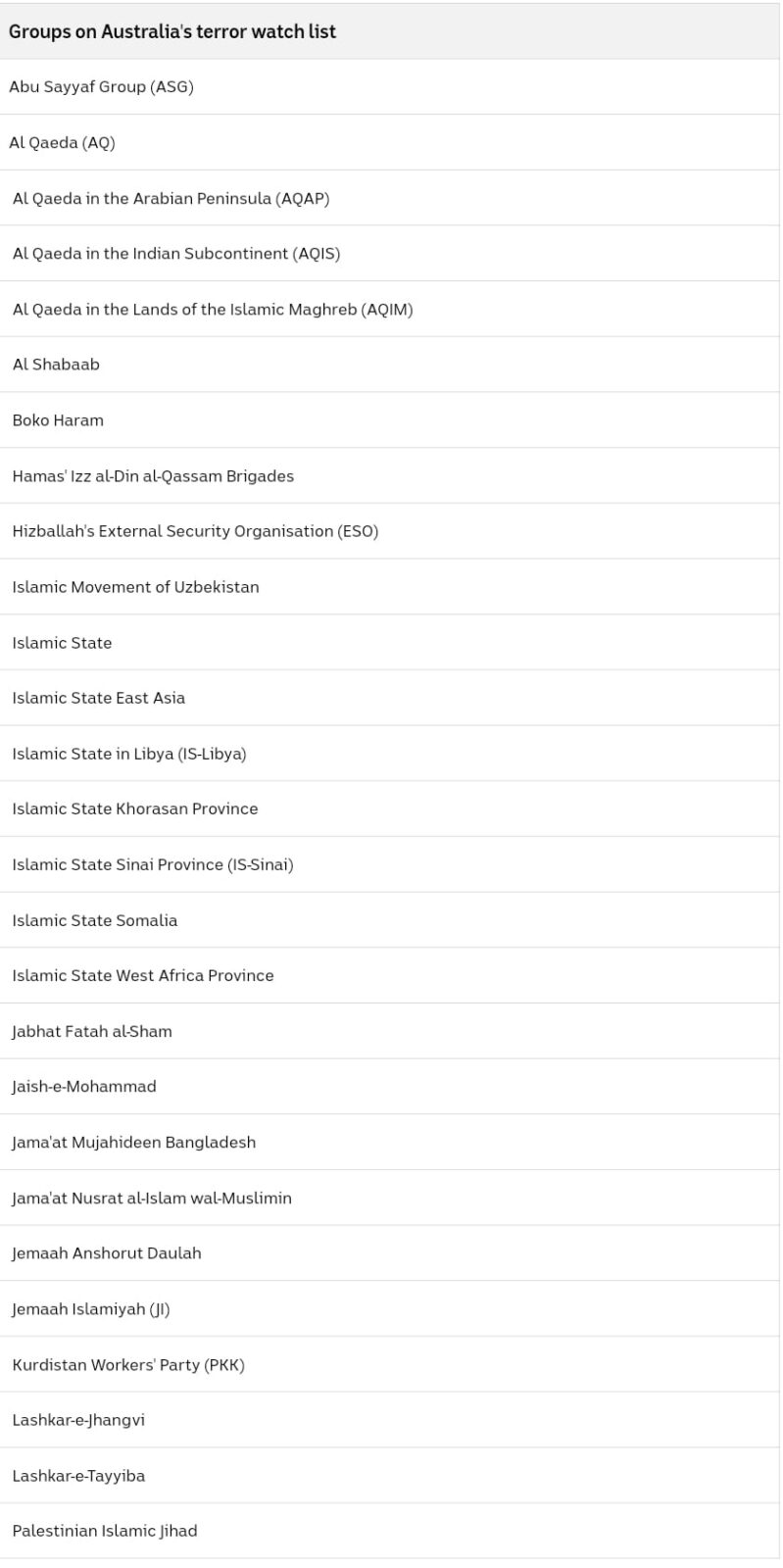 Update:
Australia: Intel agency to drop term 'Islamic extremism' in favor of 'religiously motivated violent extremism'
Again, this is thanks to our egregious "counter terrorism expert" Ann Aly, who just can't connect Islam with terrorism.
"Extremism" is a euphemism in itself, and a pernicious one, as it has enabled the U.S. far-left hate group the Southern Poverty Law Center to smear foes of the leftist agenda and opponents of jihad terrorism as "extremists," implying they're terrorists without saying so outright, and paving the way for what we're seeing now, the redirection of law enforcement and intelligence efforts against a largely imaginary "right-wing extremist" threat and the criminalization of political opposition on the pretext of silencing dangerous "extremists."
But now Australia is taking the madness one step farther, and attempting to appease its growing and restive Muslim population by eliminating the "Islamic extremism" designation in favor of "religiously motivated violent extremism," as if all religions were equally likely to give rise to violence against unbelievers. Unfortunately for the appalling Mike Burgess, ignoring jihad violence and pretending it doesn't exist by labeling it something else won't make it go away.
"Australia spy agency to relabel Islamic, right-wing extremism," DPA, March 17, 2021:
Sydney (dpa) – Australia's domestic intelligence agency ASIO will ditch the expressions "Islamic extremism" and "right-wing extremism" to refer to violent threats as the labels are "no longer fit for purpose."

In his second annual threat assessment, ASIO Director-General Mike Burgess said the terms will be replaced with "religiously motivated violent extremism" and "ideologically motivated violent extremism," which more accurately describe what security agencies are seeing.

"These are umbrella terms – and there may be circumstances where we need to call out a specific threat that sits underneath them – but we believe this approach will more accurately and flexibly describe security-relevant activities," Burgess said as he delivered the assessment in Canberra on Wednesday evening….