Never enough lockdowns:
"There's absolutely no need for vaccines to extinguish the pandemic. You do not vaccinate people who aren't at risk from a disease. You also don't set about planning to vaccinate millions of healthy people with a vaccine that hasn't been extensively tested on human subjects."
Germany heads for new lockdown and Netherlands and Belgium warn restrictions may have to be extended https://t.co/GNh6Rzvnk3

— Daily Mail Online (@MailOnline) March 22, 2021
Moment female 'Kill the Bill' activist squats at Bristol riot cops' feet then DEFECATES while she takes a selfie – as police are accused of losing control to anarchists because they 'stood by as statues were destroyed'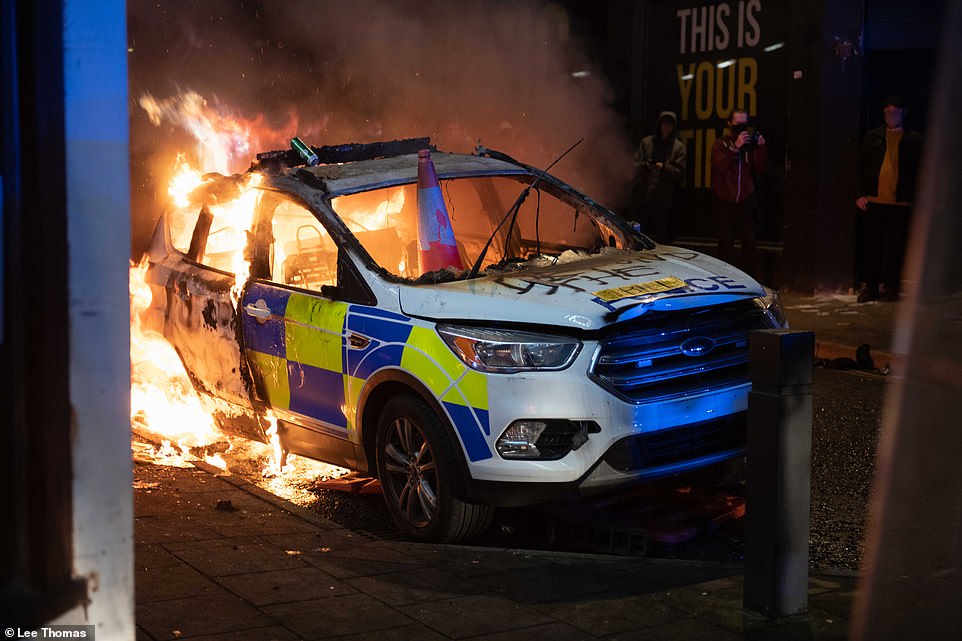 Seven arrests the morning after 'extremists' brought bloodshed to Bristol https://trib.al/FwRPu0G
Violent protest took place on Sunday in Bristol against the Police, Crime, Sentencing and Courts Bill
A standoff at Bridewell Police Station saw protesters smash windows and set police vehicles alight on Sunday
Bill will give police more power to impose conditions on non-violent protests, including for being 'too noisy' 
Bill passed its second reading earlier this week, despite public opposition and votes against by Labour MPs  
Protests are currently banned under lockdown legislation, which prevents large gatherings from taking place 
Bristol Mayor Marvin Rees condemned 'self indulgent, self-centred people coming here looking for a conflict'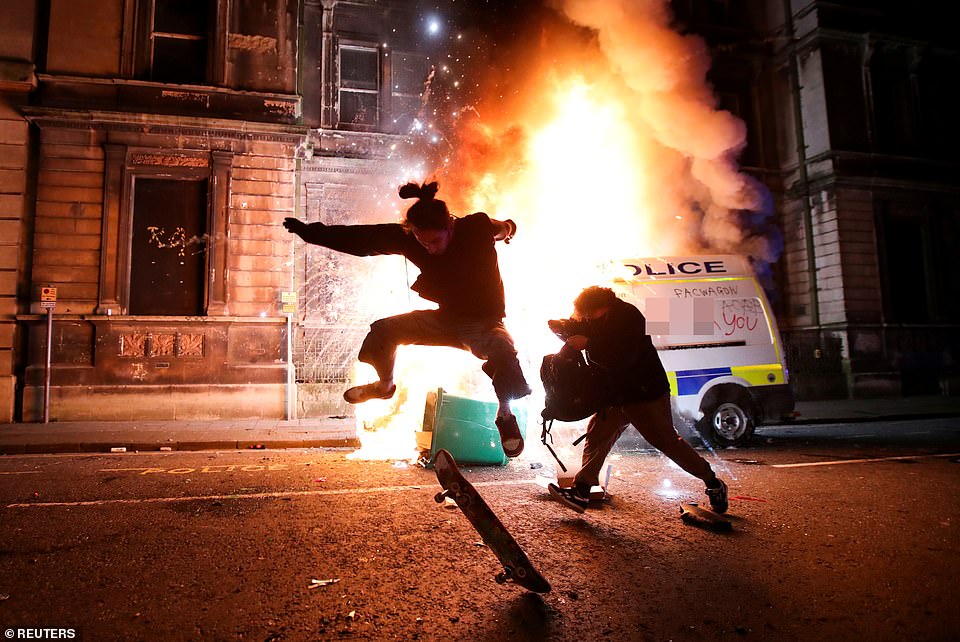 Thousands protested in London against the lockdown on Saturday. Ignore the puritanical and po-faced commentators. There was nothing selfish, stupid or thoughtless about this protest. People want their jobs, society and liberties restored, says Laura Dodsworth
SPIKED-ONLINE.COM
.
Thousands of people peacefully protested in London on Saturday at the anti-lockdown 'freedom rally'. They marched from Hyde Park to Oxford Street, to the Thames, Trafalgar Square and parliament. I went to cover the protest. While estimating crowds is a challenge, there cannot have been fewer than 20,000 people there at the most conservative estimate.
Some people think it may have been over 50,000.
.
Melbournistan:
Ignorant bitches march for the climate & George Soros
Thousands of cops diverted to control climate rebels kaputniks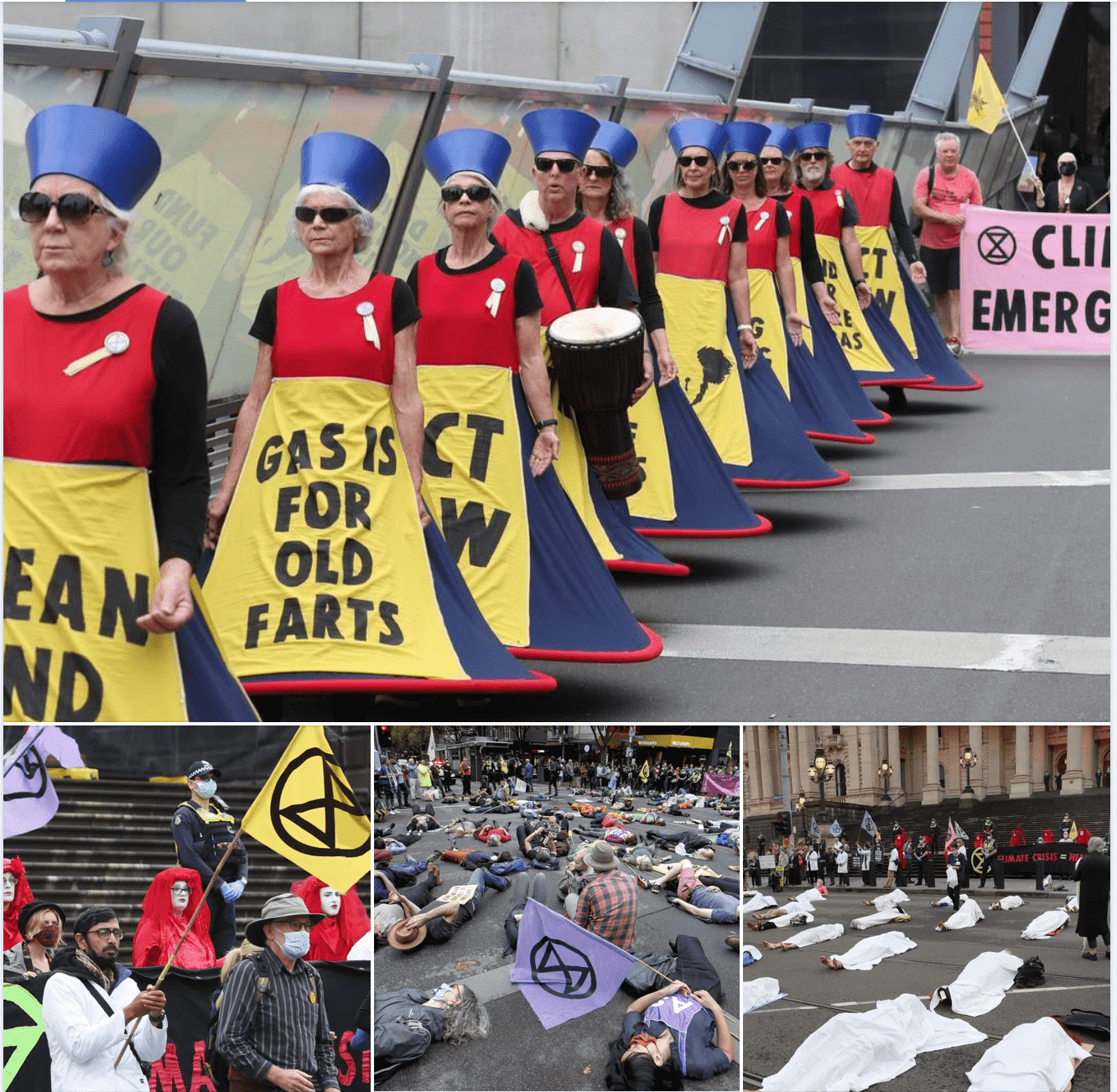 Take a real close look at these people. They even look dumb.
Mitch Clarke, Sarah Booth Herald Sun March 22, 2021
.
Two thousand cops have been pulled from regular duties to respond to a week of "mass disruption" by climate activists across Melbourne. Three Extinction Rebellion protesters arrested were arrested after a rally on Lonsdale St on Monday afternoon. They were charged with hindering police and later granted bail. Overall ten people were arrested with another five women and two men fined for blocking a roadway and hindering police.
.
A man wearing a fluoro orange vest screamed "this is a climate emergency" as he was placed in hand cuffs. "I can't wait to go to the Melbourne Magistrates Court," he said.
.
Violet Coco, 30, said this was the ninth time she had been arrested protesting the cause but she wouldn't give up.
.
"It's pretty normal to be upset at being disrupted, but we're bringing the disruption of the climate emergency [here]."
The demonstration was the first of many planned by Extinction Rebellion this week.
.
Victoria Police Assistant Commissioner Luke Cornelius said police were being dragged away from other jobs, which would have "a huge impact on community safety".
.
"We've rostered just under 2000 over the course of this week to ensure public safety over the course of these events. That's 2000 members who would otherwise be out in local police stations keeping the community safe," he said.
Assistant Commissioner Cornelius said protesters would not be permitted to camp at Carlton Gardens and City of Melbourne officials would move them along.
Sprinklers would also be turned on at night to deter campers, he said.
.
"If they're not packed up early hours of the morning, the council have told me they're putting the sprinklers on, so people will find themselves getting very wet if they choose to camp overnight," Mr Cornelius said.
.
"Grass and our parks and gardens can always do with a bit of moisture I reckon."
Melbourne Lord Mayor Sally Capp said the use of sprinklers was one tactic being considered.
.
Cr Capp said council bylaws prevented activists from camping in Carlton Gardens overnight.
.
She said she had repeatedly made the point to organisers that it was poor timing for the demonstrations, given many Melburnians were returning to the CBD for work.
.
"It's a critical time for local businesses to be able to recover, it's a critical time for people to come back into the city," she said.
.
"This sort of action that Extinction Rebellion is taking, I don't think it is going to be effective in achieving their aim."
.
Assistant Commissioner Cornelius said police had been in contact with organisers and would issue a direction for protesters to "cease their obstruction" of roads and public transport.
.
"If people don't comply with our directions to stop obstructing pedestrian and public transport and road we will move in and effect arrests of people who continue their obstruction," he said.
.
"We'll issue a direction for them to cease their obstruction and if they don't comply we'll move in and arrest people."
.
The protesters began their demonstration at the steps of parliament on Monday morning. The group sang and chanted, before activists blocked traffic, and pretended to be dead while lying on the intersection of Spring and Bourke Street.
Motorists were forced to take alternative routes as the group blocked the major intersection.
The last remaining protester, Helen Bowman, was arrested for obstructing traffic after defying police orders to move on.
.
She acknowledged the inconvenience when questioned by the Herald Sun about the tactic of blocking traffic, but said: "What's coming is going to be a lot more than inconvenient."
.
The actions form part of the "autumn rebellion" across major capital cities.
A smaller group, largely made up of elderly protesters donned in handmade costumes with slogans like "clean and green" and "gas is for old farts", took to Southern Cross station on Monday afternoon.
.
"We are COVID-wary but our passion and our determination is strong," one woman
.
Protest spokesman Brad Homewood said the group was "greatly inspired" by the civil rights movement.
.
He described the group as an "open rebellion" and a "civil resistance movement" rather than a protest movement.
.
"We are doing this not only for us and our children, but for everyone else's children and grandchildren too … It's the future generations that are going to pay the heaviest price," Mr Homewood said.
.
"We are not only in a climate emergency but a health emergency as well."
The last remaining protester on the road, Helen Bowman, was arrested for obstructing traffic after she defied police orders to move on.
.
Ms Bowman, who planned to be arrested, told the Herald Sun she felt it was important to take a "personal stand".
"I am a grandmother and I'm very deeply concerned about the future of all beings, particularly children, and unless we take action now, we're on the brink of ecological collapse," she said.
.
"As an elder I have a responsibility to current and future generations. I've had a very good life and I'm aware that the privilege I have had is not going to be there for our children unless we take serious action now.
.
"We just don't have time. The ecological systems are starting to collapse. We need to take action now."
.
Ms Bowman said she felt compelled to act after having achieved no results over the years.
.
"I've been polite and I've been seeing my local member but I don't think the message has got through. We're running out of time, it really has become imperative to take nonviolent direct action."
While Ms Bowman acknowledged the inconvenience for motorists, she said: "what's coming is going to be a lot more than inconvenient."
Grandmother and retired science teacher Lesley Walker said her research and background compelled her to get involved in the protest.
.
"I reckon I have another 20 years and I'm just so sad with everything we face," she said.
"I've been active for 30 years, teaching this with all my capacity and it hasn't worked so I'm driven to this because I have no viable alternative.
.
"It's just heartbreaking. We're destroying the planet. We have no right to do this."
Additional reporting Brianna Travers
.
1/ The group gathered at Southern Cross Station. Picture: David Crosling
2/ Protesters waved flags and dressed up in costumes. Picture: David Crosling
3/ The protest are set to continue all week. Picture: David Geraghty
4/ Activists lying down on the intersection of Spring and Bourke Street. Picture: David Crosling