Looting and rioting erupts in Minneapolis as police fire tear gas and National Guard are called in after officer fatally shot black man at traffic stop just ten miles from where George Floyd was killed
ANARCHY:
BLM Rioters LOOT Nike Store in Minneapolis, Break Windows and Doors
Officers stand guard outside Brooklyn Center Police Department with trash thrown at them by demonstrators
Officers take cover as they clash with protesters after an officer shot and killed a black man in Brooklyn Center, Minneapolis on Sunday
Daunte Wright, 20, was shot by a Brooklyn Center police officer on Sunday during a routine traffic stop
Police have not specified whether or not Wright was armed at the time of his death 
Officers pulled over Wright for a traffic violation and determined that he had an outstanding warrant
Brooklyn Center Police officers then tried to arrest him but Wright 're-entered the vehicle' 
One officer discharged their firearm, striking Wright while the vehicle continued to travel for several blocks before crashing into another car – Wright died while still inside the vehicle  
Wright's mother Katie claimed her son had called her while being pulled over to get insurance information for the vehicle having recently been given the car as a gift
Wright's mother suggested her son was pulled over for having an air freshener hanging from rear view mirror
Around 500 protestors took to the streets on Sunday night as they clashed with police outside the precinct
Police deployed tear gas and flash-bang grenades to clear demonstrators who gathered outside the Brooklyn Center Police Department 
Incident occurred 10 miles from where a police officer is on trial and charged with murdering George Floyd last year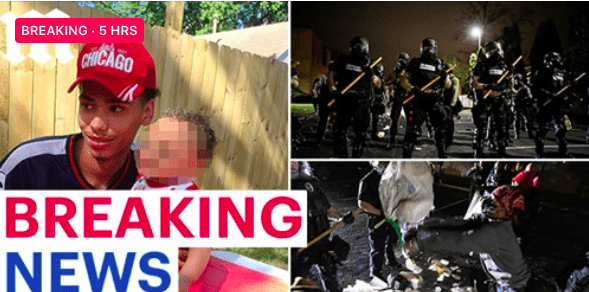 Police officers fired tear gas and flash bangs at protesters who had gathered outside the Brooklyn Center Police Station on Sunday night following the fatal shooting of Daunte Wright
It's not clear what happened from the time police were trying to arrest Wright and when they said he got back into his car and drove away. Police said body cameras 'were activated' during the incident, according to the New York Times, but no footage has been released.
According to Wright's mother, Katie, he called her while he was being pulled over to get insurance information for the vehicle because she recently gave the car to him. She said he told her he had been pulled over because he had air fresheners hanging from his rear-view mirror; police said they had pulled Wright over for a traffic violation but did not give details.
Wright's mother described the call: 'I said when the police officer comes back to the window, put him on the phone and I will give him the insurance information,' she said. 'Then I heard the police officer come to the window and say, 'Put the phone down and get out of the car.' And Wright said 'why'. He said, 'We'll explain to you when you get out of the car." 
'A minute later, I called and his girlfriend answered, who was the passenger in the car, and said that he'd been shot and she put it on the driver's side, and he was laying there lifeless,' Katie told gathered media on Sunday afternoon.   
'I heard scuffling, and I heard police officers say, 'Daunte, don't run," she said through tears. The call ended, and she dialed his number again. His girlfriend answered and said he was dead in the driver's seat.
Meanwhile, as news of the death traveled, about 100 people, some visibly upset and one carrying a sign demanding 'Justice for George Floyd,' confronted police in riot gear.
Protests started peacefully, according to eyewitness reports, but soon turned unruly, with demonstrators vandalizing two police vehicles, pelting them with stones and jumping on them. 
As the evening went on, more people took to the streets and looting broke out in other parts of the city, including at a Walmart, as tensions boiled over in scenes all-too-familiar from last summer's protest and subsequent riots.