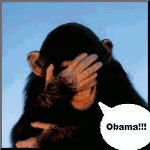 In the aftermath of 9/11, when the USA had reason to regard itself as under siege by Islamic terrorism, some warned that measures intended to protect us from terrorists from abroad could be used against American citizens if bad people were to gain control of the federal government. This has now come to pass.
Radical leftists openly hostile to America's core population control the White House and both houses of Congress. They are taking steps to ensure the control is permanent. This scene from Biden's speech last night should raise the hair on the back of your neck:
Pres. Biden: "We won't ignore what our intelligence agencies have determined to be the most lethal terrorist threat to our homeland today: White supremacy is terrorism."

LIVE UPDATES: https://t.co/C9Fo91RNwe #JointAddress pic.twitter.com/1aJR6GBQdZ

— ABC News (@ABC) April 29, 2021
Ironically, nearly 100% of the politically motivated violence in this country over the past year has been inflicted to advance black supremacism by Black Lives Matter and fellow-traveling Antifa rioters.
No worries about al Qaeda. It's over there in the Middle East (just like it was on 9/11). The real threat is "white supremacism."
White supremacism could be defined as resistance to critical race theory, the ideology aggressively promulgated by the Biden Administration. White supremacism is a failure to regard Caucasians as unworthy to have interests. In other words, white supremacism is resistance to left-wing racism. Dissent from leftist ideology = terrorism.
You don't have to be white to find this alarming. You just have to know something about totalitarianism, and what life subsistence is like in countries that have succumbed to it.
Congressional Press Credentials of Epoch Times Revoked While China State Media Retains Theirs. Biden just loves China, huh! – Tucker Clip 🤦‍♂️
Russia's Putin Takes Page From Biden Playbook And Charges Political Opposition With Being Terrorists, Foreign Agents – CD Media