The anti-India international left-wing media is trying to spread Covid hysteria to once again undermine Modi and Hindus. These same leftist activist media outlets are targeting all western nations. Next they will preaching Climate Lockdowns.
I proudly stand with India.
Australia is expected to ban ALL flights from India, as the country breaks new records of COVID cases and deaths, which could leave more than 8,000 Aussies – including some of our top cricketers – stranded.
Panic over India's COVID situation shows lack of confidence in quarantine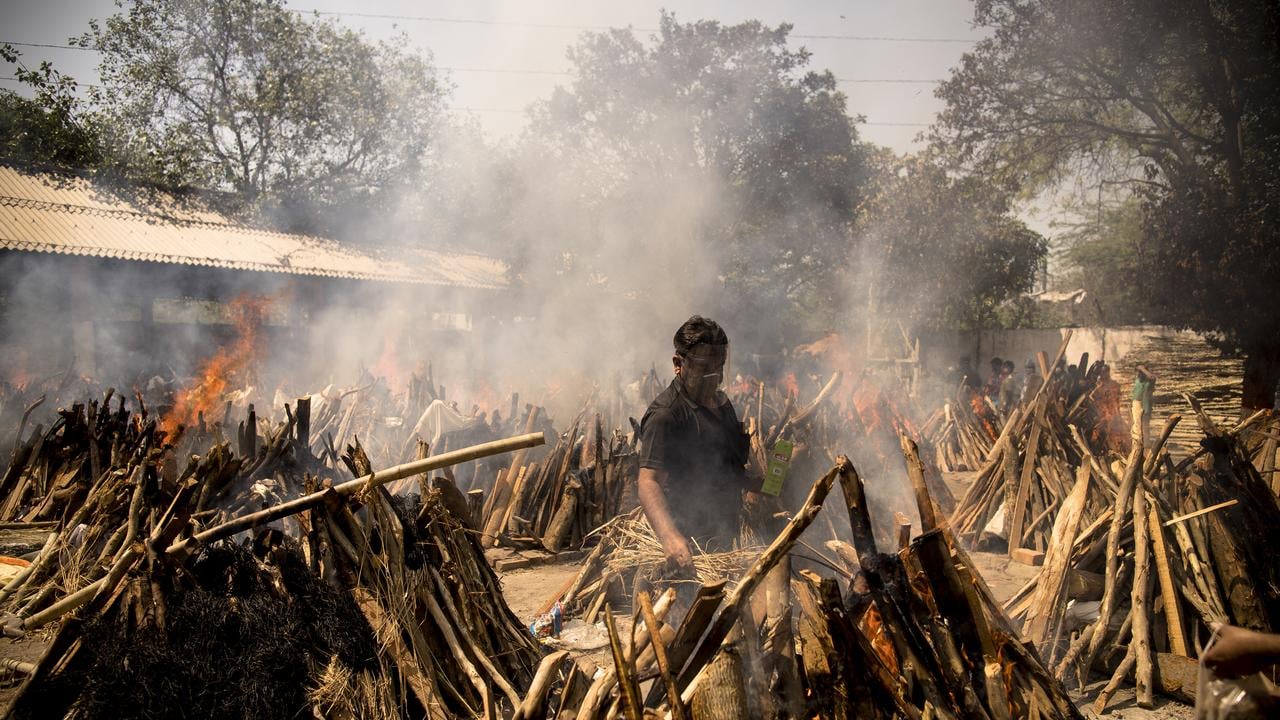 Shannon Deery Herald Sun April 25, 2021
.
Across the world, governments have rushed to ban travel to and from India. But why are both our state and federal governments at panic stations? The UK was quick to add the country to its "red list", effectively banning travel except in very limited circumstances. In Canada, flights from India and Pakistan were stopped for 30 days. France has also tightened requirements for travellers from India, as well as from a string of other countries including Brazil, Chile and Argentina.
It is of course right to be cautious.
.
What is unfolding in India is, as described by Victorian chief health officer Brett Sutton, a "genuine catastrophe".
.
You can imagine the good professor could easily have added some expletives among his descriptor.
.
The devastating situation unfolding there has overwhelmed hospitals and crematoriums and smashed global COVID records.
.
One day last week India recorded more than 310,000 new infections, the highest daily figure in any country on a single day.
.
The situation has simply got away from authorities there — something Daniel Andrews repeatedly cited as his reason for imposing tough lockdowns here.
The man currently keeping the Premier's chair warm is being equally cautious in his response to the Indian disaster.
.
Acting Premier James Merlino pushed the national cabinet for an immediate and complete cessation of incoming flights from India, Pakistan and Bangladesh last week.
.
A 30 per cent reduction in arrivals from India alone was ultimately agreed upon. Travellers are required to produce a negative COVID PCR test within 72 hours of boarding their flights.
.
Exemptions do exist if passengers can establish they were unable to access a test because of a lack or absence of local resources, and even people who test negative can later test positive.
.
The state government hasn't ruled out banning travellers from India from entering Victoria.
.
Part of their reasoning is people from the Indian subcontinent, including Bangladesh and Pakistan, are "disproportionately overrepresented" in our quarantine program.
.
And so far, no outbreak. Of course it would be foolish to tempt fate, especially with a program that has had such a devastating history as our quarantine scheme.
.
But in the fortnight since the international travellers started flying into Victoria again, hotel quarantine has been faultless.
.
Thousands of passengers have returned to our state, and there have been no outbreaks. To flag a tough crackdown and hard border closure only speaks to a lack of confidence in the quarantine system.
.
Either policies and procedures are being followed, or they're not. If they are, you should be able to run the program at capacity, full of COVID-positive travellers, and not have an outbreak.
.
If standards slip and procedures are ignored, there will be an outbreak if even all but one returned traveller test negative.
.
Nancy Baxter, of the University of Melbourne School of Global Health and Population Research, argues that allowing international travellers into Australia involves balancing risks and benefits.
.
She points out focusing restriction on travellers from certain countries deflects the focus from quarantine hotels.
.
"Sure, transmission between residents in the hotels will be reduced if fewer people in quarantine have COVID, but it only takes one person who contracts COVID in the hotel and spreads it before detection to change the trajectory of the pandemic," she said.
.
"Right now there is a higher risk travellers from India will have been infected with COVID and develop it even after testing negative before departure than travellers coming from many countries plus there are some new variants that are now in circulation in India that we don't know much about.
.
"That being said it would be easier to believe these types of restrictions for certain countries are being done equitably if there were transparent criteria that were in place guiding decision-making. "
.
When coronavirus, then a mystery virus, first burst out of Wuhan last year, the federal government quickly moved to close down all incoming flights from China.
.
It was until then a remarkable response to an unknown and rapidly developing situation.
.
We had no hotel quarantine in place, no understanding of the virus, and no plan for how we would tackle an outbreak here.
.
Things are now vastly different.
.
The situation in India is a sobering reminder COVID hasn't gone away.