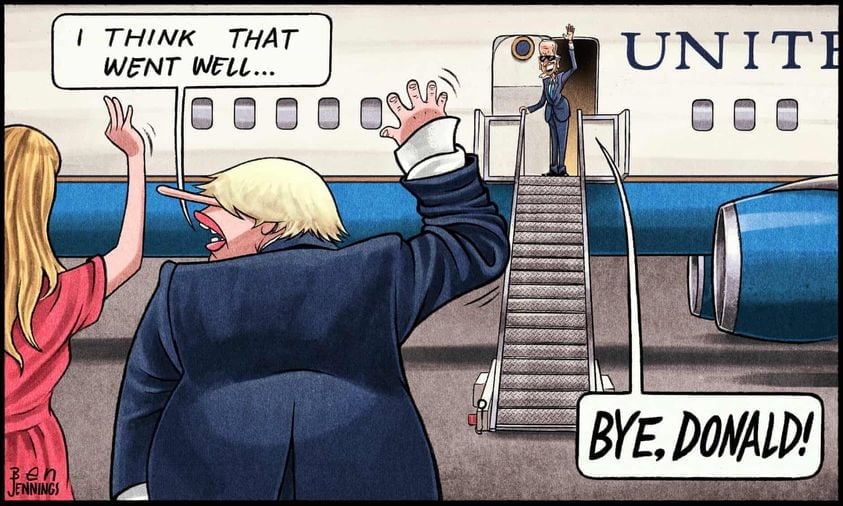 Scott Morrison must decide where he stands on climate nonsense
He did. He just told reporters at the G-7 that he decided to sell the country to the warming shysters.
Alan Jones. The Daily Telegraph June 16, 2021
.
It may be that the National Party can save Australia, its economy and its jobs from the nonsense about net-zero carbon dioxide emissions. In March, the NSW Energy Minister Matt Kean was offering $750 million of taxpayers' money to bribe business into reaching what he calls net-zero emissions. Australia has just signed a free-trade agreement with Britain, a significant achievement for Scott Morrison and Trade Minister Dan Tehan.
It was thought, initially, that such an agreement would be conditional on Australia's climate change policies.
.
But the British Prime Minister Boris Johnson said he was impressed by our climate change ambition and that Scott Morrison had committed to zero emissions by 2050.
.
In fact, the Prime Minister said in Britain: "I have been saying for some period of time the destination is clear. I have made it very clear that we are moving ­towards net-zero and I talked about a carbon neutral economy."
.
Anthony Albanese and Sarah Hanson Young would be happy because such a statement neutralises net-zero rhetoric as an election issue – Liberals, Labor and Greens are on the same page.
.
Not so the National Party, who have made it quite clear this week that they are part of Government and, without the National Party, the Liberals can't govern. Bridget McKenzie, the former deputy leader of the Party, has said that reaching net-zero emissions would "fly in the face of the Nationals' public ­policy commitment".
.
"There is no agreement with the ­second Party of this Coalition Government on any target date for net-zero emissions," she added.
.
Well may we ask how has it got to this? The answer is simple – by following ill-informed political fashion and ­ignoring real science and real scholarship. In fact, in the very week of backslapping by G7 "leaders," better called "followers," on the beaches of Cornwall, Barack Obama's former chief scientist's book 'Unsettled' was being treated as if it didn't exist.
.
Professor Steven Koonin writes: "Leaders talk about existential threat, climate emergency, disaster, crisis, but, in fact, when you actually read the literature, there is no support for that kind of hysteria. The science is insufficient to make useful projections about how the climate will change in coming decades. Much less what effect human beings will have on it." A self-declared Democrat, he said he is increasingly dismayed by climate alarmism.
.
Koonin talks about reading the literature but it appears that the ­National Party are the only ones who can read. Who are we to believe?
.
Dr John R. Christy is a climatologist from Alabama: "I have often heard that there is a consensus of thousands of scientists on the global warming issue and that human beings are causing catastrophic change to the climate system. Well, I am one scientist, and there are many, who thinks that's not true."
.
Dr Charles Wax is the former president of the American Association of State Climatologists: "First off, there isn't a consensus among scientists. Don't let anybody tell you there is."
.
Stanley B. Goldenberg is a meteorologist at the UN National Oceanic and Atmospheric Administration (NOAA): "It's a blatant lie put forth in the media that makes it seem there is only a fringe of scientists who don't buy into anthropogenic global warming."
.
William Kininmonth is the former head of the National Climate Centre within the Australian Bureau of Meteorology: "Climate science is not settled. Four decades of observations highlight that computer models have exaggerated the influence of anthropogenic emissions of carbon dioxide. The Paris Agreement has been negotiated from faulty premises."
.
Richard Lindzen is the professor of meteorology at MIT: "What we will be leaving our grandchildren is not a ­pla­net damaged by industrial progress, but a record of unfathomable silliness, as well as a landscape degraded by rusting wind farms and decaying solar panels."
.
And then there's Michael Shellenberger, the world-renowned environmental activist for 20 years.
.
In his book 'Apocalypse Never – Why environmental alarmism hurts us all', he apologised last July for "the climate scare we have created over the past 30 years". Of climate change, he said: "It is not even our most serious ­environmental problem."
.
Shellenberger added: "Once you ­realise how badly misinformed we have been … it is hard not to feel duped."
.
Well, while the National Party have their eyes wide open, the Liberal Party seem to be taking their cue from the Greens.
.
Recently, there was a matter before the Federal Court, Sharma v the Federal Minister for Environment Sussan Ley, where a 16-year-old led seven other teenagers in an anti-coal mining legal challenge.
.
Brainwashed, she said her concern for the environment, her family and ­future generations fuelled the challenge. The case was described as a landmark class action.
.
The judge who heard it in the Federal Court was none other Mordecai Bromberg, a former unsuccessful Labor candidate, appointed to the Federal Court by the Rudd Government – the same bloke who found Andrew Bolt had breached Section 18C of the Racial Discrimination Act.
.
The Minister for the Environment lost the case.
The Judge ruled that Sussan Ley had a duty of care to avoid causing personal injury to children from catastrophic global warming; and the Judge openly admitted that he took his cue from modelling by the discredited Intergovernmental Panel On Climate Change.
.
So far the Government has had nothing to say, but Bridget McKenzie and the National Party have.
.
Given that cattle break wind, which produces methane, which is more ­potent in greenhouse gas terms than carbon dioxide; and given that emissions from agriculture represent 14 per cent of our carbon dioxide emissions, transport 15 per cent and together they make up as much of our carbon dioxide emissions as electricity; so if we are going to reduce agriculture emissions of about 75 million tonnes of carbon dioxide equivalent by 35 per cent, then, as McKenzie says, you'll have to reduce your beef herd by 35 per cent, which means get rid of 1.2 million cattle every year and three million sheep.
.
As McKenzie adds: "Boris Johnson and Joe Biden are not committing to slaughter half their national cattle herd or plunge their citizens into darkness … nor are they agreeing to end their manufacturing industries, as they chase a decarbonised future."
.
So what does the Prime Minister mean when he says "we are moving towards net-zero … this is a reality… the new energy economy is coming … you will see it working through financial markets".
.
Does this mean the Prime Minister supports outfits like the ANZ saying it will stop lending to thermal coal miners; or QBE, Zurich, Suncorp and IAG ­announcing plans to stop underwriting companies that derive revenue from fossil fuels?
.
Will banks stop lending to a farmer to buy a tractor until he can articulate his climate change policy?
.
Where on earth are we heading?