Robyn Ironside The Australian July 6, 2021
.
International flights to Australia will be restricted to as few as five passengers and in some cases zero from next week, in a move likely to see more airlines cease operations down under. The Board of Airline Representatives of Australia revealed the extraordinary restrictions relayed to carriers this week after the Queensland, Victorian and West Australian premiers sought to halve overseas arrivals to ease pressure on quarantine hotels.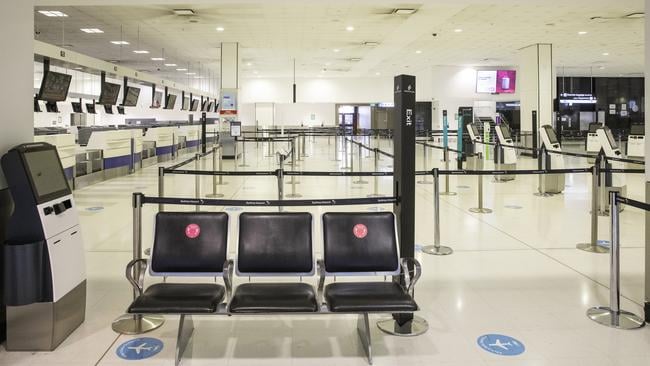 With Sydney's capacity slashed to 215 arrivals a day, a third of flights will be "zeroed out" – meaning they can't carry anyone – with the remainder restricted to 25 or 26 passengers.
.
About one weekly flight per airline into Melbourne Airport will also be empty with the rest to carry just 11, 12 or 13 passengers.
.
Airlines operating into Perth will be limited to a mere 5-10 passengers a flight with the city accepting just 265 arrivals a week, while carriers flying into Brisbane have been told they can take just five or six passengers, or 10-12 if they operate less frequently.
.
BARA executive director Barry Abrams said the caps would very much test the commercial viability of airlines operating to Australia, with 18 already pulling out.
.
"We're back to the terrible state we were a year ago when the passenger caps first came in," he said.
"That very low load factor and the very high fixed cost of operating long- and medium-haul flights will mean a lot of passenger flights are no longer commercially viable."
.
Although some airlines would be able to make ends meet through the strong demand for freight, Mr Abrams said the collapse of the outbound market was not helping. In the course of the past year, carriers such as Qatar Airways had seen outbound loads fall from 66 per cent to 11 per cent, as the number of people seeking to leave Australia shrank.
.
The only way for airlines to continue to operate to Australia was to ramp up fares, which were now at eye-watering levels.
A search of flights from London to Sydney from next Wednesday showed travellers would need to find about $20,000 for a one-way flight via New York and Los Angeles with United Airlines.
.
Seats on an American Airlines flight from LA to Sydney were $18,200 each.
Mr Abrams said airlines were not "long-term charity services", with every long-haul flight costing about $10,000 an hour to operate, in terms of fuel and crew costs.
.
"That doesn't include all the costs involved in running an airline. They're bleeding cash," he said.
.
Cathay Pacific Southwest Pacific general manager Rakesh Raicar said the cap reductions were "extremely disappointing" but the company would work within parameters set by the government.
.
"We will do all we can to help our customers that are impacted by this decision to get home as soon as possible," Mr Raicar said.
Singapore Airlines, Emirates and Qatar Airways also said they would follow the government directive. "We remain committed to the Australian market," said a Singapore Airlines spokeswoman.
.
The federal government has pledged to fund an extra 20 repatriation flights from India, Europe and the US to help make up the passenger shortfall in July and August.
.
But Mr Abrams said the cuts would still affect about 19,000 Australians who were expecting to fly home in the next six weeks.
Airport chiefs expressed their concern at the new passenger caps, and the challenges they posed airline operators.
.
Brisbane Airport CEO Gert-Jan de Graaff said he hoped full capacity would be reinstated at the end of August.
.
Melbourne Airport chief executive Lyell Strambi said Australia risked being locked out of international aviation schedules altogether the longer borders remain closed. "That will mean we will be less connected to the world, resulting in deeper and longer-term damage to tourism, trade and business development," he said.
.
It was not only the aviation industry that would suffer as a result of new passenger caps; city hotels also face extremely lean times.
Tourism Accommodation Australia boss Michael Johnson said the quarantine business was the only thing keeping the struggling Sydney hotel market operating. "Sydney hotels are currently operating at 20 per cent occupancy, but that figure is misleading because the majority of guests are quarantined travellers."
.
He said under the current lockdown most hotels were closed or operating at less than 2 per cent occupancy, with most of their staff stood down.