God botherers shouldn't bother Mark McGowan
Terry Barnes The Spectator Australia 15 July 2021
.
According to the proposed changes to the National Curriculum, Christianity is being expunged from what it is to be Australian. In Western Australia, they have taken it further. The government of Western Australia sees those faithful Christians as dangerous agitators, who need to be suppressed — an interesting view, given that a quarter of the population of Perth turned out to hear Billy Graham in 1959.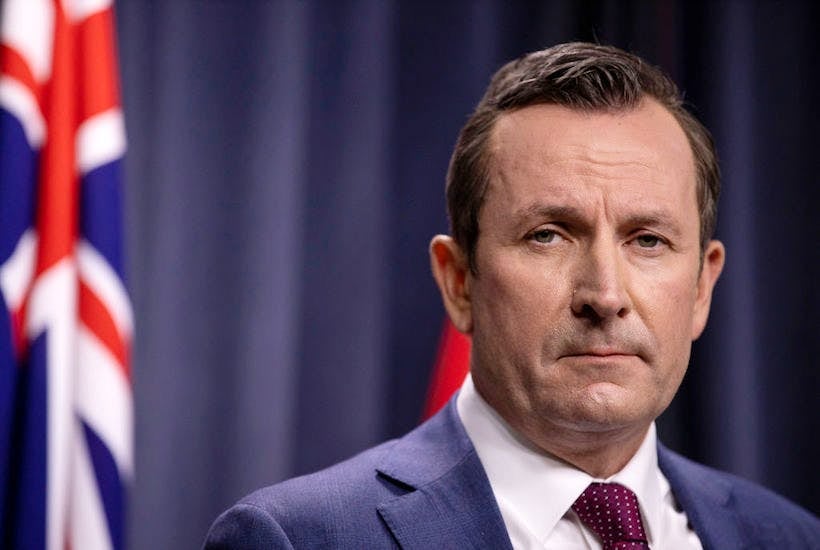 The Australian Christian Lobby is no Billy Graham in terms of pulling power. But it preaches similar messages to Graham: to love one's fellow man, to respect life, and to uphold the family. The ACL may be on the wrong side of the left-leaning zeitgeist, but it does not preach revolution or intolerance.
.
But apparently, its requests to hire venues for events in Perth and Albany are dangerous political acts. The Perth Theatre Trust knocked the ACL back on the grounds that they wanted to use the venues for 'political' meetings.
.
In writing to advise the ACL of their rejection, the Trust, which is a WA government entity, told the ACL that it will not accept individuals or organisations 'where the content of the event does not represent the views of the West Australian government or the vast majority of Western Australians'.
Just how is the 'vast majority' defined? And how does a bunch of luvvies know what that 'vast majority' think?
.
Or perhaps it's what the trendy lefties who dominate the arts community think, where they are the philosopher queens who know all, while the ACL represents to them the great unwashed plebs who they demand subsidise their progressive proclivities.
.
The Trust's refusal to allow the ACL to enter a commercial arrangement on such a pretext is preposterous. The WA government may have its views, but it is supposed to be a democratic government, tolerant of a broad range of opinions and beliefs. It is not supposed to shut down, suppress or ban opinions and beliefs that represent millions of mainstream Australians.
.
It gets worse: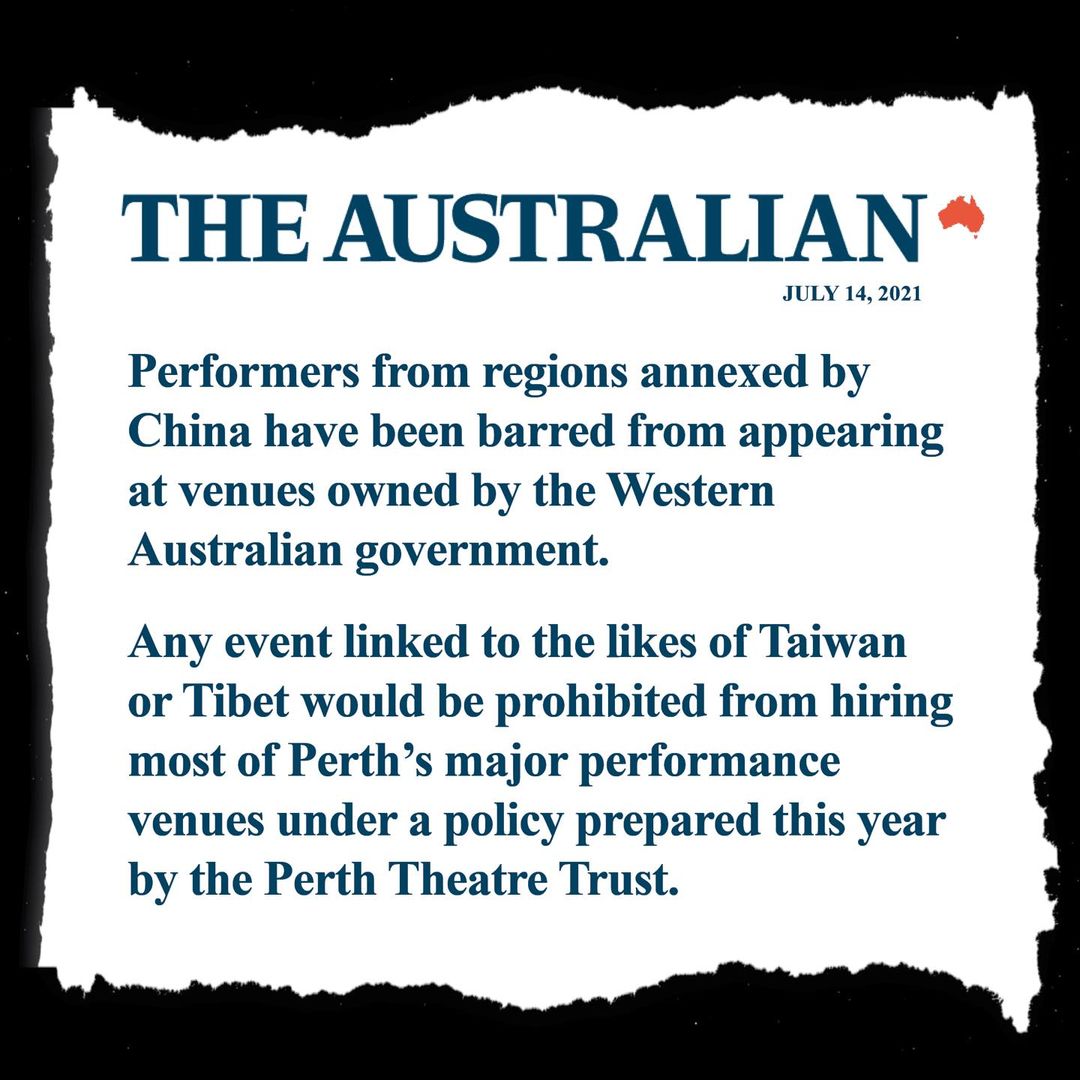 It beggars belief that an Australian state government would adopt a policy banning performers from particular regions and ethnicities in order to appease the Chinese Communist Party.
.
This outrageous and cowardly policy must be torn up.
The ACL's money is good. Much of it probably comes from church collection plates. Provided they don't advocate armed revolt against the elected government, or the events they stage risk major public disorder, Mark McGowan shouldn't be bothered by any group wanting to use state-owned facilities, let alone fundamentalist God-botherers who claim the Prime Minister as one of their own.
.
Or, for that matter, organisations that might support freedom for Tibet or Taiwan, that also would run afoul of the Perth Theatre Trust's government-appeasing policy. Mark McGowan's government is a well-known friend of the Chinese Communist Party leadership.
.
This ban is perverse and disturbing. Given McGowan has unleashed his inner authoritarian under the cover of Covid, and his political opposition is all but non-existent, this decision citing his government's views, as the arbiter of access, shows that freedom of thought and association is as much under threat in lockdown and border ban-happy Western Australia as freedom of movement.
It must be rescinded.
In Danandrewstan, you have the right to protest the government by following the government's rules.
James Macpherson The Spectator Austustralia 16 July 2021
.
As if we needed more evidence that state premiers have become a law unto themselves, Daniel Andrews provided it today in spades. The Victoria Premier labelled people protesting his government's handling of the pandemic as "shameful" and warned "if they try it on during lockdown then police will deal with them". The "shameful" protests that so upset the Victorian leader were those that took place in Melbourne last night, just hours after his government announced a snap lockdown – the state's fifth.
.
But the protests were perfectly legal, taking place before the strict lockdown was implemented.
.
And citizens who took the chance to demonstrate outside Parliament House – before they were effectively locked in their own homes by the state – were perfectly entitled to voice their disapproval at the government's handling of the pandemic.
.
It's called a democracy. It's a system of government in which politicians must justify themselves to the people, and not the other way around.
What is shameful is a politician so sure of himself that he can suspend democratic norms, restrict basic freedoms and ruin people's livelihoods while demonising anyone who dares to disagree with him.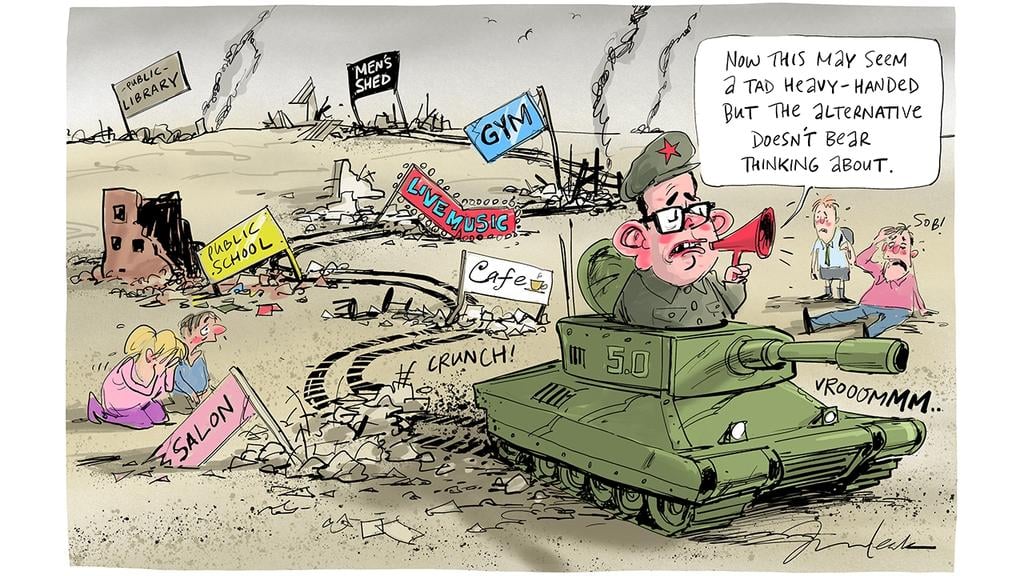 Dan Andrews told journalists: "There are some out there in the community who – anything I say on this matter – people who don't believe this virus is real and who have some pretty strange views".
.
So anyone who disagrees with the Victorian Government's scorched earth approach is a crazy person?
.
I would not argue that Daniel Andrews is crazy. But I would argue that he is increasingly dangerous.
.
That the Victorian Premier finds his subjects' views "strange" does not mean those views are not allowed to be voiced.
.
Daniel Andrews went on to implore Victorians: "We all should be protesting against the virus by following the rules. That's what we have to do."
So in Danandrewstan, we have the right to protest the government by following the government's rules.
.
Citizens are now rightly asking: if premiers are keeping us safe from the virus, who is keeping us safe from premiers?