Apparatchiks like Alex Hawke safeguard the regime. That is their main concern. Everything else is secondary.
The fraud must go on.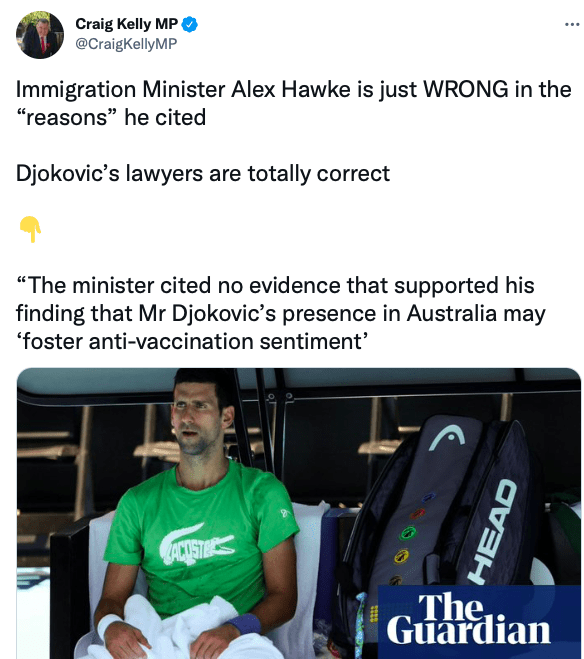 Hawke says tennis champion is 'perceived by some as a talisman of a community of anti-vaccine sentiment'
"Mr Djokovic is … a person of influence and status."
Can't have that. How dare he challenge the regime!
Tennis champion Novak Djokovic, who has been described as a risk to "civil unrest" and a "talisman of anti-vaccination sentiment", may never get the chance to defend his Australian Open title, facing a three-year ban from the country ahead of a last-ditch court challenge to stay.
Australia's immigration minister, Alex Hawke, personally cancelled the unvaccinated world No 1's visa, arguing his presence in Australia could incite "civil unrest" and encourage others to eschew vaccination against Covid-19.
That's all you have to know. Everything else is gibberish.
Djokovic faces a federal court hearing Sunday morning, Australia time, which will determine whether the minister acted unreasonably in rescinding his visa.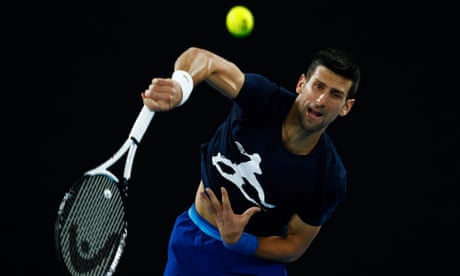 Documents filed in the court reveal the minister's reasons sent to Djokovic as justification for cancelling his visa.
Hawke said he accepted Djokovic's recent Covid-19 infection meant he was a "negligible risk to those around him", but that he was "perceived by some as a talisman of a community of anti-vaccine sentiment".
"I consider that Mr Djokovic's ongoing presence in Australia may lead to an increase in anti-vaccination sentiment generated in the Australian community, potentially leading to an increase in civil unrest of the kind previously experienced in Australia with rallies and protests which may themselves be a source of community transmission.
"Mr Djokovic is … a person of influence and status.
"Having regard to … Mr Djokovic's conduct after receiving a positive Covid-19 result, his publicly stated views, as well as his unvaccinated status, I consider that his ongoing presence in Australia may encourage other people to disregard or act inconsistently with public health advice and policies in Australia."
Djokovic's visa was cancelled under the extraordinary and broad powers vested in the Australian immigration minister under section 133C(3) of Australia's Migration Act, introduced in 2014 when Scott Morrison, the current prime minister, was immigration minister.
Having had a visa cancelled under that section, a person is barred from returning to Australia for three years, except in extraordinary circumstances "that affect the interests of Australia or compassionate or compelling circumstances affecting the interests of an Australian citizen".
Hawke said the consequences of Djokovic's visa cancellation were "significant".