CNN: "[They're] wrapped in this sort of notion, of the guise of freedom, you know, whatever that means to these individuals…"
The media is trying to gaslight people into believing that freedom is a far-right principle pic.twitter.com/2up2tSpXeg

— Lauren Chen (@TheLaurenChen) February 15, 2022
Eminem 'defies the NFL' and takes a knee:
A mental case. Does he consider himself "honorary black" or something? Does he see himself as a wannabe n*gga?
.
But then there's this:
Bosch Fawstin just drew this cartoon for an article by Robert Spencer about the Dumpster Fire in chief's further descent into woke madness—Biden's New Energy Department Pick Is His Most Outrageous and Appalling Yet—which you can read here
https://bit.ly/3LtPb5a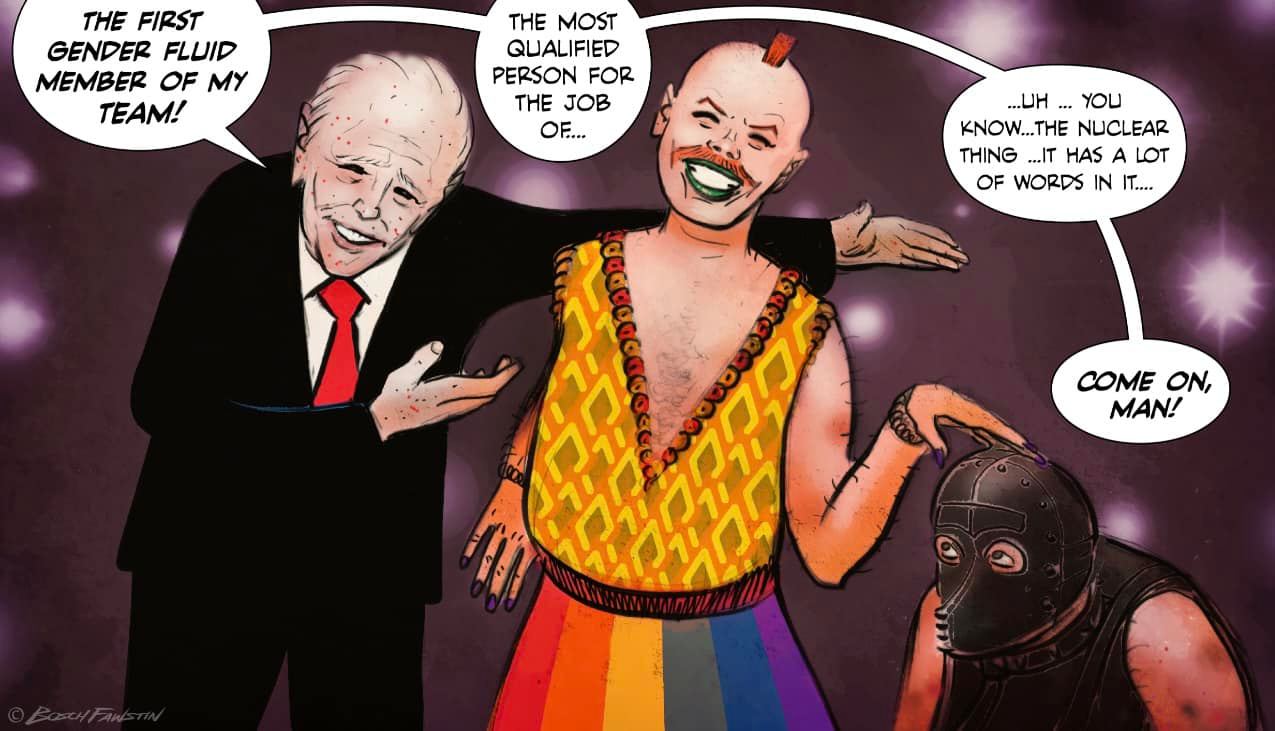 Oh, too late. And here's a link to my cartoon of this cartoon character, which, no matter my best efforts, was incapable of being cartoony enough to match the actual subject of "They/Them" Sam Brinton, Biden's latest anti-reality pick for his administration…
https://bit.ly/3gFFySS
,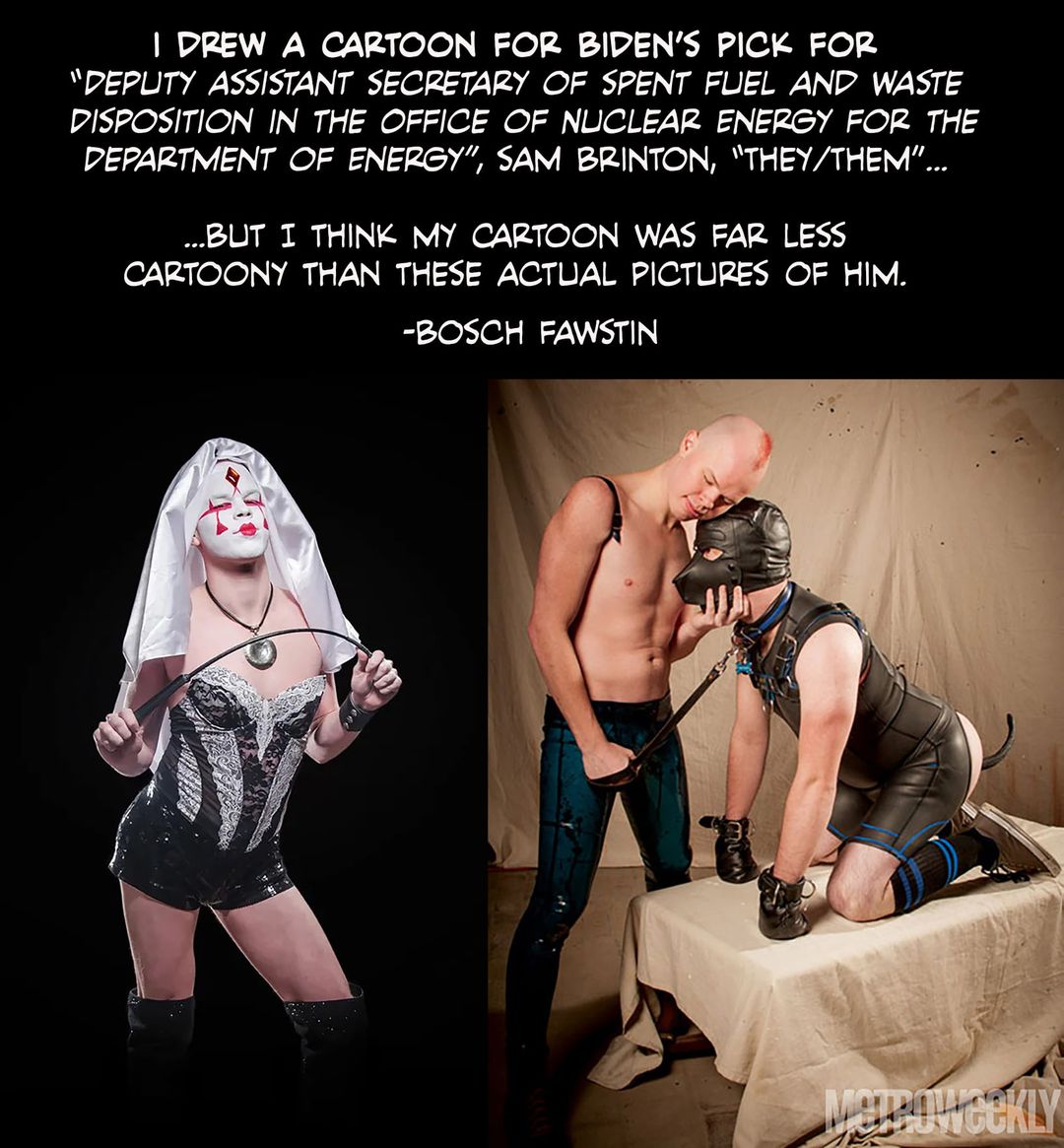 The Biden administration's new top dog at a key nuclear energy agency is an MIT-trained engineer whose sexual fetishes include tying up his partner while he eats dinner and watches Star Trek.
Sam Brinton was appointed to serve as deputy assistant secretary of spent fuel and waste disposition in the Office of Nuclear Energy at DOE last month after serving a stint at the gay and transgender suicide prevention organization the Trevor Project.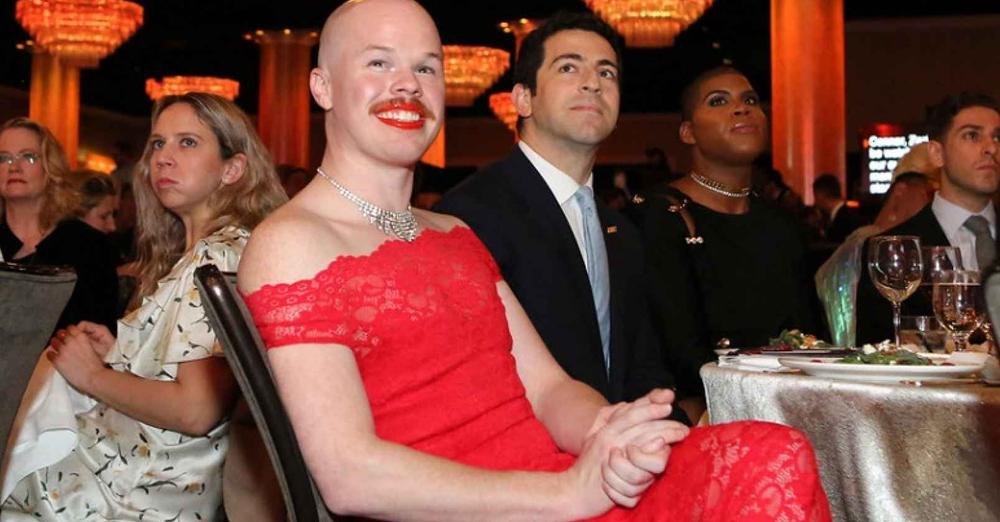 .
Besides working at the Trevor Project, Brinton also holds a master's degree in nuclear engineering from the Massachusetts Institute of Technology and had previously advised former President Donald Trump on nuclear waste matters.
Deputy assistant secretaries at Cabinet agencies are typically under-the-radar political appointments that do not require Senate confirmation. But Brinton's garnered attention on social media after the popular Twitter account LibsofTikTok tweeted a picture of Brinton standing over three men role-playing as dogs.
The image went viral and brought attention to Brinton and the Biden administration's decision to install the outspoken activist and nuclear waste expert to the Energy Department role.
Brinton has a history of promoting sexual fetishes and kinks related to animal role-playing. A post in the student newspaper at Rensselaer Polytechnic Institute from 2017 says the nuclear waste expert held a discussion on kinks and sex education at the campus.
"Throughout the entire talk, Brinton was open about his experiences, the kinks he partakes in, and the nature of his relationships," the article reads. "He left us with countless anecdotes, like how he enjoys tying up his significant other like a table, and eating his dinner on him while he watches Star Trek."
The Department of Energy did not respond to a request for comment.
Reprinted From Washington Examiner.