Not only in Australia:
German Bishops Chairman: Gay Sex Does Not Harm 'One's Relationship with God'
ROME — The Chairman of the German Catholic Bishops' Conference, Bishop Georg Bätzing, has urged the Catholic Church to change its teaching on sexual morality, insisting that gay sex does not harm a person's relationship with God.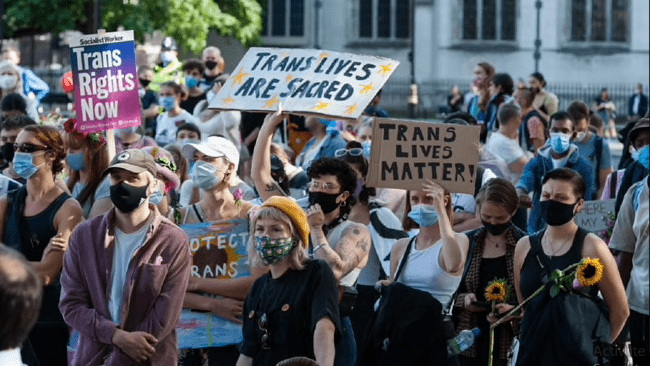 We've all heard the old gag about vegans always telling you they're vegans. Another group, however, is even more insistent upon informing you of lifestyle choices in which you have no interest at all.
In Australia's military you have to prove that you are homo friendly, or else:
'Homo marriage' has only just been legalised. Now  we're moving from the acceptance phase to enforcement.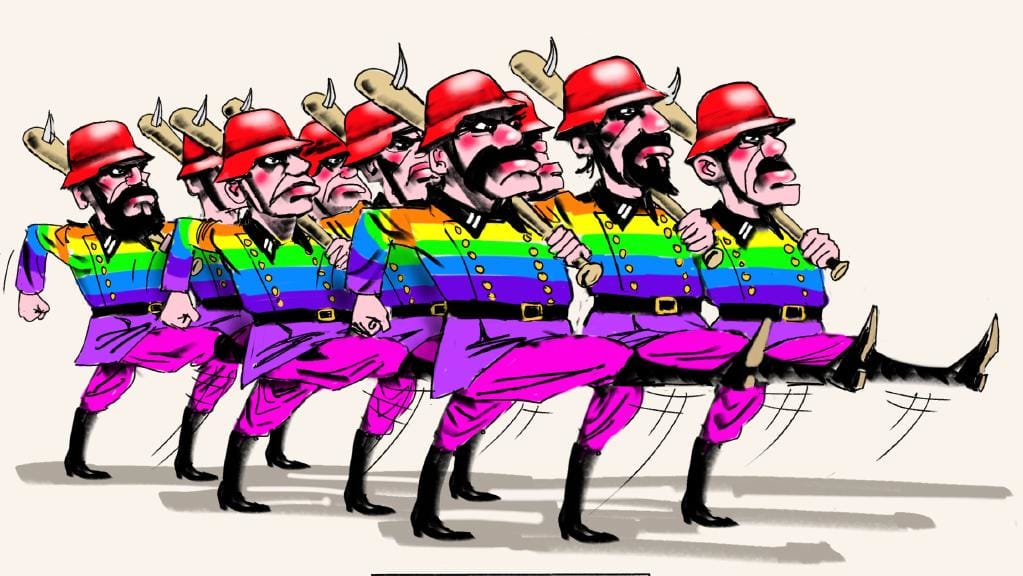 In times of political slavery, these should be words to send shivers down the spine:
…this will be a…very powerful symbol showing LGBTI people who is friendly in their area.
Why? Well if displaying the symbol shows you are friendly, failing to display it shows that you are not.
"It is extremely concerning that this program has been launched following the Human Rights Commissioner's declaration that there are 'pockets of resistance' to homosexuality within Defence.
.
"We are facing a 'rainbow jihad' inside Defence. This policy is not about acceptance. It is about pressuring all Defence members to celebrate homosexuality."
Defence call for public support from 'allies' of LGBTI soldiers
Mathew Benns, The Daily Telegraph February 14, 2018
Politically correct defence chiefs have told members of the Australian military to signal they are an "ally" of the LGBTI community by putting a rainbow flag next to their name in the national ADF staff directory.
The latest attempt at "inclusion" comes after the Human Rights Commissioner fired a salvo at defence chiefs saying there were still "pockets of resistance" to "embracing diversity" within defence.
But Army veterans warned the rainbow flag attempt at inclusion could backfire by excluding many members of the military who chose not to be a Lesbian Gay Bisexual Transgender Intersex (LBGTI) ally.
Defence's "Diversity and Inclusion Adviser" Thomas Hoffman wrote to members of the military about the "sweet new function" which allowed people to show they are an "LGBTI ally" by putting the rainbow flag next to their name on the Defence Corporate Directory.
"The broad principal (sic) with workplace allies is that they are visible, supportive people who can act as a POC (point of contact) should someone have an issue in the workplace," he wrote last month.
"We are not putting strict rules in place on who is or isn't an ally because we don't want to stifle the fantastic, positive and uplifting conversations you know you'll be having amongst colleagues and peers," he said.
Australian Peacekeeper and Peacemaker Veterans Association NSW President Bruce Relph said: "This is nuts. Sexuality has no place in the military.
"I respect people in the military because they are good soldiers not because they have a rainbow next to their name."
He said there were concerns that not conforming to the rainbow tag could affect opportunities for promotion. "Something like this should not be allowed to affect someone's career path," he said.
Former Army officer and Australian Conservatives member Bernie Gaynor said that by not signing up, those members of the defence force "will be publicly outed" and their career affected.
"Defence members who refuse to sign up are likely to face difficulties obtaining promotions, especially to the higher ranks."
Australian Conservatives aspire to outlaw gay marriage
The move comes after Human Rights Commissioner Edward Santow told the Military Pride Ball last year that "pockets of resistance remain in the ADF".
"Embracing diversity will not only allow the ADF more effectively to meet the challenges of modern warfare, but will also allow it to live up to the expectations of the communities they defend," he said.
Mr Gaynor said: "It is extremely concerning that this program has been launched following the Human Rights Commissioner's declaration that there are 'pockets of resistance' to homosexuality within Defence.
"We are facing a 'rainbow jihad' inside Defence. This policy is not about acceptance. It is about pressuring all Defence members to celebrate homosexuality."
The ADF did not respond to requests for comment.
Bernard Gaynor continued:
.
These words have just been sent out from Defence's Diversity HQ in Canberra to soldiers, sailors and airmen across the nation.
The rainbow jihad has been unleashed. Just like Communist Russia, Defence now has its battalion of Political Commissars monitoring military personnel for their allegiance to the cause. They're known as 'Diversity and Inclusion Advisors'.
Every Defence member who submits and 'volunteers'  to be an LGBTI ally will be publicly recorded. And every member who fails to volunteer will also be identified and outed.
In fact, the Defence Corporate Directory, which is like the military's 'White Pages' will visibly show who has scribbled their signature on the LGBTI Ally form. And who has not.
Just like this:
'Homosexual marriage' has only just been legalised and already we've moved from the acceptance phase to enforcement.
It's no longer enough just to vote 'yes' in the privacy of the ballot box. You now have to act 'yes' at work. And also at home.
For those who don't remember, the Federal Court ruled that it was entirely lawful for Defence to sack me for expressing private views contrary to Defence's cultural change agenda. And that means anyone else can be as well.
That means you need to be an LGBTI Ally around your kitchen table too.
And it has not taken very long to reach this point.
The Human Rights Commissioner, Edward Santow, gave an ominous warning during last year's marriage debate that this is where we were always headed.
As votes were being cast, he stood up in front of a room full of gay and lesbian officers and decried the 'pockets of resistance' that stood in their way. He also noted that 'cultural change' was an ongoing project.
Very senior members of the Defence Force were present, giving his statement official endorsement.
It was a clear sign: Defence members with conservative views on marriage, family and morality would no longer be tolerated.
Less than six months later, the process for the purge has been put in place.
Every officer receives an annual report. They are graded for their acceptance of diversity and cultural change.
There is no better way of receiving a glowing report than by demonstrating that you have signed up for the rainbow tick of approval.
And if you don't have one? Well, it's not compulsory (yet). Although it's not a good look either. But I'm sure it won't make much difference at all.
You just won't be as competitive for promotion.
That's today.
Tomorrow, the Political Commissars may not be so lenient. You might need to forget promotion and consider whether you want to sign up just so you can keep the job.
Don't expect to see many officers reach above the rank of major from now on unless they too are prepared to join in the rainbow jihad…
Read the entire call for Defence members to 'volunteer' as LGBTI allies here:
*****
This information, and plenty more including information that Defence:
is discriminating against male recruits,
is training 'genderless' officer cadets,
was planning to change chaplains' hat badges to appease Muslims,
ran indoctrination training to promote Islam to junior officers,
published an article promoting taxpayer-funded prostitutes and sex toys, and
is handing out halal-certified rations to soldiers
has come to light thanks to brave men and women in the Australian Defence Force who have shown, to paraphrase the former Chief of Army's words, that they will not accept walking past low standards.
I thank them for their service and their courage.
These stories are causing great discomfort in Canberra. Politicians and senior officers are squirming. Mostly it is behind closed doors but they have been forced onto the back foot in public too.