Emmanuel Macron, the French president, says 'Kurds in France have been the target of an odious attack'
Protesters could be heard shouting slogans of Kurdish solidarity and phrases against Turkey, with whom the Kurds have been in armed conflict since 1978.
From the Gates of Vienna:
A gunman targeted a Kurdish center in Paris in an attack that left three people dead and three others wounded. The gunman sustained a facial injury before being apprehended by police. He is allegedly an immigrant-hating right-wing extremist named "William M.", but rioting Kurds seem to think he answers to Turkish President Recep Tayyip Erdogan.
Authorities say the 69-year-old suspect, who allegedly killed three people, was removed from custody for health reasons.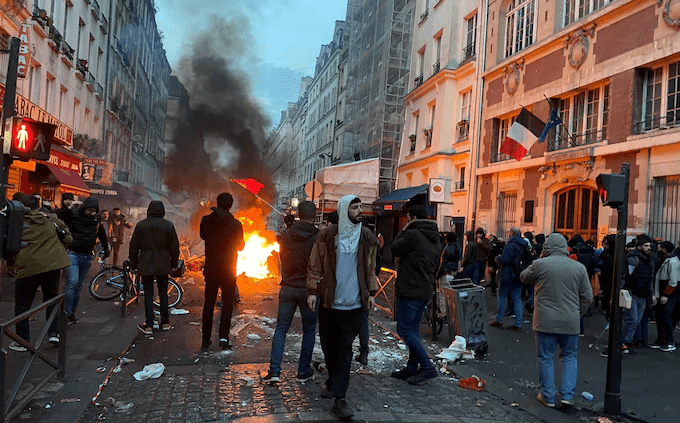 Absolute chaos on the streets of Paris…pic.twitter.com/hlv1tDmf1u

— Citizen Free Press (@CitizenFreePres) December 24, 2022
Police in Paris do not appear to be in control of the situation. pic.twitter.com/sMQQcThXoy

— Ian Miles Cheong (@stillgray) December 24, 2022
The gunshots at the cultural centre and a nearby hairdressing salon on Friday sparked panic in the city's bustling 10th district, home to several shops and restaurants and a large Kurdish population.
Three others were wounded in the attack that the suspect told investigators was attributable to his being "racist", a source close to the case told the AFP news agency.
The Paris prosecutor said a doctor examined the suspect's health on Saturday afternoon and deemed it "not compatible with the measure of custody".
The man's custody was lifted and he was taken to a police psychiatric unit pending an appearance before an investigation judge as the probe continues, the prosecutor added.