Iranian Paper Shut Down for Obama Cover:Â "Why doesn't Iran have an Obama?"
* Thou shalt not have other Ahmadinejads besides me:
A Tehran news weekly was shut down by Iranian President Mahmoud Ahmadinejad last week after featuring President-elect Barack Obama on its front cover and asking the question, "Why doesn't Iran have an Obama?"
Always trust your CIA:
"Bin Laden isolated from al Qaeda, fighting to survive…"
 
* Israeli President Shimon Peres says Iran may not be able to afford a nuclear weapons program for long

*Â PA Man Sentenced to Death for Fighting Terrorism
CIA head says "bin Laden isolated, fighting to survive"
Always trust your CIA: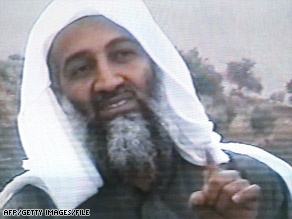 Osama bin Laden remains on the run despite a $25 million reward for his capture.
 
Bin Laden isolated from al Qaeda's daily operations, Michael Hayden says
"He is putting a lot of energy into his own survival," Hayden tells Atlantic Council
Hayden says CIA believes capturing bin Laden would be huge blow to al Qaeda
Hayden says al Qaeda hurt by sustained fights with U.S. but remains a threat
WASHINGTON (CNN)Â — U.S. intelligence agencies believe Osama bin Laden is isolated from al Qaeda and spending much of his energy merely surviving, the head of the CIA said on Thursday.
CIA Director Michael Hayden said hunting down bin Laden remains his agency's priority.
"He is putting a lot of energy into his own survival — a lot of energy into his own security," Hayden said in a speech at the Atlantic Council in Washington.
"In fact, he appears to be largely isolated from the day-to-day operations of the organization he nominally heads," he said.
In recent weeks, there have been several U.S. missile strikes by unmanned drones around the Afghanistan-Pakistan border.
The United States maintains that Taliban and al Qaeda forces operate with relative impunity in tribal areas along Pakistan's border with Afghanistan and use those areas as staging grounds to attack U.S. forces and their allies inside Afghanistan.
Hayden said al Qaeda has been hurt by a sustained fight with the United States and its allies, but remains a threat.
"Al Qaeda has suffered serious setbacks, but it remains a determined, adaptive enemy unlike any our nation has ever faced," Hayden said. "The war is far from over."
Regardless of whether bin Laden is actively helping lead the terrorist organization, the CIA believes capturing or killing him would be a huge blow to al Qaeda, according to Hayden.
"This is an organization that has never been through a change at the top," he said. "For 20 years, bin Laden has been the visionary, the inspiration or harmonizing force behind al Qaeda."
Hayden said it remained to be seen whether bin Laden's deputy, Ayman al-Zawahiri, could maintain unity in the ranks without him.
"The truth is, we simply don't know what would happen if bin Laden is killed or captured. But I'm willing to bet that whatever happens, it would work in our favor," Hayden said.
All AboutOsama bin Laden • Al Qaeda • Michael Hayden
11/12/2008Â (Kandahar, Afghanistan) – Six people are killed when a suicide bomber flattens a commercial district.
We Arabs are the Epitome of Racism'Â Â (MEMRI)
A rare message of common sense from the heart of the Arab world.
11/13/2008Â 

(

Nangarhar, Afghanistan

) – Islamic suicide bombers hit a livestock market, sending nine innocents to Allah.

11/12/2008Â 

(

Baghdad, Iraq

) – Nearly two dozen Iraqis are successfully killed by Mujahideen bombers in three attacks.

11/12/2008Â 

(

Charsadda, Pakistan

) – A half dozen people are murdered by a Fedayeen suicide car bomber.



11/12/2008Â 

(

Peshawar, Pakistan

) – An American humanitarian worker and his driver are murdered by Islamic radicals.
The Islamic Guide to Health and Hygiene  

(Islam Watch)




Which hand men should hold it with when urinating. . . And other pearls of wisdom from the mouth of Muhammad.

      

Using Children as Human Bombs  (Spectator)
Only the Religion of Peace could get away with something like this – and it is!

Whose Speech is Hate Speech?  (Human Events)
The Labour Party looks for ways to avoid enforcing their own laws. 

"Muslim Women are Donkeys"  (Islam Watch)
Contemporary moralists prefer a buffet-style Islam, where they can pick and choose what they will, depending on their independent moral perspective.