EU's Libya anti-smuggler mission 'failing'
 .
Of course its "failing". As long as Western powers don't use the canon boats to blow them out of the water the invasion continues.
The EU naval mission to tackle people smuggling in the central Mediterranean is failing to achieve its aims, a British parliamentary committee says.
The European Union's naval mission to combat people trafficking off the Libyan coast is "failing" and has only succeeded in forcing smugglers to change their tactics, a British parliamentary report said Friday.
Operation Sophia "does not in any meaningful way deter the flow of migrants, disrupt the smugglers' networks or impede the business of people smuggling on the central Mediterranean route", it said.
The Invasion continues unhindered: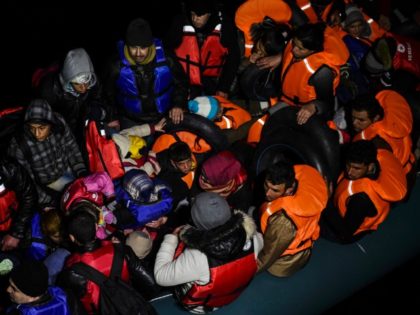 HALF of refugees claiming to be children in Austria are adults… and many even arrive with 'grey hair and beards' say officials
Austrian officials says there has been a jump in bogus child claims
Last year claims by 951 out of 2,200 asylum seekers were disproved  
The medical tests used to prove age has cost Austria 2m euros (£1.59m)
The majority of the 'fake children' (691) were from Afghanistan 
Follow us: @MailOnline on Twitter | DailyMail on Facebook
The report by the House of Lords' sub-committee on EU External Affairs noted that arrests so far have been of "low-level targets", and the destruction of vessels has caused smugglers to shift from using wooden boats to rubber dinghies, which are even more unsafe.
The committee said there was "little prospect of Operation Sophia overturning the business model of people smuggling".
Committee chairman Lord Tugendhat said the mission to patrol an area six times larger than Italy "was always going to present an enormous challenge".
"Our report stresses that the operation is succeeding in carrying out its separate search and rescue obligations, which is to be commended," he said.
"However, a naval mission cannot disrupt the business model of people smuggling, and in this sense it is failing.
"The smuggling networks operate from Libya, and they extend through Africa. Without support from a stable Libyan government, the operation is unable to gather the intelligence it needs or tackle the smugglers onshore."
In Brussels, EU sources said member state officials had agreed to extend operation Sophia for another year from June and that it should take on additional tasks, including helping train the Libyan coastguard and navy.
To do that however would require a request from the Libyan authorities, they said.
The EU naval operation is currently limited to international waters but the original plan was for it to extend into Libyan territorial waters to tackle people smugglers at source, by force if necessary.
This however was also conditional on a formal request from an accepted Libyan central government.
The recent formation of a UN-backed national administration has raised hopes that the situation is changing but its officials have been reluctant to invite in the EU for fear of being seen as overly dependent on outsiders.