Here comes Poland:
"Our country is safe because we didn't accept illegal Muslim migrants – this is the reason why we had not even one terrorist attack"
"We can be called Populists, Nationalists, Racists, I don't care…I care about my family and my country!" (Polish MP shocks British media:)
Here comes Bulgaria:
Bulgarian Prime Minister: Close Europe's Borders, Imprison Illegals, Deport Them Back to Africa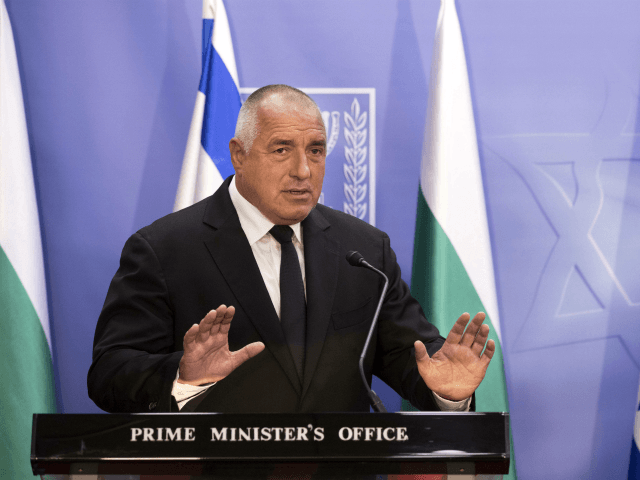 Bulgarian prime minister Boyko Borissov has said the migrant crisis can be solved if the EU can seal its external border, detain illegal migrants already present, and deport them back to where they came from.Speaking after the EU's failed mini-summit on migration, called to forestall German chancellor Angela Merkel's partners in Bavaria walking out of government and collapsing her fragile 'grand coalition', the Bulgarian leader said he would not accept any plan which involved sending migrants back to the first EU state they arrived in — often border states like his own — in line with the EU's old Dublin regulations."Let's face it: Greece, Italy and Bulgaria let the migrants through, and they went to Germany," he said bluntly.
"That's how the countries of Western Europe were flooded with migrants, and that's why they want to send some of them back."
He added, however, that these illegal migrants would not have crossed into their territory in the first place if Angela Merkel had not issued an open invitation for them to come, and that he would not accept tens of thousands being sent back to his country without an agreement to detain them.
"Angela Merkel may ask for bilateral agreements [on other EU member-states taking back migrants] when the EU external borders are securely and entirely closed… Before they send them back, they should first agree that we build prisons and hold them there," he said.
While not a member of the Visegrád Group of countries opposed to mass migration and compulsory migrant quotas — Hungary, Poland, Czechia, and Slovakia — Bulgaria has adopted a similarly tough line on illegal immigration.
"This is a very sensitive subject in Europe, and that's why these meetings are organized. Everybody acknowledged that Bulgaria has done plenty of work during the [EU Council] Presidency to move forward the migration topic and… I was congratulated because the issue can thus be solved in a relatively short time," Borissov said.
"If each member-state along the external border manages to do the same [as Bulgaria], the problem with migration will be solved.
"This will require several things. First, continued financing of the front-line countries so as to be able to guarantee that they will not let any such wave pass through their territory again.
"Second, setting up reception centres outside Europe. Let's take advantage of the countries that have good historical contacts with African states: the Netherlands, Belgium, France and Spain.
"Flexible agreements should be signed on such security centres outside the EU. Instead of sending them back from Germany to Bulgaria and Greece, let them send them to Tunisia or Libya, back to where they came from. This will also address the issue of secondary migration between member-states.
"We anyway spend enormous amounts of money on development aid for the countries of Africa, let's see exactly where and how this money is going so as to halt this migration," he concluded.
Advocates of Borissov's tough approach to bringing the migrant crisis under control are currently enjoying an unprecedented period of influence, with Austria's new conservative-nationalist coalition government joining forces with the Visegrád, and a weakened Merkel held hostage by Horst Seehofer's Christian Social Union (CSU) in Bavaria, which adopts a markedly more robust stance on borders than Merkel's Christian Democratic Union (CDU).
All have been massively bolstered by the election of an anti-establishment, anti-mass migration populist coalition government in Italy, one of the EU's founding members, a major economy, and, like Bulgaria, on the frontline of the migrant crisis.
Hungarian foreign minister Péter Szijjártó recently told Breitbart London that he considers the Italian government's new Minister of the Interior, Lega leader Matteo Salvini, a "very serious person", and said his decision to close Italy's ports to NGOs ferrying migrants across the Mediterranean a "gamechanger".
Fresh from the Vlad Tepes Blog:
German Government Crisis: Seehofer Suggests Resignation
Angela Merkel's challenger Horst Seehofer has announced to resign from his offices as German Interior Minster and head of the CSU, if no consensus can be reached over his demand to turn away illegal migrants at the border – a demand Merkel staunchly rejects.
On June 14, Merkel had asked Seehofer give her time to negotiate "European solutions" "with the same effect [as turning away illegal migrants at the border]" at this week's European Summit (June 26.-27.).
The summit's results were then presented to the German public as a full success; Merkel's "European solution" was found; all countries had made concessions to Angela Merkel. No one in the German sphere seemed to realize that the negotiations were in fact a win for the countries who opposed migration (see Orban Wins At EU Summit: No One Takes Migrants They Don't Want). Only yesterday, Saturday (June 30.), when Hungary, the Czech Republic and Poland sent out memos, refuting that they had made resolutions with Merkel, the German public slowly began to understand that they had been fooled.
Today's CSU board meeting lasted until late in the night. Attendees passed details to the tabloid Bild: "Seehofer unmistakably made clear what he thought of Merkel's negotiation results in Brussels: nothing." He called the prior evening's discussion with Merkel on the matter "pointless and ineffective".
In the meantime, after Poland, Hungary and the Czech Republic, Greece's Yanis Varoufakis came out in strong terms about Angela Merkel's "European Solutions":
"There is no deal really, this is a typical EU fudge. They have agreed on phrasing. They celebrated it, but this hides that there was no agreement on the substance.
.
They gathered in Brussels to reform the Dublin agreement, which was never designed to cope with mass migration flows. Also to resolve secondary migration, which the CSU demanded action on and even put the Merkel's government in jeopardy over it.
.
It is a complete failure of the European Union that has been packaged as a success, but that isn't new, is it?"
Around 10PM, news agencies suddenly reported that Seehofer had just resigned from his office as Interior Minister and leader of the CSU. The Süddeutsche Zeitung, Germany's equivalent of the Guardian or the Washington Post, and state TV, immediately published obituaries on Seehofer.
A board member of the CSU though messaged that Seehofer had not resigned but offered his resignation, to test if he had the CSU's full support for challenging Merkel. Seehofer allegedly stated that he had three options: to give in to Merkel, which he refused; to challenge her, for which he needed the party's support, or to resign. According to members, the CSU expressed their support.
But when Seehofer finally left the building, he told attending press that he would resign from all offices within the next three days if no consensus on turning away illegal migrants at the border was found.
The outcome of all of this is entirely unpredictable at the moment. The way Merkel's team are detached from reality – the majority of the population support's Seehofer's position – reminds of the end days of the DDR though.