Pay Eurabia, pay! German and other Euro degenerates, pay! White Slaves, pay!
France condemns US aid cut to UN Pali terrorists
France studying 'new possibilities' of financial support to UNRWA, particularly for actions in favor of education
Amazing how that works:
'Substantial' German funding increase to make up US shortfall
But it won't be enough to keep UNRWA afloat, German Foreign Minister says in letter to other EU member countries.

The #EU is not a union. It's a political coup d'état. People have seen through it, and it's falling apart. Soon it will be gone. As for shared values, we believe in democratic self-determination. We have no shared values with you.
Italy and Hungary Create 'Anti-Immigration Axis'
by Soeren Kern
We are close to a historic turning point at the continental level. I am astonished at the stupor of a political left that now exists only to challenge others and believes that Milan should not host the president of a European country, as if the left has the authority to decide who has the right to speak and who does not — and then they wonder why no one votes for them anymore." — Italian Interior Minister Matteo Salvini.
"This is the first of a long series of meetings to change destinies, not only of Italy and of Hungary, but of the whole European continent." — Italian Interior Minister Matteo Salvini.
"We need a new European Commission that is committed to the defense of Europe's borders. We need a Commission after the European elections that does not punish those countries — like Hungary — that protect their borders." — Hungarian Prime Minister Viktor Orbán.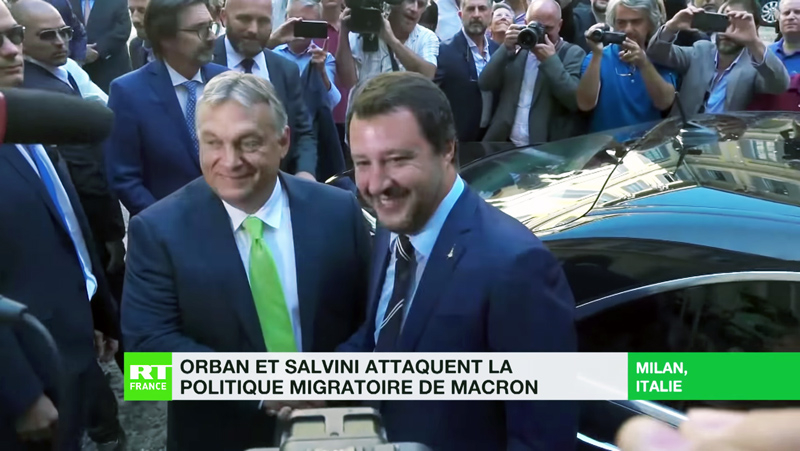 Angela Merkel 'underestimated' challenges of mass migration, says Italy's Matteo Salvini
She didn't. She did it deliberately to destroy Germany & the European nation states. One of Merkel's closest advisors is Gerald Knaus, a Soros apparatchik. Merkel, a former Stasi operative, is fully committed to population replacement.
Italy's Interior Minister Matteo Salvini, head of the anti-immigration .
Italy's
hardline
interior minister Matteo Salvini said Chancellor Angela Merkel "underestimated" the troubles that mass immigration would bring, linking her open borders stance to the racist violence that has rocked the
German city of Chemnitz.
.
A popular revolt against population replacement is not "racist violence", it is an absolute necessary act of self-preservation.
.
"I would say that Angela Merkel certainly underestimated the risk of a social clash when she claimed that there was space for hundreds of thousands of people in Germany," Salvini told German public broadcaster Deutsche Welle in an interview late on Monday.
"I still remember what happened during the New Year's Eve celebrations in Cologne in 2015, and also elsewhere," he added.
Hundreds of women suffered sexual assaults by groups of mainly north African men that night in scenes that shocked Germany and inflamed debate about Merkel's decision that year to allow in a large number of asylum seekers at the height of Europe's migrant crisis.
READ ALSO: 
Several high-profile crimes committed by migrants since then have further hardened the public mood, fuelling the rise of the far-right, anti-Islam Alternative for Germany (AfD) party.
Most recently, far-right extremists have rallied in the eastern city of Chemnitz after a German man was stabbed to death on August 26th, with an Iraqi asylum seeker the prime suspect. Images of far-right protesters chasing down foreign-looking people in violent demonstrations and of neo-Nazis giving the Hitler salute in front of lines of police officers have stunned the nation.
"Violence is never a solution," Salvini told Deutsche Welle. "Violence calls for violence, but the German government has been underestimating the problem for years, and the rise of the AfD is clearly a reaction."
Salvini has taken a tough anti-immigration stance since his hard-right League party formed a government with the populist Five Star Movement last June.
He has refused NGO migrant rescue ships access to Italian ports, and accuses Brussels of having abandoned Italy as it struggles to deal with the arrival of hundreds of thousands of migrants since 2013.
ANALYSIS: Why Italy's standoff over migrants is a problem for the whole EU