ABC host  rat Fran Kelly in 2015:
"I don't know of links of people who have come in as refugees and then committed terrorist offences."
Melbourne attack our fifth by muslim refugees
Andrew Bolt, Herald Sun November 10, 2018
Melbourrne yesterday suffered Austtalia's fifth terrorist attack by a Muslim refugee. A knife-wielding man who launched a deadly attack in Bourke St on Friday is the brother of an accused terrorist alleged to have plotted a mass murder at Federation Square on New Year's Eve…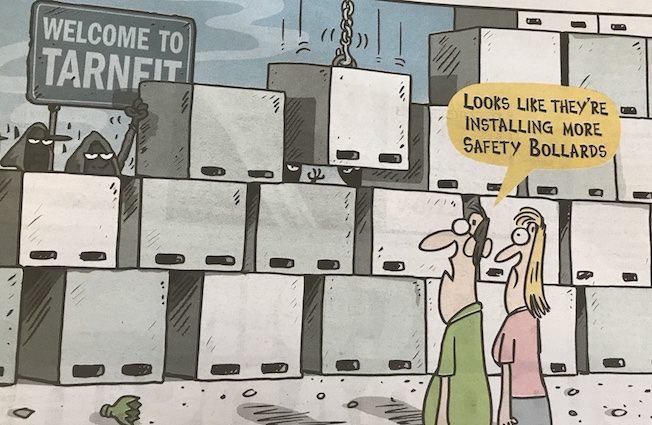 The Somali-born Australian, known as Mohamed Khalif and also Hassan Shire, stabbed a man to death and injured two other men after his Holden Rodeo exploded in the CBD about 4.10pm…

The Herald Sun can reveal the man's brother is Ali Khalif Shire Ali, 21, from Werribee, who will face a Supreme Court trial after pleading not guilty to preparing and collecting documents to commit a terror attack in Federation Square on December 31, 2017.
The Bourke St attacker, aged in his 30s, was also one of 300 "persons of interest" in Victoria, identified as posing a potential security risk and it is understood he had been watched by police.
The family came as refugees from Somalia in the 1990s.
Past terrorist attacks by Muslim refugees here:
Somali-born Yacqub Khayre [in June, 2017] murdered a worker at a Melbourne apartment block, held a woman hostage and shot three police after telling Channel 7: "This is for IS, this is for al-Qaeda."…
Before that:
Farhad Jabour, an Iranian "refugee", killed police accountant Curtis Cheng while shouting "Allah is the greatest".
Man Monis, an Iranian "refugee" and Islamist, staged the deadly Lindt cafe siege while professing support for the Islamic State..
Numan Haider, an Afghan "refugee" and IS recruit, stabbed two police in Melbourne.
Mohammad Ali Baryalei, an Afghan "refugee", became a recruiter and fighter for IS.
Saney Edow Aweys, a Somalian "refugee", plotted to attack the Holsworthy Army base.
ASIO boss Duncan Lewis last year, smacking down Pauline Hanson:
I have abso­lutely no evidence to suggest there is a connection between refugees and terrorism.
Sydney Morning Herald political writer Mark Kenny:
The spymaster's testimony was a hammer blow to Hanson's prejudice.
ABC host Fran Kelly in 2015:
I don't know of links of people who have come in as refugees and then committed terrorist offences.
1/ Bourke St terrorist attack