Holy Bloke News:
The Gosford Goose  appears to have completely lost his mind.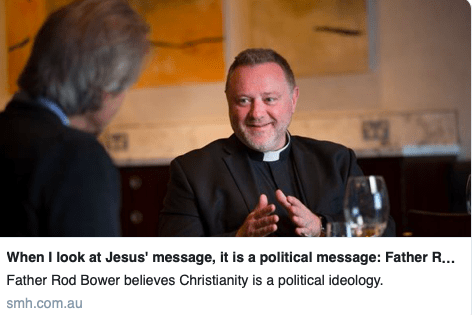 Australia strips Islamic State jihadi of his Australian citizenship
Australian media made much of his "homegrown" status, as if that was a thing. A Mohammedan savage is a savage, no matter where he is grown.
All free nations should do this as a matter of course, but the suicidal British and others have instead welcomed them back.
They joined an entity that has repeatedly declared that it is at war with their home countries. That should have been taken as a renunciation of citizenship.
"Australian IS militant stripped of citizenship," by Francesca Merlo, Vatican News, December 29, 2018:
An Australian-born militant of the so-called Islamic State is stripped of his citizenship whilst he awaits extradition from Turkey where he faces a prison sentence.
Another, larger caravan is forming up in Honduras and reportedly plans to travel to the southern border of the USA. Meanwhile, more than 300 migrants landed in Spain after taking more than a week to cross the Mediterranean from North Africa.
In other news, during three separate raids on Egyptian terrorists' hideouts, forty suspects were killed in shootouts with security forces.

Neil Prakash, 27, is of Fijian-Indian and Cambodian background, and attended Melbourne's controversial Al-Furqan Islamic Centre after converting
He is believed to have left for Syria in 2013, where he changed his name to Abu Khaled al-Cambodi and was put on a US kill list
Prakash was linked to several Australian-based attack plans and calls for lone-wolf attacks against the US
He has also appeared in IS propaganda
Paul Maley, the national security editor of The Australian newspaper, said Prakash was "a lonely lost sort of a guy, he was a gang member, he had a problem with drugs, he was a failed hip hop artist"
More below the fold.
Linkdump from the Gates of Vienna:
Continued:
The 27-year-old becomes the 12th dual citizen from Australia to have their citizenship ceased for actions contrary to their allegiance to Australia.
Prakash — who was born in Melbourne — had his Australian passport revoked and the Government has previously attempted to extradite him to Australia from Turkey.
Deputy Leader of the House Darren Chester said the Coalition made no apologies "for being tough on terrorists".
"I think the Australian public would expect the Government to revoke Australian citizenship rights of people who act contrary to that," Mr Chester said.
"Australian citizenship gives you rights but responsibilities. Responsibilities around allegiance to Australia and not consorting with terrorists organisations."
Victorian Police minister Lisa Neville welcomed the move by the Federal Government: "This is an individual that Victoria Police have been very, very keen to see extradited back to Australia to face the charges, and to face the community of Victoria.
"We're hoping that, in the cancellation of citizenship, that the Federal Government can continue to pursue strongly his extradition.
"That's ultimately what we want to see, because we want him to face the court of law."
Prakash reportedly a pivotal figure in Islamic State
The Turkish Government has said Prakash must stand trial and serve any jail time he is sentenced to before being extradited.
Prakash has been held in a maximum-security jail in Gaziantep, in southern Turkey, since he was captured in October 2016 trying to sneak across the border from Syria using fake identity papers.
The self-confessed IS member, also known by the alias Abu Khaled al-Cambodi, was described by former attorney-general George Brandis as "the principal Australian reaching back from the Middle East into Australia".
According to senior counter-terrorism officials, Prakash was a pivotal figure inspiring and encouraging terrorist plots in Australia.
He appeared in IS propaganda urging attacks in Australia and has been linked by the FBI to a failed plot to attack the Statue of Liberty in New York.
Prakash is the subject of an Australian Federal Police arrest warrant for "membership of a terrorist organisation", "advocating terrorism", "providing support to a terrorist organisation" and "incursions into foreign countries with the intention of engaging in hostile activities".