Update:
Not only NewsCorp. SBS too. So it's not by accident:
A Mohammedan attacks non-Muslims, but the SBS took the AP article and reworded it to make it seem as though it was an attack on Islam.
They updated the article and now claim that the family attacked was also Muslim. So a Muslim attacks a Muslim and the SBS still call it "Anti-Islam attack." Instead of "sectarian violence".
The journaille, with few exceptions, are the dumbest swine on the face of the earth. They prove it to you every day of the week. Obviously, they never heard of sectarian violence:
Bail denied after anti-Islam picnic tirade
A Muslim man has been denied bail after allegedly launching an anti-Islamic attack on a family having a picnic near Wollongong.
Australian Associated Press
APRIL 8, 2019

3:49PM
A Muslim man who allegedly launched an anti-Islamic attack on a family by skidding his car through the mud, metres from terrorised children, has been refused bail by a NSW court.
Sharaf-Deen Yusuf, 43, has been referred to NSW Police's specialist fixated persons unit for investigation following the "unprovoked" attack north of Wollongong.
Twenty family members, from Sydney's west, had gathered at the Bulli Tops lookout on Sunday for a picnic.
But Yusuf, who was also at the park, began screaming anti-Islamic sentiments at them, detectives say.
In related news: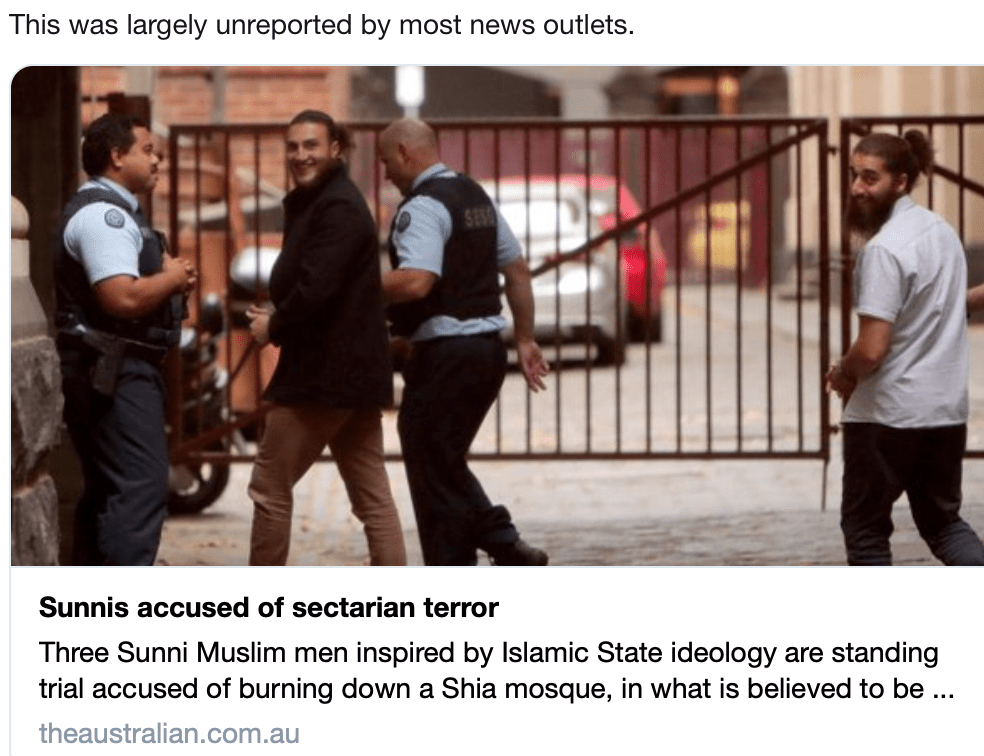 Yusuf took issue with the race or ethnicity of the Muslim family despite identifying as a member of the same faith, sources have told AAP.
"They all turned up to do the Australian thing and have a barbecue on a Sunday afternoon," Superintendent Chris Craner told reporters in Wollongong on Monday.
The family tried to subdue Yusuf and calm him down but, when they backed away from the struggle, he got into his car.
Yusuf allegedly began driving in circles around the group, doing burnouts on the muddy grass metres from the group which included elderly grandparents and young children, Supt Craner said.
"The women, at the time, were crying and there were young kids there.
"They're quite shaken from it all."
When officers arrived they found Yusuf driving around the car park and he was stopped and arrested.
He had allegedly continued to hurl abuse at the family until officers arrived.
Police say they found a box cutter and a hammer in his car which suggests the incident "could have been worse".
"The NSW Police force has been working very hard with multicultural communities around NSW to make them feel safe", Supt Craner said.
Yusuf was charged with intimidation and dangerous driving and refused bail at Wollongong Local Court on Monday.
Yusuf, who is known to police, is expected in the same court again on April 23.
Police are calling for any witnesses or anyone with dashcam footage to come forward.