Three jihadists who beheaded two female Scandinavian hikers in Morocco are sentenced to death after pleading for 'forgiveness from Allah' – as judge declares them 'human beasts'
23 Moroccan men appeared in court to be sentenced for murdering Maren Ueland, 28, from Norway and Vesterager Jespersen, 24, from Denmark
Three men accused of stabbing them to death were handed death sentences 
Other 20 begged Allah for mercy as they waited to hear their fates Thursday 
Men filmed themselves beheading the pair and calling them 'enemies of God' 
The footage was later circulated in Islamist circles online. In the video the men can be heard branding the women 'enemies of God'.
A separate video showed four of the men pledging allegiance to ISIS leader Abu Bakr al-Baghdadi in front of a black and white ISIS flag.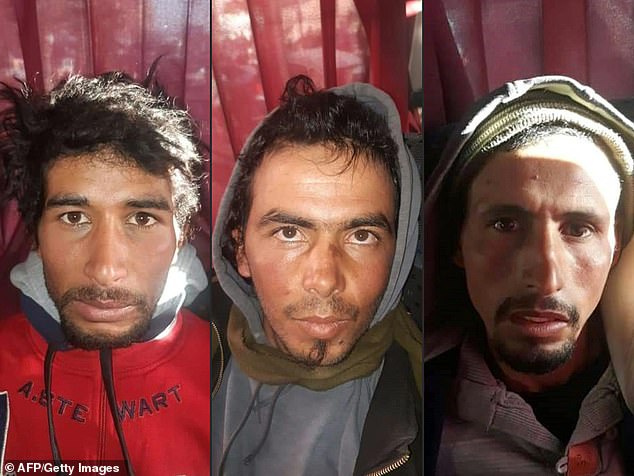 Three suspected ISIS militants savages have been sentenced to death by firing squad for beheading two Scandinavian hikers in Morocco last year.
Suspected ringleader Abdessamad Ejjoud and two others – believed to be Jounes Ouzayed and Rashid Afatti – were handed the maximum sentence on Thursday after begging Allah for forgiveness.
The men had filmed themselves beheading Norwegian Maren Ueland, 28, and 24-year-old Louisa Vesterager Jespersen, from Denmark, in Morocco's High Atlas Mountains in December. 
Why do states keep passing them when they have no effect? It seems CAIR is mighty peeved…
Canucksitan
Canada defines 'Islamaphobia' at cost of $45 million: A sweeping new education program targeting Canada's citizens is nothing less than pro-Islamic indoctrination, says a longtime conservative activist.
"The West Is Colonialist, Imperialist, Extremely Capitalist, Selfish, And Hedonist"
"Can we allow Western civilization to destroy the world and humanity?… What has this civilization done? What is it doing? It is making and destroying. It did many things and destroyed them in the first two world wars.
Paul Joseph Watson Loves Ilhan Omar
Moonbattery
Ilhan Omar is modern liberalism taken to its logical conclusion. The rabidly anti-American refugee from Somalia demonstrates the kind of gratitude you can expect after taking in baby rattlesnakes so that they don't have to weather the cold. In a recent poll of white swing district voters with 2 years or less of college indoctrination, Omar earns a 9% popularity rating among those familiar with her. That's why Paul Joseph Watson loves her:
Watson will love Ilhan Omar and AOC less if people like them end up in charge of the country. They already call the shots in the Democrat Party.
In 2008, Barack Obama ran on a platform of despising America and wanting to fundamentally transform it. He was elected. Then, despite colluding with our worst enemy Iran and prolonging a severe recession with his "boot-on-the-neck" approach to the market economy, he was reelected. The prevailing extreme of moonbattery has only worsened since then.
As the media keeps reminding us, three of the four members of Omar's Squad were born in the USA. Any of them running for president a few years down the road would have the key backing of the media and Silicon Valley.
BTW, #IlhanOmarForSpeaker has been trending on Twitter. Most of the tweets appear to be on the level, enthusiastically supporting her. The Democrat base really is that sick.