Hungarians call George Clooney 'Soros Puppet' : 'Imbecile' Who Couldn't Find Hungary on a Map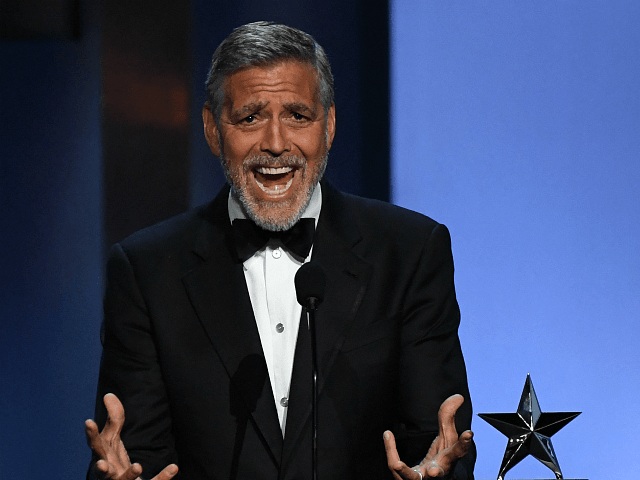 Hungarian politicians and conservative journalists slammed George Clooney as an "imbecile" who could not find their country on a map after he suggested the country's prime minister spreads "anger and hate", according to reports.
Speaking ahead of the release of a new post-apocalyptic film on Netflix, Clooney, 59, had said that "We weren't in the middle of a pandemic when [making the film], but there were still all these other elements, these elements of how much hate and anger all of us are experiencing in this moment of history, all over the world," adding: "Go to [President Jair] Bolsonaro in Brazil, or [Prime Minister Viktor] Orbán in Hungary. Look around: lots of anger and hate. [The film] takes place in 2049. If you played it out this could very well be what our reality is if that kind of hate is allowed to fester."
The remarks were poorly received in Hungary, where Orbán's anti-mass migration and multiculturalism Fidesz party enjoys huge public support, with Hungarian politicians branding the actor an "imbecile" and, according to The Times, suggesting he "could not find Hungary on a map, even with technological help."
More on this below the fold.
Here's some interesting stuff from Vlad Tepes:
Machine translation of important article on Orban. Check the BPS video showing how Joe Biden calls Poland and Hungary "two fascist governments' for wanting to preserve their cultures in the face of global aufhaben der kultur.
Project Syndicate found a special way to exercise freedom of expression: after the problems of György Soros , who intended for the European Union, were brought down without any problems , Viktor Orbán's response was blocked. Only in the name of equality, independent objectivity and freedom of expression. However, circumventing the Orwellian rules, the article of the Prime Minister has now been published on the website of the Prime Minister's Office instead of an international platform.. In it, Viktor Orbán writes that although he is reluctant to stop arguing with economic criminals, he is now being forced to do so, as György Soros has issued open orders to European Union leaders instructing them to severely punish those Member States that do not want globalization. , to integrate into a unifying European empire under the banner of an open society.
The darkest totalitarian times are evoked by the procedure of an international political journal called Project Syndicate. Last week, a letter appeared on this interface, in which György Soros gives open instructions to EU leaders and calls for the punishment of Hungarians and Poles. And when the other party involved reacts to the attack, they are no longer allowed to appear. Thus, Viktor Orbán's counterpart was banned from the independent and objective portal.
Instead, the writing appeared on the Prime Minister's as well as the Prime Minister's Facebook page. In the article, Viktor Orbán believed that although the prime minister did not have the honor of arguing with economic criminals, he still needed to make a few things clear in order to be clairvoyant.
The Prime Minister, for example, writes that Europe is not asking for the feverish dream of bringing individual nation-states together into a large, global  empire in the name of an open society. As he put it, all such efforts have failed,
Thus, historical experience tells us that Europe will be great again if its nations become great again and resist all kinds of imperial aspirations. [Click through for the rest please]
The Hungarian government's official spokesmen were slightly more tactful, with Tamas Menczer, of the country's foreign ministry, saying Clooney should be respected as an actor but that his words on Hungarian politics were "foolish" and "nobody should treat him like a global political oracle."
"Let's just say Viktor Orbán doesn't have sleepless nights because George Clooney talks nonsense about him," he added in a Facebook post.
Örs Farkas, a spokesman for the country's Government Information Center, was clear on where he believed Clooney's comments were coming from.
"There has been a dispute between [George] Soros and the Hungarian government over immigration for years, so [Geroge] Soros uses every opportunity to attack the Hungarian government. It is quite frustrating that there are actors, even non-political actors, who carry out such political intent for Soros," he remarked.
Tamas Deutsch, a founder-member of Fidesz and an elected Member of the European Parliament (MEP), was more straightforward, dismissing the actor as an "American imposter talking bullshit about [our] homeland".
Clooney, for his part, denied any close connection with Soros, admitting that he met with the plutocrat at a United Nations meeting once, and with his son at one of the World Economic Forum's summits for the political, corporate, and multimedia elite in Davos, Switzerland, but nothing more.
"I would be ashamed not to speak out publicly against the kind of authoritarianism with which the Orban regime controls the media, subjects companies to draconian tax rules and silences the free press," he added — ironically in a statement published by the independent Hungarian news outlet Telex.
Clooney's wife Amal Clooney, a Lebanese human rights activist with dual British citizenship, categorised Hungary alongside North Korea as an "autocratic regime" as long ago as 2018.
Hungary is a member of NATO and the European Union.
Here's the whole article from the Gates of Vienna:
The renowned Hungarian-American "philanthropist" George Soros has aimed another angry salvo at Hungary and Poland, which have so far resisted the diktats of the European Union and thwarted the plans of Mr. Soros and his minions to achieve full political, monetary, social, and cultural uniformity among the former nation-states of Europe.
The great philanthropist has made Hungarian Prime Minister Viktor Orbán a particular target in his latest article. Our Hungarian correspondent CrossWare sends these notes about Mr. Soros' intervention:
I know you are busy with the sham so-called election over there, but in the meantime the globalist George Soros network launched another attack against Poland and Hungary. The latest article by Soros, who is demanding that EU leaders punish Hungary and Poland for not accepting the undefined "rule of law" conditions attached to the next EU budget, was published by a group called "Project Syndicate".
When Viktor Orbán wrote a response, the same publication refused to publish it (in the name of tolerance and liberal principles, obviously). For now the Hungarian government official site is hosting the letter, which was published in Hungarian, German and English.
Let's review what is going on: The EU wants to define the budget for the next seven years. They also want to get a huge loan to "help" the southern nations, which are always in financial trouble, but now with the COVID are even more down than usual.
It also does not help that all southern states — Greece, Spain, Portugal, France and Italy — are under the rule of leftist governments, who are busy pampering illegal Muslim migrants instead of helping their own economy. They are desperate for more money, obviously for more migrants.
Just like the Democrats with their rabid leftists in their ranks, the EU is also having the same ideological trouble. They call it the "respect for the rule of law", which is somehow lacking in two countries that do not want to accept those nice military-age Muslim rocket scientists. The real term has never been defined, and it is always used as a political bludgeon.
Last summer the European Commission decided not to get into a discussion on this highly political topic, and wanted to discuss it separately. However, the European Parliament, where Soros has a comfortable majority, overruled that decision.
Now they are once again attaching conditions to the EU budget. One must understand that the money in the budget does not provide gifts for Hungary and the other member countries. That is the price for opening their market and adjusting regulations. The best analogy would be that Hungary is a landlord that rents out his apartment. The tenant is the EU, which is using the apartment and its facilities. One day the tenant decides that he will not pay any more rent until the landlord proves he is "cool".
What does coolness mean? Nobody knows, but it is whatever the tenant wants at that moment. One day it means the landlord must hop on one leg, or perhaps he has to let in more people into the apartment for free; perhaps he should let the tenant to grope the landlord's children…
Actually, the real problems are as follows:
The northern countries do not want to finance the loser southern states. But they do not want to deny them openly; thus they force the arch-enemy states Hungary and Poland into a situation that they know they will never accept.
They want both countries to open their borders and accept Muslim migrants. Primarily Germany wants to dump their useless migrant population they have collected over the last few years.
The leftists also want migrants imported into those countries to increase their voter base and eliminate alternative ideas against their Liberal-Bolshevik Caliphate.
And of course the LGBTQ… XYZ (soon P for pedophilia) mob wants to enter the kindergartens and prepare the next generation of fresh meat for themselves with sensitivity training.
Below are excerpts from Mr. Soros' article (the complete original is here):
Europe Must Stand Up to Hungary and Poland
by George Soros
The European Union cannot afford to compromise on the rule-of-law provisions it applies to the funds it allocates to member states. How the EU responds to the challenge to those provisions now posed by Hungary and Poland will determine whether it survives as an open society true to the values upon which it was founded.
NEW YORK — Hungary and Poland have vetoed the European Union's proposed €1.15 trillion ($1.4 trillion) seven-year budget and the €750 billion European recovery fund. Although the two countries are the budget's biggest beneficiaries, their governments are adamantly opposed to the rule-of-law conditionality that the EU has adopted at the behest of the European Parliament. They know that they are violating the rule of law in egregious ways, and do not want to pay the consequences.
It is not so much an abstract concept like the rule of law that Hungarian Prime Minister Viktor Orbán and, to a lesser extent, Poland's de facto ruler, Jaroslaw Kaczynski, oppose. For them, the rule of law represents a practical limit on personal and political corruption. The veto is a desperate gamble by two serial violators.
It was also an unprecedented step, coming at a moment when Europe is suffering from a dangerous surge of COVID-19 cases, and it threw the other EU countries' representatives into confusion. But when the shock wore off, closer analysis revealed that there is a way around the veto.
The rule-of-law regulations have been adopted. In case there is no agreement on a new budget, the old budget, which expires at the end of 2020, is extended on a yearly basis. Hungary and Poland would not receive any payments under this budget, because their governments are violating the rule of law.
Likewise, the recovery fund, called Next Generation EU, could be implemented by using an enhanced cooperation procedure, as Guy Verhofstadt has proposed. If the EU went down this road, the Orbán-Kaczynski veto could be circumvented. The question is whether the EU, with German Chancellor Angela Merkel perhaps leading the way, can muster the political will.
I am a committed supporter of the EU as a model of an open society built on the rule of law. Being of Hungarian Jewish origin, I am particularly concerned with the situation in Hungary, where I have been active as a philanthropist for more than 30 years.
[…]
Hungary's opposition parties are bravely trying to challenge Orbán by forming a common list of candidates for the 2022 general election. But their chances of success are limited because Orbán can change the rules at short notice, as he has already done several times before. Conveniently, Orbán is planning to introduce the latest changes to the electoral law while the pandemic is raging, Budapest is under curfew, and soldiers are patrolling the streets.
Moreover, Orbán exercises almost total control over the countryside, where the majority of the population lives. He controls the information they receive, and voting in many villages is not secret. There is practically no way the opposition can prevail.
Only the EU can help. EU funds, for example, should be directed to local authorities, where there is still a functioning democracy in Hungary, unlike at the national level.
The EU can't afford to compromise on the rule-of-law provisions. How it responds to the challenge posed by Orbán and Kaczynski will determine whether it survives as an open society true to the values upon which it was founded.
This is the full text of Viktor Orbán's response, which Project Syndicate refused to publish:
Europe must not succumb to the Soros network
November 25, 2020
Reply to the article by George Soros
Many believe that the prime minister of a country should not enter into an argument with George Soros. Their reasoning is that Soros is an economic criminal, because he made his money through speculation, ruining the lives of millions of people, and even blackmailing entire national economies. Just as governments must not negotiate with terrorists, they say, prime ministers must likewise not debate with economic criminals.
Yet now I am compelled to do so, because in an article appearing on the Project Syndicate website on 18 November, the Hungarian-born speculator and billionaire George Soros issued open commands to the leaders of the European Union. In his article he instructs them to severely punish those Member States that do not want to become part of a unifying European empire under the banner of a global "open society".