Vaccine passports are just a marketing exercise
Dr Peter McCullough on why the 💉 roll out must be halted immediately. https://t.co/m7yzLP5WYn

— Craig Kelly MP (@CraigKellyMP) July 2, 2021
Why would a wokey dipstick like Fraudci say something stupid like this?
By choosing to use the word "people" Fauci shows his version of science takes a back seat to politics. "Tens of thousands of pregnant and breastfeeding people in the United States have chosen to receive the COVID-19 vaccines available under emergency use authorization" Dr. Fauci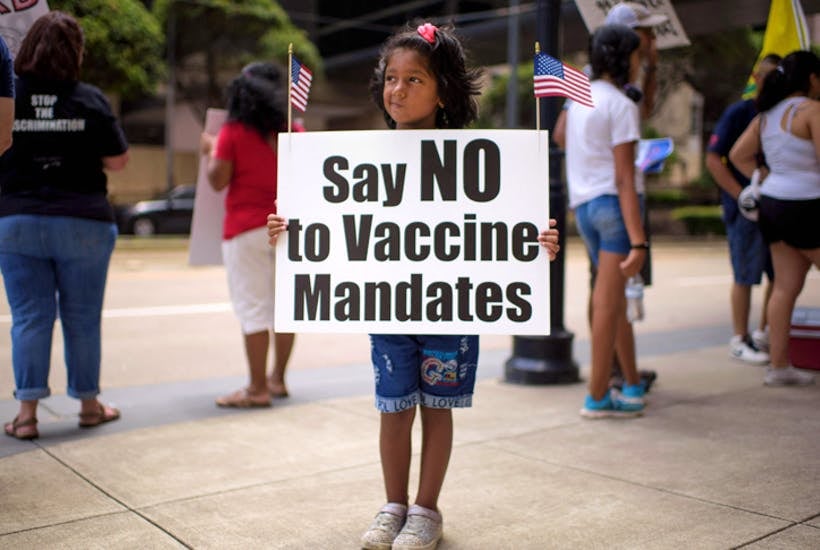 Medical Censorship 
"Constitutional Rights Centre is concerned—in a healthcare crisis, the very voices that need to be heard, the doctors, nurses & frontline workers, are precisely the voices under threat & being silenced" —Amina Sherazee, Human Rights Lawyer Full Interview: https://youtu.be/dIJZ424_AZk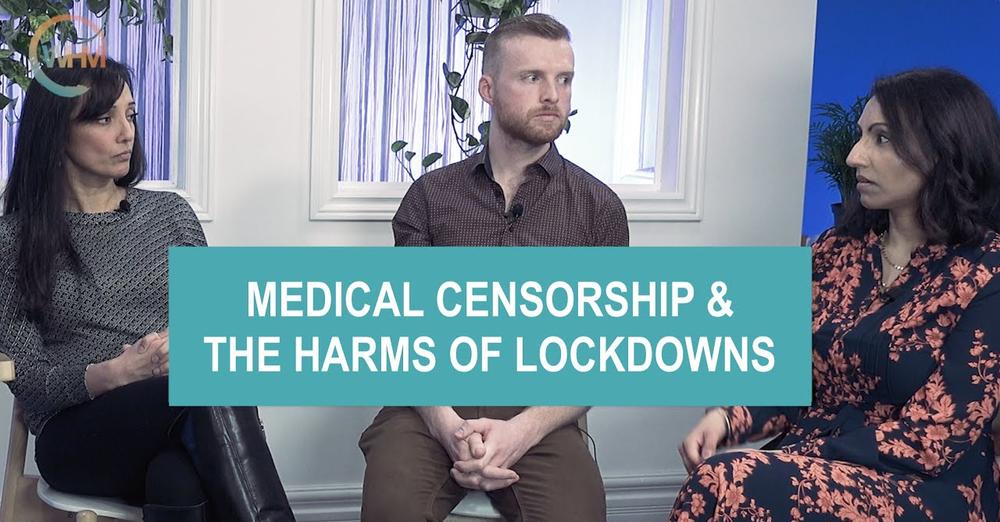 Vaccine passports are just a marketing exercise.
Prove me wrong.
North Carolina : 1,400 ''fully vaccinated'' contract Covid with 105 hospitalizations and 18 deaths in the US state. This just demonstrates the complete nonsense of the National Cabinets 4-phase plan.
Lockdowns show Australia has lost its marbles
Andrew Bolt Herald Sun June 30, 2021
Two years ago, almost to this shameful day, newspapers reported the death toll from the latest virus to hit Australia. Ho hum: just 250 dead from the flu. Nothing stopped. Victorian Premier Daniel Andrews overlooked this chance to unlock his inner totalitarian and lock people in their homes. Queensland Premier Annastacia Palaszczuk just went about her bumbling business. West Australian Premier Mark McGowan didn't even think of shutting down Perth.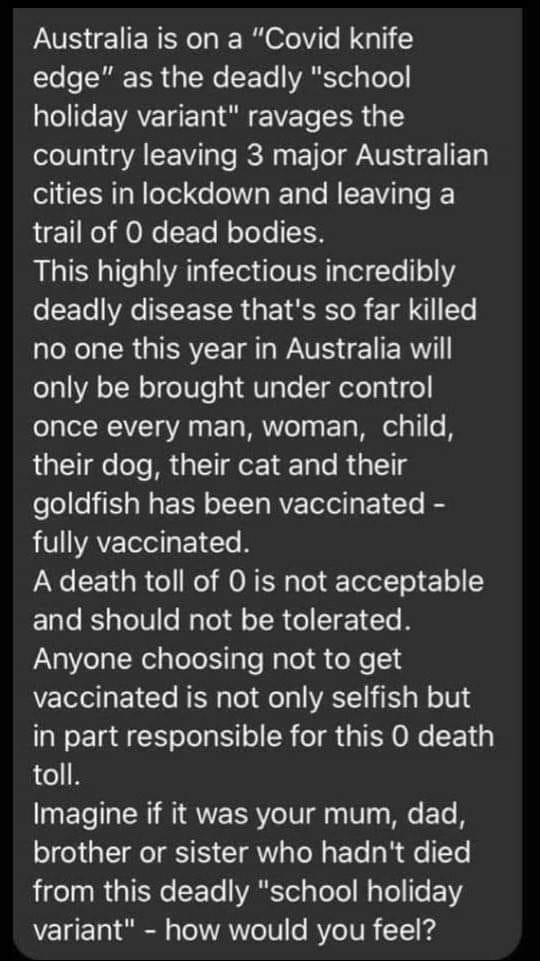 Nor did these politicians two years ago big-note themselves by giving dramatic press conferences every morning on how many people had just got infected, and what freedoms we must lose.
.
And without them whipping up fears, the public relaxed.
The people of NSW, where 66 had died, just shrugged it off. The people of Victoria, 50 dead, barely cared. The people of Queensland, 38 dead, got on with their lives.
.
True, we should have done more to protect people in aged care. I wonder why these premiers who are such health fascists today were so relaxed back then?
But look at them now, shutting 12 million Australians in their homes to "save" them from a coronavirus that's killed not one Australian this year through community infection.
.
Let me repeat: NOT ONE Australian has died this year after catching this coronavirus here. Only one person is in intensive care.
Yet half of Australia is now locked down.
.
Don't give these lockdowns the credit. The lack of deaths so far this year is no surprise.
.
One, we've now vaccinated the vast majority of the people most likely to die — people aged over 70, and people in aged-care homes.
Two, we're better at treating the sick.
.
Three, this dominant Delta strain is half as deadly as last year's strain, according to Public Health England.
.
If this country had not completely lost its marbles, it would not now be crippled with lockdowns.
.
Our main aim from the start should have been to stop people dying, and live with the fact that others will still get the sniffles. Treat this like the flu.
.
But we've become such militant hypochondriacs that our political leaders want to eradicate this fast-mutating virus completely. They say we can't even think of opening our borders until 80 per cent of us are vaccinated.
.
That's insane. First, countries like France, Italy, Croatia and Greece are now letting in vaccinated tourists, even though only a third of their own people are fully vaccinated.
.
They think the gain is worth the danger, with their most vulnerable protected. Life must go on.
In Britain, with two thirds fully vaccinated, they are now allowing crowds into Wimbledon, even though it still has more than 20,000 new infections a day. Thing is: deaths are falling fast.
.
As for us, why vaccinate millions of young Australians who won't get very sick from a virus that almost exclusively kills people over 65?
.
Queensland's health officer, Jeannette Young, exposed the craziness of this when she tried to justify banning the young from taking the AstraZeneca vaccine that's saved Britain: "I don't want an 18-year-old in Queensland dying from a clotting illness who, if they got Covid, probably wouldn't die."
.
If this virus is less dangerous than even a vaccine, why is half the country in lockdown?
But that brings me back to Premier Palaszczuk.
.
Palaszczuk on Wednesday deflected criticism of her bungling of quarantine by lashing out at the Prime Minister for announcing this week that young Australians could now take AstraZeneca if their doctor agreed.
.
Morrison was surely right. The risk of dying of blood clots from AstraZeneca is about one in two million, and the "safer" Pfizer vaccine is very hard to get, while more than two million doses of AstraZeneca are already out there.
.
But Palaszczuk won't let Queensland's vaccine centres offer AstraZeneca to people under 40, claiming it's against the rules of the Australian Technical Advisory Group on Immunisation. She said Britain "will not even allow their under 40s to get the AstraZeneca vaccine".
.
ATAGI actually says AstraZeneca "can still be given to adults under 50 years if (Pfizer) is not available, if the benefit of vaccination is likely to outweigh risk, and where informed consent has been obtained".
.
And Britain's Joint Committee on Vaccination and Immunisation agrees. Sure, Pfizer is a safer alternative to AstraZeneca, but only "if available, and if it does not cause delays in having the vaccine".
.
This is how premiers like Palaszczuk spread fear, not facts. And why half the country is locked down